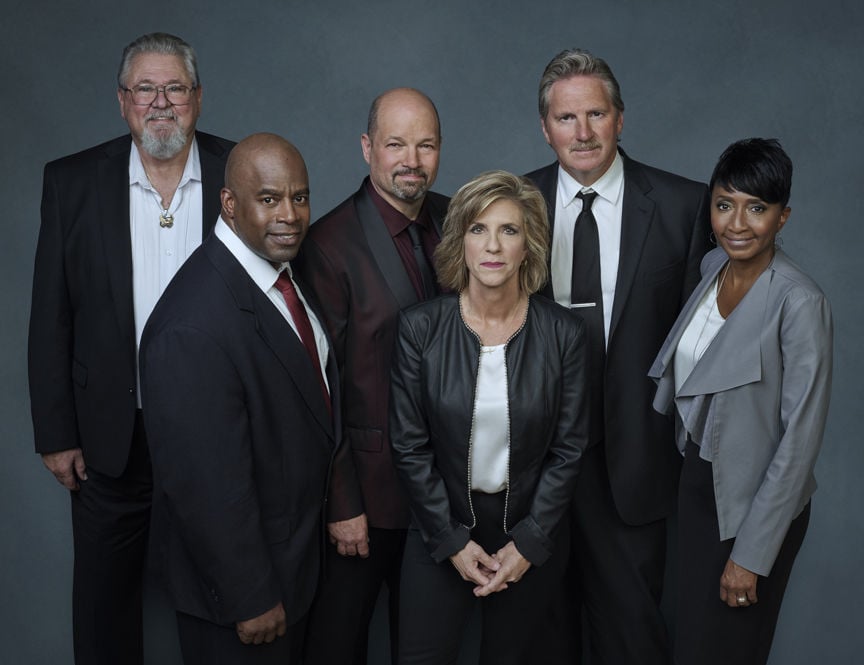 When 65-year-old Johnnie Allbritton was found dead in his Buffalo home with five gunshot wounds in May 1984, it was the talk of Leon County.
Sheriff Kevin Ellis was a 13-year-old living in nearby Centerville when Allbritton was killed, and he has never forgotten the local buzz.
"This case in particular is one I've been pulling up on my computer about once a week every week for the past few years, just studying it," Ellis said. "I just want to bring closure to the family."
On July 1, 84-year-old Norma Allbritton was arrested in Anderson County and charged with murder in her husband's death. She was released from the Leon County Jail on July 3 on a $50,000 bond. Ellis said Tuesday that the investigation is ongoing and more arrests were possible.
According to May 16, 1984 article in The Eagle, Norma Allbritton and a child arrived home around 4 p.m. May 14 to find the house locked and became worried because they saw guns through the window. She called police to request officers check the home.
A Leon County constable who responded discovered the body, according to the 1984 news story.
A blanket found near the body was believed to have been used by a burglar to carry household items and guns from the home, and the family reported that a blue bank bag containing several thousand dollars was missing.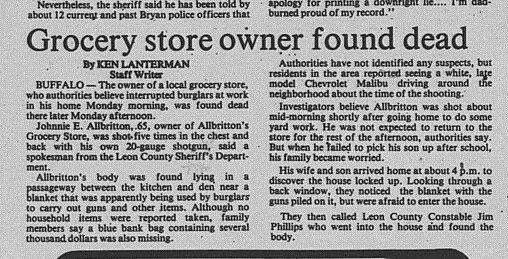 Ellis and the Leon County Sheriff's Office worked in tandem with investigators from the Oxygen network television series Cold Justice to solve the case. While the sheriff's office continues to investigate all cold cases, Ellis explained that his team of detectives is too small to allot an extended amount of time and energy into solving unsolved slayings — there are five in Leon County — without neglecting the work needed to be done on pressing new cases.
Since 2015, Ellis and colleagues with the Texas Department of Public Safety have been organizing and sorting evidence regarding Allbritton's slaying. In 2016, he reached out to Cold Justice's Kelly Siegler, a former Harris County prosecutor. An episode of the television show's TNT spinoff Cold Justice: Sex Crimes had already been filmed in the Leon County community of Oakwood in 2015, dealing with the story of a sexual assault committed against a local resident years prior. Ellis said county officials and law enforcement officers have maintained a great relationship with the teams behind the shows ever since.
"They are there to assist us and help us every step of the way," Ellis said. "I could call them up right now, and they would answer to help me out."
Despite the good repertoire between Leon County and the crew surrounding the show, Siegler's phone lines and email accounts are flooded with requests for help regarding cold cases. Cold Justice handles what seems like countless murder investigations each year, Siegler said in a Wednesday interview. A team in Los Angeles intercepts calls and looks into the cases regularly submitted for review. But Siegler said Johnnie Allbritton's case is unique, particularly due to circumstances surrounding the evidence.
According to Siegler, the Leon County sheriff in 1984 investigated the slaying but didn't consistently write down information. When he died, much of the information collected went to the grave with him. Siegler credits Ellis with saving the investigation.
"You know how they say 'there's a new sheriff in town?' " she said. "In this instance, there certainly was. ... Never before have I worked a case where the documented reports don't reflect what people walking around know and could say."
For Siegler, learning just who Johnnie Allbritton was as a person endeared her to the case and increased her hunger for a conclusion to unanswered questions. Allbritton was a farmer and rancher, a husband and father of six, and he owned a small store popular in the community. The people of Buffalo described him as an outstanding citizen.
"Everyone involved talked about what a good man he was," Siegler said. "And how does he end up dead? Talk about a low-risk lifestyle."
"Friends and family gave feedback saying he was a common, everyday working man," Ellis said. "He owned his store in Buffalo and was a great, normal, rural country guy."
Ellis said he selected two of his office's five investigators — Wayne Sallee and Tommy Page — and for eight weeks before the television crew's June arrival he tasked them with focusing just on Johnnie Allbritton's slaying. Others in the sheriff's office took on extra work to enable the two to focus on the case, making the task a team effort.
When Siegler and Johnny Bonds, who worked as a homicide detective in Houston before retiring, arrived in Buffalo last month, they stayed for eight days, working more than 14 hours per day driving across Texas with Sallee and Page. Siegler said her show didn't bring in much in the way of unique forensic tools, but rather assistance in the form of new eyes on the case and extra manpower for the department.
Siegler noted that Allbritton's descendants also pushed hard to solve the mystery. Judy Allbritton, one of Johnnie's children from a previous marriage, approached Ellis in recent years and stressed to him her desire to see justice for her dad. In Siegler's opinion, Judy was the driving force behind the investigation.
"Every anniversary, Judy makes sure a reminder about Johnnie gets printed in the local newspaper," Siegler said.
Siegler said she enjoyed working with Leon County's law enforcement and district attorney and interviewing local residents.
"The people of Leon County — I'm from Matagorda County, and it felt just like I was driving around my home, talking to people from home," she said.
As for the remaining unsolved homicides in Leon County, Ellis said his deputies are pushing forward. They are also taking another look at the death of Johnnie and Norma Allbritton's daughter, Pam, who is believed to have taken her own life in 1981.
When asked if Cold Justice would ever return to Leon County after filming two episodes already, Siegler said emphatically, "We would go back to Leon County and work with them and with district attorney Hope Knight tomorrow."
The episode featuring the Allbritton case is expected to air on Oxygen in early 2020.