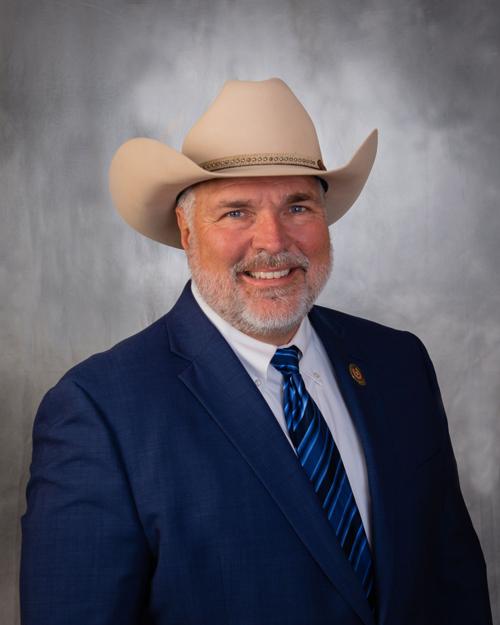 The president of the State Bar of Texas is apologizing for controversial remarks he made about the Black Lives Matter movement, as he faces calls for his resignation from lawyers, State Bar board members and others.
Larry McDougal, an attorney from Richmond and a former police officer, became president last month. He apologized for his July 10 Facebook post, regarding a poll worker wearing a Black Lives Matter shirt, in a three-minute video posted on YouTube.
However, since then at least three of McDougal's other social media posts over the past eight years about race, women, drug addiction and police brutality have surfaced, sparking condemnations from lawyers and demands for him to step down as State Bar president.
While the social media storm continues to churn, the 46-member State Bar of Texas board of directors on Wednesday called a board meeting for July 27 to discuss McDougal's situation.
State Bar of Texas spokesperson Amy Starnes said Wednesday that the State Bar Act in the Texas Government Code provides no provision for removal of an elected officer or director that applies in this case. And McDougal said Wednesday through a public relations firm that he has no intention of resigning.
"I made a comment about how I felt the attire of polling workers should be policed, as to avoid prejudicing voters," McDougal said in a statement. "I understand that my comments may have been seen as hurtful to our community and members of the Texas Bar Association. That was never my intention and I'm truly sorry. As an attorney and citizen, I denounce racism in every form.
"In 2015, I made a comment on a blog referring to the Black Lives Matter organization as a terrorist group. However, that statement does not represent my beliefs today. I believe the organization as a whole has changed over the past four years. I am deeply sorry I made any insensitive comments and for the hurt those decisions caused then and now. This behavior is not in keeping with who I am today and the values I have fought for throughout my career in the police force or legal system. I recognize that it will take time and serious effort to heal the damage this conduct has caused. I am ready to do that important work and mend every fence possible," he said.
Moving forward, McDougal said he already is working with minority members of the Texas legal system to launch a "listening campaign" to better understand racial injustice concerns. He said he hopes to learn from his mistakes, help others embrace change and pledges to support the establishment of a task force designed to expand diversity and social justice.
But McDougal's apologies rang hollow for many, including State Bar director Jason Smith, an attorney from Fort Worth. Smith asked McDougal to resign and charged that McDougal's July 11 video apology "failed to take ownership of the offensive nature of his comments or a willingness to admit these comments were divisive and hurtful."
Leaders of the 105,000-member State Bar and the 26,000-member Texas Young Lawyers Association, including Texas Young Lawyers President-elect Jeanine Rispoli, a family law attorney from Waco, issued a statement that denounces McDougal's online comments "in the strongest terms."
The joint statement said his comments do not reflect the values of the two groups, who "stand united against racism and dedicated to the bar's mission of advancing diversity and inclusion in the administration of justice and the practice of law."
Rispoli said the bar groups are in the "conversation phase" about McDougal's controversial comments and are inviting bar members to sound off through emails.
"We are wanting to make sure our members are being heard, but in terms of next up, I don't think anyone knows what those steps will be," Rispoli said. "I want to make sure our members feel heard and represented and that they can trust the leadership at the State Bar. They have elected their representatives and, obviously, we want them to feel confident in that representation."
After McDougal became president last month, he was introduced in this month's edition of The Texas Bar Journal under the headline "Leading by example." He first drew the ire of many in a public Facebook page for Fort Bend County lawyers in which he commented July 10 on a photo of an election poll worker wearing a Black Lives Matter T-shirt. McDougal agreed with others who commented that the woman should be guilty of electioneering and compared the shirt to a court case in which a person wearing a MAGA (Make America Great Again, a campaign slogan used by President Donald Trump) hat was held to be in violation of laws banning electioneering, a potential Class C misdemeanor.
"I see no difference in that hat and this shirt. She should have immediately been removed from the premises and issued a citation for electioneering," McDougal commented. He has since removed the post.
Another post by McDougal showed a police officer pinning a man to the ground with the caption, "Justice: It usually happens before the trial."
In a fourth Facebook comment, McDougal wrote, "She is hot in her Texas Bar picture but she has meth head written all over her today."
The African American Lawyers group of the State Bar has asked McDougal to repair the damage caused by his posts. If he does not, he should resign, the group said in a statement.
Waco attorney Robert Callahan, who won the Percy Foreman Award this year from the Texas Criminal Defense Lawyers Association, said McDougal should resign.
"An hour ago, my wife and oldest son were outside when a car drove by yelling, 'All lives matter.' An anonymous letter of similar tone came shortly thereafter," said Callahan, who is Black. "Clearly, we haven't made the progress in race relations that we believed we had. We are in a war for the soul of our nation. The line between empathy and hatred is clearly drawn. Mr. McDougal has sided with the Confederacy.
"To maintain my law license, I am compelled by law to pay considerable dues to the organization over which McDougal presides. That affront alone demands Mr. McDougal's resignation, or removal, in place of someone who understands that elected officials represent all of their contingents, including the ones who don't look like them."
Get local news delivered to your inbox!
Subscribe to our Daily Headlines newsletter.