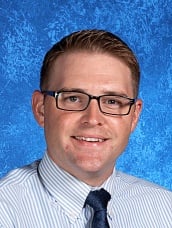 College Station resident Jim Rike has been appointed principal at St. Joseph Catholic School's elementary campus five years after returning to his childhood alma mater to teach history.
Rike, who has a Bachelor of Arts degree in history from Sam Houston State University, is set to receive a master's degree in educational administration next month, but he took a break between the two degrees to follow a few career paths.
He served in the U.S. Army for 6 1/2 years, including being deployed to Iraq from 2003 to 2004. He was an EMT for two years before starting a teaching career in the Bryan public school system. He has a Texas Teacher Certification in English, language arts, reading and social studies for grades 4 through 8.
Four years into his teaching tenure at St. Joe's, Rike was named "History Teacher of the Year" for 2013.
In the fall of that year, he joined the school's administrative staff when he was named dean of students, a position in which he advised students of the newly formed Student Ambassador Program, helped develop and coordinate the Home and School Association and coordinated events while chairing a committee that successfully oversaw accreditation efforts.
"Monsignor John [McCaffrey] and I look forward to working with Mr. Rike," said St. Joseph School System President Jennifer Pelletier in a statement. "We are excited about his support of all our faculty and staff. He has great enthusiasm and love for the community and is ready to begin his new position."