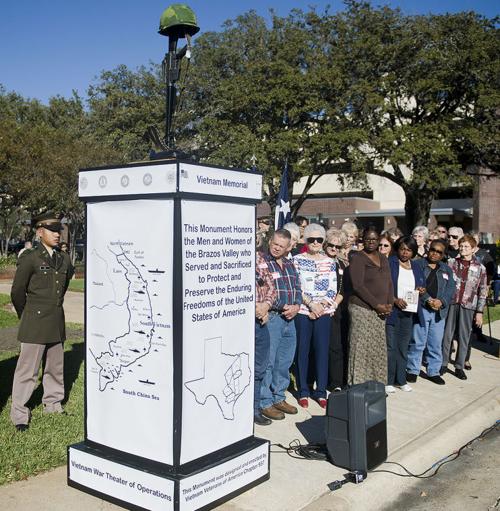 Local veterans are $25,000 closer to building a Vietnam veterans memorial after the city of Bryan approved funding for the project.
Bryan City Council voted unanimously on Tuesday to fund more than one-third of the $70,000 monument through hotel occupancy taxes or the general fund if needed, in addition to constructing the concrete foundation estimated to cost between $7,500 and $10,000.
"Today it's fashionable to see a veteran and thank that veteran for their service," said John Hince, an Army pilot in Vietnam and past president of the VVA. "But back in the 1960s and 1970s, that was not the case."
"We want [the fallen soldiers] to be remembered," he added. "This is our way of saying 'Thank you for your service.'"
Chuck Konderla, among the councilmembers who expressed their support for the project prior to the vote, told veterans gathered at City Hall that he hoped they were "feeling the love that's long overdue."
So far, the VVA has collected more than 50 names of Brazos Valley soldiers who died in the war. To be included in the downtown memorial, outside the Clara B. Mounce Public Library and next to the Bryan Firefighters Memorial, soldiers must be listed on the Vietnam Veterans Memorial Wall in Washington, D.C., and have grown up in the area, be buried here or have family living in the Brazos Valley.
VVA members have been slowly fundraising for the downtown memorial to avoid competing with the recently unveiled Vietnam War Memorial sculpture at Veterans Park in College Station, Hince said.
While the College Station memorial honors all veterans of the Vietnam War, including Hince, the memorial in Bryan will be dedicated to all who died in the war.
"This isn't for me," Hince said. "This isn't for us living veterans."
The organization is about $14,000 short of its goal and will continue fundraising by selling $100 customizable bricks to pave the area around the monument.
To donate, visit vva937.org. Anyone who knows a Brazos Valley serviceman who died in Vietnam and should be listed on the monument is encouraged to call Hince at 778-1835.