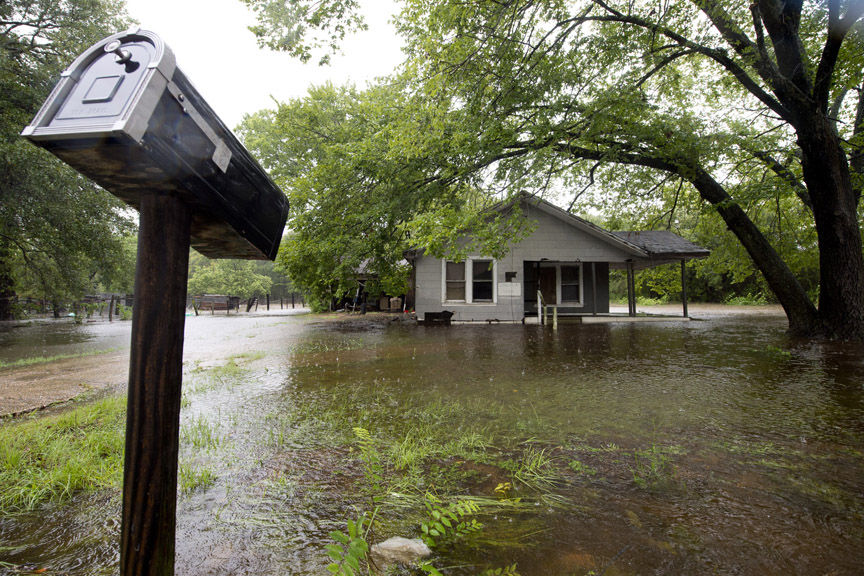 Cities in five Brazos Valley counties are among the Texas jurisdictions receiving portions of approximately $1 billion of federal relief funding related to flood and storm damage connected to Hurricane Harvey and other recent flooding disasters.
One week ago, Texas Land Commissioner George P. Bush approved just shy of $27.3 million for flood mitigation projects to improve roads, drainage, water and sewer infrastructure in Buckholts, Cameron, Milano and Rockdale in Milam County.
"It is a wonderful thing. We're so delighted to get it, and it's huge for us," Milam County Judge Steve Young said. "When Hurricane Harvey came through, we had a tremendous amount of flooding in different parts of the county. ... In this county, we have three rivers — the Little River, the San Gabriel River and the Brazos River — and some creeks. There are a lot of tributaries in the county, and it just floods when you get that kind of rain."
He said in a Thursday interview that the grant was the largest in the county's history. Milam County was one inland county that was declared a disaster area from the damage wrought by Hurricane Harvey.
Young said Buckholts will receive about $4.5 million for lift stations to assist with sewage disposal. Cameron, the county seat, will get approximately $14.1 million for a new pumping station, he added, noting that Cameron gets its water from the Little River, and the new pumping station will assist in ensuring the water supply is dependable.
Rockdale, according to Young, is set to get $4.4 million for storm sewers, and Milano will receive $4.31 million for road drainage and other flood prevention infrastructure.
Young thanked Bush and the Texas Land Office for the grants.
"We don't have the funding, and neither do these small cities, to do all the things that need to be done around here, and so this is a godsend to us. We're profusely grateful to get the money," Young said.
The state also approved nearly $15 million for projects in Grimes County, including in Iola and Bedias.
"Throughout Grimes County, our greatest challenge during storms and heavy rains is that drainage and floodwater removal systems are either too small or even nonexistent, which makes us extremely vulnerable to flooding," said County Judge Joe Fauth. "This
$14.9 million in funding from the Texas GLO will lead to massive improvements in our flood resiliency, including a first-time central wastewater collection and treatment system for the city of Iola."
The land office announced more than $9.2 million for roads, wastewater, sewer and drainage infrastructure in Caldwell and Snook.
The first round of federal funding made state and regional headlines last week after Harris County and the city of Houston initially didn't receive funding, despite requesting about $1.3 billion from the state land office. After receiving criticism from city and county officials as well as other observers, Bush said Thursday he will request approximately $750 million in direct federal funding for Harris County's disaster mitigation efforts, according to reporting from the Texas Tribune.
The state land office also approved $9.3 million for flood mitigation projects to address drainage infrastructure in the city of Hempstead. The press release states that those infrastructure projects "will directly benefit residents in a majority low-to-moderate income area" that has faced repetitive storm damage in recent years.
The Tribune also reported that a second round of $1.1 billion in Harvey relief money will be awarded to Texas jurisdictions in the future.