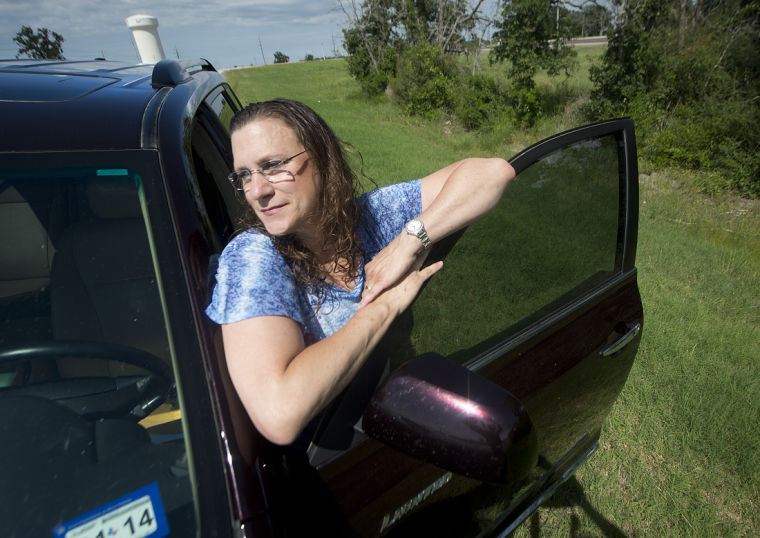 Countless cars passed by, but Candace Scott pulled over.
At about 8 a.m. Tuesday, Scott was on her way home after dropping her cat off at the vet when she spotted something strange on William D. Fitch Parkway.
"It looked like a gallon-size baggie with a blue zipper on top," said Scott, a 1982 Texas A&M graduate. "I was in the left turn lane to turn on Arrington [Road] to come home. It just barely caught my eye, and I thought it was money, then was like, 'Nah, it's probably a dirty diaper.'"
The thought nagged at her, and curiosity quickly won out. Scott circled back in time to see a dump truck run over the bag in the middle of the left turn lane. She stopped and picked up what was certainly not a diaper.
"There were two huge bundles of hundred dollar bills wrapped in rubber bands," Scott said. "The bag had ripped open because of the dump truck, but other than that it was just laying there."
Scott, a former middle school teacher for the College Station school district, had apparently stumbled across hundreds of thousands of dollars missing from a nearby Chase bank.
Scott said she didn't know what to do initially and mulled calling 911 or driving it to the police station.
"At first I thought it was drug money or somebody threw it," Scott said. "I was kind of scared when I got it until I saw the Chase label on the bag."
Scott, along with her husband, mother and teenage daughter, are in the process of relocating from near Lubbock to College Station. She quit her job when she moved back to Aggieland and said she is currently looking for teaching positions. Still, Scott said, she never hesitated to return the cash.
"There really wasn't [ever a thought to keep it]," Scott said. "I'm having a hard time making people believe that but it never even entered my mind. I wanted to get it back to the rightful owner because I could just imagine the panic somebody was in."
A spokeswoman for the College Station Police Department said the missing money was not reported.
Scott took the money to the nearest Chase bank, which was only a block away. The bank hadn't opened yet, and Scott knocked on the glass until the manager walked up. The branch manager declined to comment, but Scott filled in the gaps of the exchange.
"[The bank manager] thought I had been in an accident or somebody had mugged me," Scott said. "I told her 'I have y'all's money. She said 'What?' and then she thought I was a crazy person. I told her to stay right there while I got it. She saw it and opened that door up as fast as she could."
Scott said the manager asked if she knew how much cash was in the bag.
"I said, 'No, don't tell me,'" Scott said. "She told me I'm the most honest person in the world, and I said 'or the dumbest.'"
The amount of money in the bag is unknown. Scott didn't count it, and a Chase spokesman declined to comment. Scott believes the amount to be in the hundreds of thousands based on the amount of cash and the exchange with the branch manager.
Scott said she guessed that there was $200,000 in the bag, and said the branch manager responded "or more."
Greg Hassell, a regional spokesman for Chase, said he could not answer most questions raised by Scott's discovery, such as where the money came from, how much was in the bag or how it came to be in the roadway.
On Wednesday morning, Hassell said the amount in the bag was about $20,000.
Scott speculated that, since the bag was so close to the bank, maybe whoever was transporting it left it on the top or hood of the vehicle and then drove off, like one might forget a handbag or cup of coffee.
Hassell did confirm that the money did belong to Chase. He said that there was no customer information inside the bag.
"We're very grateful to Ms. Scott for stepping up, doing the right thing and returning the bag dropped by our courier service," Hassell said. "It is that neighborly spirit that makes College Station a great place to live."
For her honesty, Chase officials rewarded her with a $500 credit gift card.
Scott said her only regret is that she didn't take a photo with the cash. She said at first her daughter and friends didn't believe what had happened, and that she went back to the bank to snag a picture but the manager said she couldn't retrieve the money from the vault.
"It's just a very strange thing -- almost like something divine caused it to happen," Scott said. "Maybe it's a sign my luck is changing."
EDITOR'S NOTE: This story has been updated to reflect that Chase officials said Wednesday the amount of money in the bag was about $20,000.