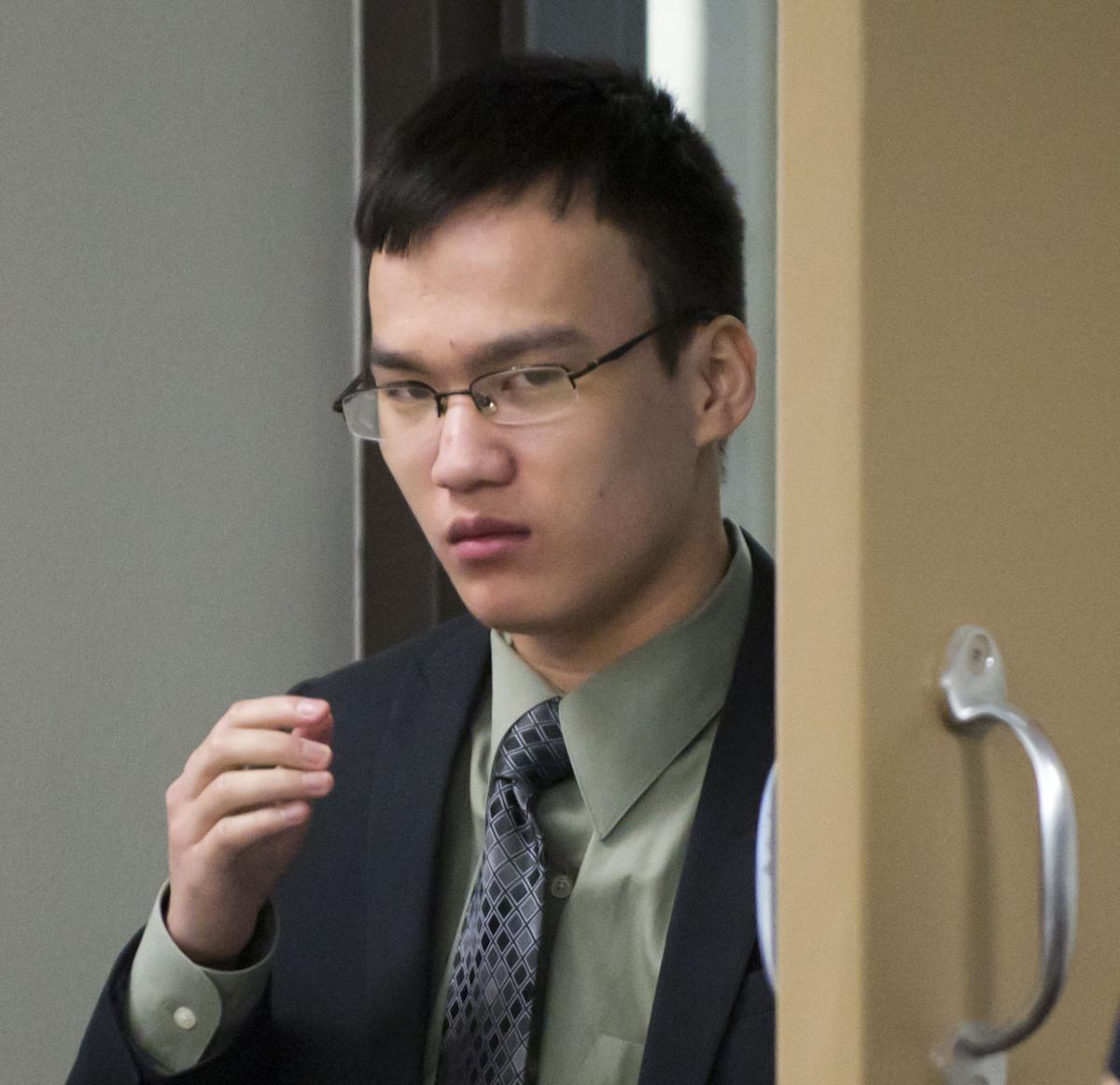 A College Station man who stood trial for five weeks was sentenced to death by lethal injection Wednesday for killing a man and trying to kill his wife in 2011.
Many of the jurors cried as Judge Travis Bryan III delivered the sentence. Gabriel Hall showed no emotion.
Bryan called out each juror's name and asked if this was his or her true verdict. Each one said yes and Bryan thanked them for their service.
District Attorney Jarvis Parsons said he felt mixed emotions after the sentence was delivered. He said anyone who is human realizes the magnitude of what happened.
"It's not something you feel joy about, because it's a tragedy on both sides," Parsons said. "We don't take any pleasure in what happened, we just hope it gives some sense of peace to the Shaar family."
Hall was convicted of killing 68-year-old Edwin Shaar by stabbing and shooting him in his garage, and seriously injuring his then 69-year-old wife, Linda, in October 2011.
Linda Shaar and her son were present for closing arguments, but didn't stay for the verdict.
Defense attorneys declined to comment.
Death sentences are automatically sent to the Texas Court of Criminal Appeals for review.
Attorneys for both sides spent 90 minutes wrapping up almost five weeks of testimony Wednesday. The jury began deliberations at 12:30 p.m. and reached a verdict around 8 p.m.
Parsons led closing arguments for the state by talking about Edwin Shaar's character. He said Shaar was the type of husband and father that every man dreams of being.
He said in Shaar's final moments, he sacrificed himself for his wife. He said if Hall's gun wouldn't have jammed after he shot Edwin Shaar in the forehead, Linda Shaar would have been finished off the same way.
"He looked evil dead in the face and he didn't blink," Parsons said. "That is Commander Edwin Shaar, and that is why we're here."
Edwin Shaar suffered from Parkinson's Disease that would sometimes lock up his legs and prevent him from moving. Linda Shaar got around in a wheelchair because a flesh-eating bacteria took her leg.
Parsons said these are people everyone else in the world opens the door for, but to Gabriel Hall, they're targets.
"They can spend as much time as they want crucifying Karen Hall, but that's not why we're here," Parsons said. "Karen Hall does not mitigate what he did to complete and total strangers."
Karen Hall is Gabriel Hall's adoptive mother. Much of the testimony during the trial focused on Karen Hall's alleged mistreatment of her adopted children.
Defense Attorney Tony Odiorne argued that Hall did not pose a continuing threat to people around him. He said there is no evidence in the four years Hall has been in jail that he has committed a single act of violence.
Odiorne said Hall doesn't have to be told to follow the rules, he doesn't provoke fights and he keeps to himself.
Prosecutors showed pictures of the shank jail guards found in Hall's bed and brought up the razor blades he had stashed under it.
Odiorne said even knowing that, there were still prison guards who testified that Hall was a model, obedient prisoner. He said the Texas Department of Criminal Justice has the ability to manage Hall.
Defense Attorney Andrea Keilen asked jurors to consider all of the evidence brought forth in the punishment phase, and think about whether it had any negative effect on Hall -- from the poverty he lived through in the Philippines, to lack of therapy and alleged verbal abuse by Wes and Karen Hall.
She said she hasn't seen a case with as much mitigation as this one. She also pointed out mental health professionals showed he had a traumatic brain injury -- which she said hadn't been disputed.
Keilen said she was appalled that she knew more about Karen Hall's kids than she did. She said it is because Karen Hall didn't care and was only concerned with her image.
"Look at who's in this courtroom today," Keilen said. "And who's not here today? Two so-called parents. Not here. Basically saying to you, 'We don't care what you do. It doesn't matter to us.'"
Keilen brought up the Bible parable in which the seeds sown on good soil will thrive, but those sown on the rocks will blow away.
She said Gabriel Hall was born among the thistles, constantly choked back by thorns all around him. She said when he moved to the Hall house, the environment was different, but the soil was still dry.
"The worst thing is that he didn't get the sunlight, and the sunlight is the love," Keilen said. "Nothing happens without the sunlight, and the seed can't survive."
First Assistant District Attorney Brian Baker didn't dispute that Hall had a rough life, but he said it wasn't different or unique. He said Karen Hall may not have been the best mother in the world, but that doesn't answer the question of why Gabriel Hall targeted strangers.
He said there are other kids who lived with Wes and Karen Hall, and several with similar backgrounds to Gabriel, but they didn't kill anybody. He said whatever mitigating evidence there might be, it isn't sufficient to explain why Gabriel Hall killed people to whom he had no connection.
"This changed this community forever," Baker said. "This is supposed to be our home and safe, and Gabriel Hall has made sure that I will never ever walk into my house and leave the garage door up."