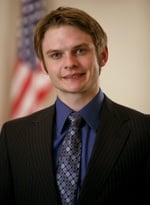 College Station City Council meetings will likely be a little shorter come November. Councilman Jess Fields, known for being the lone dissenting vote for several agenda items at every meeting, announced Wednesday evening that he will not seek re-election.
Fields said he timed the announcement so that as many people as possible could enter the race for his seat and that he doesn't plan to back a successor.
He joined the council in May 2010 after winning a close race in which he took 51.5 percent of the vote. The then-22-year-old Fields was the first Texas A&M student since the mid-'90s to win a council seat.
Reducing the return on investment utility fee, getting College Station certified by the state as a transparent city and eliminating a color palette for commercial buildings are all accomplishments on council for which Fields professed pride.
"There have certainly been some successes in terms of paring back government that if I wasn't directly responsible for, I've been a part of, and I'm really proud of that," Fields said. "There's still a lot of waste in the budget, unfortunately, and a lot of programs I'd like to see reduced or eliminated but compared to where we were in 2010 I feel the city has come a long way."
During that time, Fields married his wife, Courtney, and the couple are expecting their first child in August. Family and a new job were two contributing factors Fields attributed to stepping down -- adding he was confident he could win a second term.
Fields said he could do more good through other avenues, and that he had trouble gaining traction with council.
"I think given the fact that I have never really had a majority of people on council who have felt the same way and who have been as conservative as I am ... I feel like I've done about as much as I could do," he said.
He didn't shy away from the fact that he was the lone dissenter on most split council votes, and acknowledged it was difficult for him to garner enough support to even get items on the agenda. Unfinished business that Fields would like to see pursued are going out to bid for waste collection, deregulating the energy market and completely eliminating the city hotel motel tax.
Mayor Nancy Berry described Fields as an outlier on many issues, and that he didn't shy away from confrontation.
"We appreciate his service and wish him well in future endeavors," Berry said. "He brought a different perspective to city council."
Fields said he plans to take the same free market message he delivered to council to a broader audience across the entire state, but would not say what new job he would start in November.
"I'm going to be joining a major conservative organization in Texas working very specifically on local policy. I will travel around the state and work with local government, city officials, staff members and citizens on local policy issues."
Fields said he was unsure if he was going to relocate his family for the new line of work, but that he planned to retain ownership of his small business in College Station, Cavalier Cigar Company. He said he had no immediate plans to seek office, but would not completely rule out a return to public service.
"You couldn't live here for a period of time and leave this community behind," Fields said. "It's really a place that sticks with you. ... This is where my heart is."
Get local news delivered to your inbox!
Subscribe to our Daily Headlines newsletter.