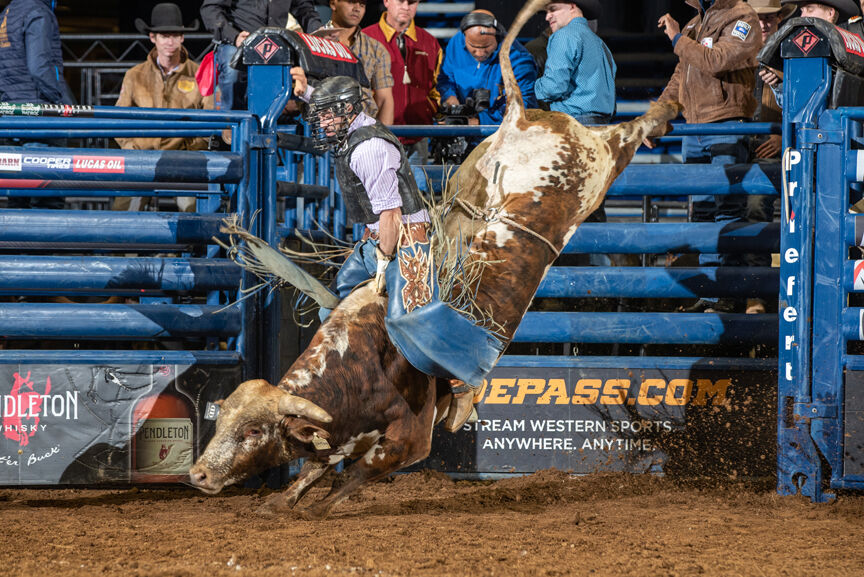 Since 2019, stock contractor Dennis Davis has been raising and training about 45 bulls at a ranch about 40 miles west of Houston.
"I have a number of bulls owned by people across the country, and it's my job to place those bulls at different events and find places for them to go to compete," Davis said.
One of those competitions is the Professional Bull Riders' Aggieland Classic at Reed Arena Friday and Saturday. One of several stock contractors being used for the event, Davis will bring six bulls to the competition. He said riders draw the bulls they will ride at random.
"It's pretty much luck of the draw," Davis said.
Growing up in Runge, a town about halfway between San Antonio and Victoria, Davis said his family always enjoyed rodeo and his father rode horses. Davis started riding bulls as a teenager and competed into his 30s, but he was forced to retire after breaking his scapula.
He said he wasn't ready to leave the bull-riding scene and took up training to remain active in the business.
For about 15 years, Davis worked in Katy and passed by a ranch every morning. After reading an article about how the ranch had become co-sanctioned with American Bucking Bull Inc., he went to work there. That operation, the Jaynes' Gang Ranch, also ran Exclusive Genetics/Bucking Bull Games.
"Being a former bull rider, everyone wants to go to Vegas, everybody wants to compete in the PBR, and everybody wants to be a world champion — but unfortunately, there's a limited number of people," Davis said. "I wasn't fortunate enough to be a part of that limited [group], so I figured if I could get with this company, that may be my ticket to just go be in that Vegas atmosphere."
After six months working on a genetics project, the Jaynes' Gang trainer unexpectedly quit.
"The owner said, 'How would you like to become a bucking bull trainer?' " Davis said. "And I said, 'Heck yeah, that's the only reason I signed up.' "
From 2012 to the end of 2018, Davis served as the Jaynes' Gang's head trainer. Dennis Davis Bucking Bulls was formed at the start of 2019 when Exclusive Genetics/Bucking Bull Games closed.
Being a bull trainer is similar to being a trainer for a professional athlete, Davis said. He works to provide his bulls with proper nutrition and workouts while making sure they are in good health.
Davis said he's methodical when training bulls to do things such as spins and kicks, noting bulls are repetitious animals. To evaluate and train the bulls, Davis said he uses a bucking dummy, which is a weight that rests on top of the bull's back and is fastened with a rope.
"Once the bull exemplifies what I'm looking for, whether it's turning one way or another, then I would take [the dummy] off of him," Davis said. "The next time that bull bucks, he remembers that the last time I turned or the last time I did this, this thing came off my back. That works with about 95% of the bulls."
Riders work with Davis on a daily basis, and he does the leg work to train the bulls on what he calls chute etiquette, which helps prepare the bulls to have riders get on them before their ride begins.
When preparing to take bulls to competition, Davis said he looks at riders' statistics compared to his bulls to decide which bulls to enter different rounds. Davis said it's important to bring bulls that riders can ride for a full eight seconds, since up to half of the score is based on the bull's performance.
A successful competition, Davis said, includes staying healthy, having fun and winning.
"Obviously if you win, that's very successful," Davis said, "but even if you don't win, if your bulls come away safe and your bulls come away bucking really good and riders rope really good and other teams just beat you because they were better, I consider that a successful event."