Fall is always a busy time in Bryan-College Station, and this weekend is no exception. There is the Brazos Valley Fair and Expo, the season opener for the Brazos Valley Symphony Orchestra, Pumpkinpalooza, church fall festivals and more. For a full list of events, visit theeagle.com/calendar.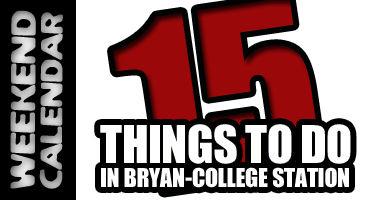 • The Brazos Valley Museum of Natural History presents its Owl-O-Ween Festival on Friday from 5:30 to 8 p.m. featuring live animals, crafts, a haunted woods tour, educational booths, carnival games and a costume contest. Admission to the museum and Discovery Room featuring live Halloween animals is free. Tickets must be purchased to participate in carnival games, concessions and haunted woods tours. Visit the museum's page on Facebook or call 776-2195 for more information.
• The Forsyth Galleries at the Memorial Student Center on the Texas A&M University campus is hosting a Silent Disco on Friday from 7 to 9 p.m. Grab some headphones and dance to the music of your choice. Mocktails and snacks are included in this free event. RSVP's are encouraged at tx.ag/silentdisco.
• Kyle Park is performing at Hurricane Harry's on Friday at 9 p.m. with guest Wynn Williams. Tickets are $10 online. For more information, visit harrys.bcsclubs.com.
• Downtown Bryan's Fright Nights Haunted House begins on Friday and continues Saturday, Oct. 25, 26 and 31. The event is at the StageCenter Theatre. Doors open at 7:30 p.m. The last ticket is sold at 11:30 p.m. No one under 13 is admitted without an adult. Tickets are $10. For more information, visit www.facebook.com/thefrightnights.
• The Texas A&M Forest Service is throwing a Smokey Bear Birthday Bash on Saturday from 10 a.m. to 2 p.m. at George H.W. Bush Presidential Library and Museum. It is free and open to the public, featuring cupcakes, games, arts, crafts, bounce houses, pinatas, face painting, educational booths and more. For more information, visit www.bush41.org/events?event=98.
• Westminster Presbyterian Church is hosting Fall Festival at the Park on Saturday from 4:30 to 8 p.m. at Tanglewood Park. The free festival features bounce houses, carnival games, face painting, photos, games and sports. A hot dog dinner will be served at 5:30 p.m. Costumes are encouraged. For more information, visit wpcbryan.org/events/wpc-fall-festival-2019.
• The Texas A&M Chemistry Open House and Science Exploration Gallery is Saturday from 10 a.m. to 3 p.m. inside Texas A&M's Chemistry Building. There will be activities and demonstrations, including four showings of the Chemistry Road Show at 9:30 a.m., 11 a.m., 12:30 p.m. and 2 p.m. The event is free and open to the public. For more information, visit www.chem.tamu.edu/openhouse.
• The 7th annual Brazos Valley Fair & Rodeo from Friday through Sunday at the Brazos County Expo will have rodeos, a carnival, pig races, the Extreme Dogs Show, fair food, an art show, live music, AgLand Kids Zone, a petting zoo, mutton bustin', a boot scramble and more. Tickets are $15 for those 13 and older. For tickets and for more information, visit brazosvalleyfair.com.
• The Blinn College's Star of the Republic Museum's annual Night at the Museum is Saturday, beginning at 6:30 p.m. The public is invited to revel in Texas' storied past with night-time wagon rides, a flashlight museum tour, live exhibits and tavern tales. The museum is at the Washington-on-the-Brazos State Historic Site. Admission is $8 for adults, $5 for students and free for children 6 and younger. For more information, visit www.starmuseum.org.
•Downtown Bryan presents the seventh annual Zombie Pub Crawl on Saturday, beginning at 7 p.m. and continuing until 2 a.m. at 16 participating bars. Tickets will be available Saturday at the Palace Theater. The Palace Theater will also have a Zombification Station where you can get your face painted. The event offers $4 drink specials and a costume contest at every bar to qualify for the overall winning costume. For more information, including participating locations, visit www.downtownbryan.com/event/2019-zombie-pub-crawl.
• The Holy Cross Lutheran Church annual Fall Fest is Sunday at noon at 1200 Foxfire Drive in College Station. The family-friendly festival features games, crafts for kids, prize drawings, and live and silent auctions. Lunch will be served from 11 a.m. to 1 p.m. Lunch plates are $5. Kids games are $20 for unlimited wristbands for 50 cents per ticket.
• The Millican Alliance presents Pumpkinpalooza on Sunday from 11 a.m. to 4 p.m. at the Millican Reserve. The event features pumpkin chunkin', live music, food trucks, local crafts, face painting, a pumpkin patch, pumpkin decorating, a pie eating contest, rock climbing and more. General admission tickets are $5 for ages 4 and up. A wristband for the Discovery Zone is $15. For more information, visit pumpkinpalooza2019.splashthat.com.