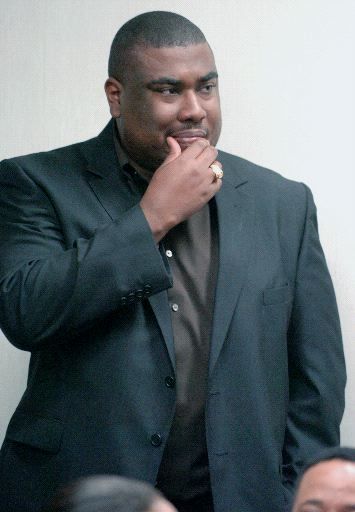 Three months after fending off prosecutors by attacking the credibility of the young women who accused him, former Bryan High truancy officer Mark Anthony Haynes conceded Tuesday to inappropriately touching a student.
Two of the victims who were lambasted by Haynes' attorneys as "cold and calculated" liars in January briefly cried as they watched the 35-year-old pleaded guilty to one count of indecency with a child - a second-degree felony.
In exchange for the plea, prosecutors agreed to give Haynes deferred adjudication probation and to drop five other charges against him. As conditions of the probation, he will have to register as a sex offender and won't be allowed to work for a school district.
Six former students - now women in their early 20s - testified against Haynes in January, describing numerous incidents of misconduct on his part during the 2001-02 school year.
The allegations ranged from asking some of the students to call him "Big Daddy" to showing students pornography on his office computer and offering gifts in an effort to entice girls to kiss each other in his office. The focus of the trial, however, was the two most serious allegations - that he groped two of the teens in his office during separate incidents.
But after several weeks of testimony and nine hours of deliberation, the jury could not come to an agreement. A mistrial was declared, leaving prosecutors to decide if they wanted to take the five-year-old case to trial again.
It was a difficult case, Assistant District Attorney Jarvis Parsons said Tuesday, explaining that after the mistrial he met with the women to ask what they wanted to do. Despite the attacks on their credibility during previous trips to the witness stand, each of the women said she would be willing to testify again if that was what was needed to make sure Haynes didn't prey on anybody else, he said.
But in the end, Parsons said, that wasn't necessary because Haynes agreed to the two main demands the victims had - that he admit his guilt and be forced to register as a sex offender.
"The girls have gone through a whole lot, and I think they handled this with class and dignity," Parsons said.
At the conclusion of the hearing Tuesday morning, the two women Haynes is accused of groping thanked him for finally admitting his guilt. They'll have to live with the memories of him taking advantage of them for the rest of their lives, they said during a time set aside by the court that allows victims to tell how the crime impacted them.
Haynes' attorneys described their client after the hearing as "relieved." Until recently, prosecutors had never offered a plea agreement that didn't involve prison time, attorney Travis Bryan III said.
"If we had tried it again, who knows what would have happened?" Bryan said. If Haynes had been found guilty, he could have ended up receiving 20 to 30 years in stacked sentences, he said, explaining that his client "just wanted to eliminate the risk of that happening."
Haynes was described during the trial earlier this year as a popular Bryan High staff member known for traveling across the state as a basketball referee. The Texas A&M graduate and former Bryan High student was fired several months after the allegations surfaced in May 2002. Since then, he testified, he has been selling referee supplies for a living.
Prosecutors attempted to introduce evidence during the trial that he also was fired from the College Station school district in 1996 for an inappropriate conversation with a student. He then lied on his application to the Bryan school district, stating that he had never been fired before, prosecutors said. However, the jury was ultimately not allowed to see the evidence.
Although District Judge Rick Davis said he would allow the plea agreement, he also admonished Haynes, stating that the light punishment was not intended as an indication that the crimes committed were minimal.
Haynes appeared jovial at points during Tuesday's hearing, smiling broadly after the plea agreement was approved. His attorneys declined to comment when asked how Haynes felt about having questioned the women's credibility during the previous trial several months ago.