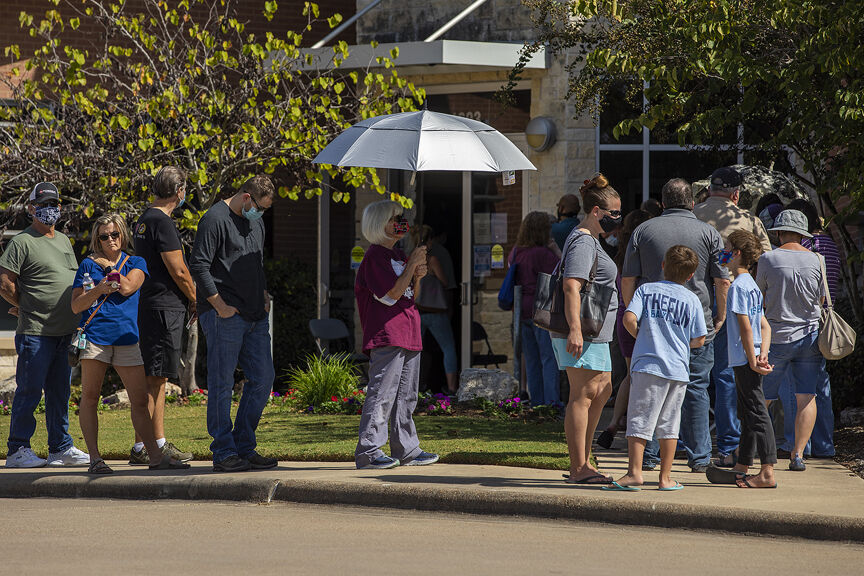 Brazos County early voter turnout, with six days remaining, has already passed 2016's early numerical levels, and voter participation is high throughout the Brazos Valley, election officials said.
Through Saturday night, 42,602 people have voted early in-person in Brazos County, Elections Administrator Trudy Hancock said after polls closed for the day. Combined with about 4,100 mail ballots that have been received, 38% of 122,679 registered voters have cast ballots to this point.
In 2016, 42,914 Brazos County residents voted early; 40,914 people voted early in 2018. Hancock said the high number of mailed votes in 2020 puts total turnout past 2016 levels. The 2020 early voting period is five days longer than in 2016 or 2018.
Robertson County Elections Administrator Rebekah Callaway told The Eagle on Friday evening that nearly 33% of her county's registered voters had voted in-person. Another 4.7% have mailed in ballots. In all, 4,450 of 11,844 registered voters had voted by Friday night in Robertson County, which President Donald Trump and U.S. Sen. Ted Cruz won by 35 and 37.5% in 2016 and 2018, respectively.
"We think we are definitely breaking some records," Callaway said. "We hope many more voters will take advantage of the extra hours of early voting we have coming up in order to cut down on the Election Day crowd. We know that Election Day is going to be a great turnout as well."
Burleson County Elections Administrator Dorothy Oliver said late Friday that more than 30% of its 12,440 registered voters have already voted early in person. Another 6% have voted by mail so far, according to a Texas Tribune database.
"We're right up there with everybody else," Oliver said. "The first week, we were slammed, then everyone forgets the second week — but I'm sure next week will be nothing but full-time excitement." 
Oliver said that the Burleson County Courthouse is the only early voting location and that it will be open for voters from 7 a.m. to 7 p.m. Monday through Friday. It will also be open from 8 a.m. to 1 p.m. today. She said that there have been a few issues around apparel, with people showing up to vote wearing clothes in support of their favorite candidates, but that there haven't been issues regarding mask use.
"As much of a three-ring circus as this election has been, I'm pretty happy with the way things have been going in Burleson County," Oliver said. She said her county will have 13 Election Day voting locations on Nov. 3.
In Grimes County, 6,428 people had cast or mailed ballots through Friday night — good for 36% of more than 17,800 registered voters, according to the Texas Tribune database. The Houston Chronicle reported late Saturday that 1.06 million voters had cast ballots in Harris County, the state's biggest county. About 43% of voters in Harris County have so far cast ballots, the same percentage as Montgomery County, where 161,175 of 370,060 registered voters have already participated.
Statewide through Friday night, 6,857,259 people had voted in person and by mail, according to the Texas Tribune — 40.44% of the 16,955,519 registered voters in Texas. 
Voting in Brazos County resumes at 10 a.m. today and runs through 3 p.m. Voters can cast ballots from 7 a.m. to 7 p.m. Monday through Friday.
In Brazos County, Cruz earned about 55% of the U.S. Senate vote in 2018 over challenger Beto O'Rourke — a margin of 12.6% that was smaller than Trump carrying the county by 23.2 percentage points in 2016.
Brazos County's most popular poll location throughout early voting has been the College Station Utilities and Training Facility, which saw 1,428 voters Saturday, by far its largest turnout. Through 11 days of early voting, 12,900 people have voted at the utilities and training facility.
Hancock said that 4,041 people voted in-person on Saturday and 3,939 did so on Friday at one of five early-vote locations. Hancock has said in recent interviews that while she expected Brazos County turnout to wane after the first day of voting Oct. 13, all but one day has seen higher totals than the 3,480 who voted on day one.
While Galilee Baptist Church in Bryan has been the least-used poll location in Brazos County, 4,264 people have cast ballots there through Saturday night — more than double the 2,086 county residents who voted early at the church in 2016.
Get Government & Politics updates in your inbox!
Stay up-to-date on the latest in local and national government and political topics with our newsletter.