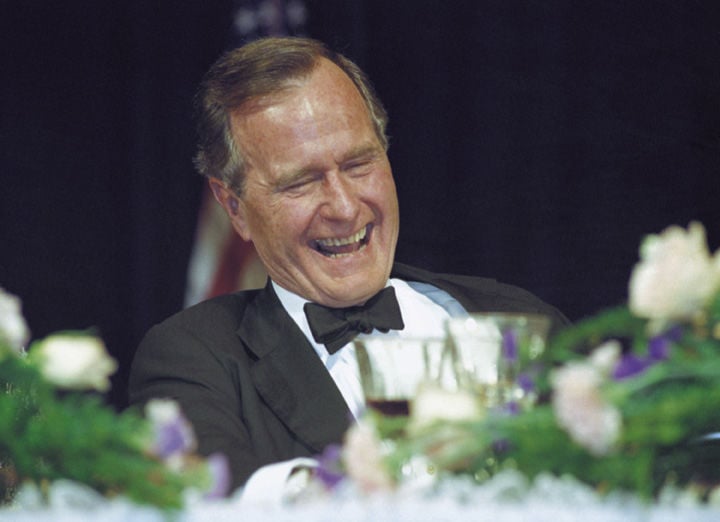 There's a note in former President George H.W. Bush's book All the Best, George Bush: My Life in Letters and Other Writings that provides a glimpse into how he viewed and valued what's funny.
"Humor brings joy and helps make life sing," he wrote in 1986, "but if that humor is mean spirited or hurtful of another, the lightness and the laugh give way to embarrassment and resentment."
The 41st president had his own brand of smart and sometimes silly humor, and there are several examples in All the Best. In 1990, he wrote a memo to press secretary Marlin Fitzwater, explaining that CNN was using a photo of him that was reversed, so his hair appeared to be parted on the wrong side. He asked Fitzwater to get the network to use a different picture: "It's weird -- weirder than I really am!"
There were more serious matters that earned a quip. In 1984, Vice President Bush would face Geraldine Ferraro -- Walter Mondale's VP pick and the first woman on a presidential ticket -- and he wrote her a note after she was announced: "It is a good job. Congratulations on your selection. Good luck -- up to a point."
In 2005, Bush wrote a letter to a friend about an event that commemorated the 15th anniversary of Germany's unification. He described an awkward moment while standing beside former Soviet Union president Mikhail Gorbachev and former German chancellor Helmut Kohl.
"Three eagles were released, landing on the handlers' arms," Bush wrote, as reprinted in All the Best. "We had donned claw proof leather gloves. Each eagle was then transferred to one of us. My eagle was the biggest -- I was thinking, 'Oh great symbol of American might and pride, do not claw me, do not [expletive] upon me.' It worked out OK."
And he poked fun at himself in his post-president years. In a letter to his children in 1998, he wrote about getting older, along with some of the scenarios he encountered at home with his grandchildren, including ruined ice cream when someone left the freezer door open: "I realize 'Keep the freezer door closed from now on and I mean it' lacks the rhetorical depth of 'This will not stand' or 'Read my lips ...' "
Bush's humor is perhaps best defined by his relationship with comic Dana Carvey, who starred on Saturday Night Live during Bush's White House years. Carvey's impression of Bush was highlighted by a nasally voice, exaggerated hand gestures and repeated phrases, like "wouldn't be prudent at this juncture." Carvey-as-Bush reduced the words "not gonna do it" into the odd phrase "na-ga-da."
Presidents don't always appreciate the satire involved on SNL, or how they are portrayed on the show. Bush showed the ability to laugh at himself by embracing Carvey's goofy antics. He went so far as to invite Carvey to the White House in 1992, after he had lost the presidential election to Bill Clinton. As George W. Bush wrote in 41: A Portrait of My Father, White House staff members had been "despondent" after the election, which inspired his father to lighten the mood with Carvey's surprise appearance.
Carvey wasn't dressed up as Bush but thrilled the White House staff with his impression. And he explained how it developed: He started with the voice of Mr. Rogers, he said, then added "a little John Wayne." Bush and his staff laughed throughout Carvey's appearance.
"The idea was vintage George Bush," George W. Bush wrote. "He was thinking of others, laughing at himself and bringing joy to the people who were hurting."
The 41st president's good-natured approach led to him appearing via video in the opening scene of Saturday Night Live in October 1994. Bush feigned frustration about the show making fun of him over the years.
"Do I have any hard feelings about that? Yes I do," he said. "But I'll have my revenge when the time is right. Not now. Wouldn't be prudent at this juncture."
He noted that he and Barbara would be watching the show that night, but he added a warning.
"I'm a channel surfer," he said. "If the sketches get long, I'm gonna flip right over to Tales from the Crypt."
In an exchange with Carvey during the monologue, Bush challenged Carvey's impression, saying, "It's nothing like me."
"And also na-ga-da -- never said it," Bush said. "In all my years of government service, I never once said na-ga-da."