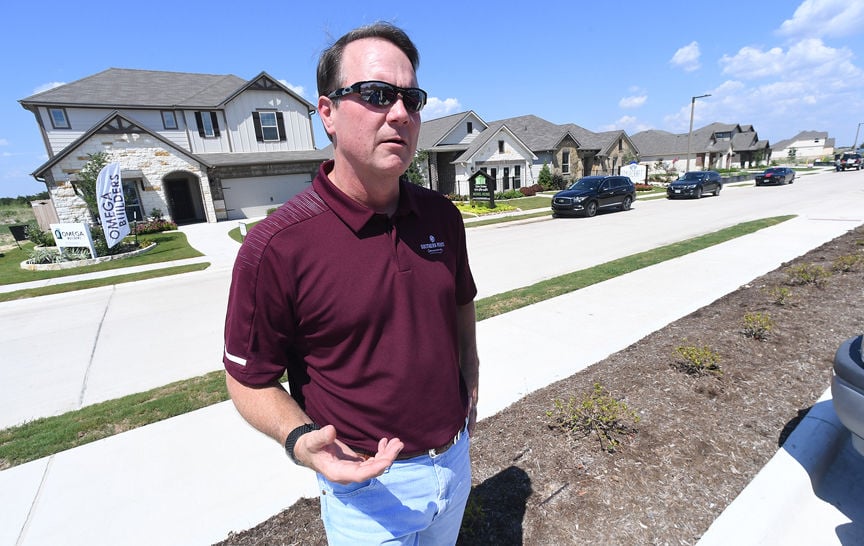 With four residents and about 30 houses under construction, Southern Pointe Community is starting to take shape, about a decade after talk of the housing development began. 
The 552-acre tract, encompassing the former Texas World Speedway, is larger than nearby neighborhoods and being developed in sections. The current portion will contain 150 of Southern Pointe's planned 1,994 single-family lots. Buyers can choose from three home builders — Kaleo Homes, Omega Builders and Stylecraft Builders — each of which have a model home on the property. 
BV Southern Pointe Development Inc. President Bill Mather said prices are mostly kept close to the mid-$200,000 range to appeal to first-time home buyers — a demographic Mather said often struggles to afford houses currently on the market.
"We want to be the lowest priced new homes in College Station [school district]," Mather said. 
In total, the three homemakers have sold just over 20 homes, with Kaleo leading in sales, according to Kaleo Homes owner Fred Burris. 
College Station city planner Lauren Hovde said Southern Pointe's master plan includes single-family lots, a multi-family portion, space for a fire station and 30 acres of commercial land. Mather said the neighborhood will include seven lakes and more than 10 miles of trails, which were built using the asphalt from the former raceway.
Hovde said other communities develop commercial and residential portions separately, but Southern Pointe included both as part of a master plan that is included in a development agreement with College Station.
"It's a more comprehensive community than we traditionally see in College Station," Hovde said. "It has more of a mix of uses within the confines of the development itself." 
Southern Pointe Community is also Brazos County's first municipal utility district, or MUD. 
According to the city of College Station website, a MUD is a political subdivision of the state authorized by the Texas Commission on Environmental Quality to provide services within the district's boundaries. MUDs are created to help developers finance infrastructure by fronting costs which later will be reimbursed through bonds. Taxes from properties in a MUD also can help cover expenses. 
Even though Southern Pointe falls outside of the city limits, everything is being built according to College Station's standards because there is an agreement to annex the community into the city once Southern Pointe is 80 percent developed, according to city councilmember John Nichols.
MUDs are not always annexed into a city, but since Southern Pointe is at the entry to College Station and bounded by the city limits, Nichols said the city had an interest in controlling the development. 
Southern Pointe residents will be ratepayers for College Station water and sewer systems, but public safety services such as police and firefighters will be provided by the county and a volunteer fire department. Residents will be responsible for paying MUD and county taxes.
"The city is very happy about the agreement and how it came about," Nichols said. "I believe that the people in the municipal utility district, Mr. Mather and the developers down there are happy that they're getting started." 
Long before Texas World Speedway was converted into Southern Pointe, it was known for major NASCAR and IndyCar races. The course eventually fell into disrepair and mostly was used for smaller racing groups, including Corinthian Vintage Auto Racing. 
Perhaps its most famous non-racing event was Willie Nelson's 4th of July Picnic in 1974.
Most recently, the track was used to house thousands of cars that were flooded during Hurricane Harvey in 2017.
But today, much of the actual track has been recycled into walking trails in Southern Pointe. Mather said other portions of the speedway eventually might be used as well, but for now the track is completely off limits until the time comes to develop other sections of the community. 
Get local news delivered to your inbox!
Subscribe to our Daily Headlines newsletter.