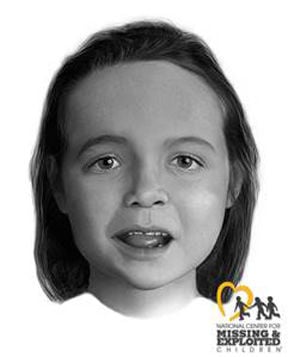 When Chelsea Stanford stepped into the role of chief investigator for the Madison County Sheriff's Office in February, one of the first things she did was look at all of the outstanding cases.
The top one was "Madisonville Jane Doe."
Over five years after the remains of a young girl were found in a suitcase in a pasture off an Interstate 45 access road, authorities have yet to identify the deceased girl now known as "Madisonville Jane Doe."
"As the anniversary comes around, it shakes people to their core a little bit more that so much time has gone past and since the anniversary has come up and other news outlets have spread the news story, we got even more tips," Stanford said. "Everyone who has been involved with this case has been determined to [bring] Baby Madison's name back and we're all working extremely hard on it."
Madison County deputies responded to a call in September 2016 when a man mowing a property adjacent to I-45 stopped after his mower struck something, later to be discovered as the suitcase containing the girl's skeletal remains.
After the girl's remains were analyzed by scientists in a lab, authorities said the girl had been dead for three to five months when her remains were found, which put her death between April and June 2016. She was likely between the ages of 2 and 6 and was either white or Hispanic with thick dark hair. The girl suffered from a medical condition known as micrognathia, which caused her jaw bone to be smaller than normal and require a feeding tube.
Pollen tests revealed the girl had a connection to southeast Arizona or an adjacent region of Mexico. She was wearing a pink dress that said "Follow Your Dreams." The girl's death was ruled a homicide, but autopsy results couldn't confirm an exact cause of death, according to an article in The Eagle from September 2019.
Since Stanford started at the Madison County's Sheriff's Office in December 2020, she wasn't involved in the investigation from the beginning. Stanford said although the case seems like it is cold, authorities have been slowly working with different agencies for over five years to uncover the girl's real name.
"Just because it's a 5-year-old case, it hasn't sat on a desk for five years," Stanford said. "The file is constantly coming across, I'm constantly emailing somebody about it, and if it wasn't for all of the agencies involved and everyone's determination to give Baby Madison her real name back, then we wouldn't be able to get as far as we've gotten."
Anyone with information regarding the Madisonville Jane Doe case is asked to contact the Madison County Sheriff's Office at (936) 348-2755 or the National Center for Missing and Exploited Children at 1-800-THE-LOST. Stanford said she remains optimistic the girl's identity will be found, but added it's difficult knowing there might be someone out there with information about the girl.
"It's just heartbreaking to know that a little girl, she passed away and her body was disposed of in such a ridiculous manner," Stanford said. "But no one's come forth and said, 'Here, I know about this.' Somebody may not have seen anything when it happened, but whoever the suspect is, however she died, whoever disposed of her body like that should have an extremely guilty conscience and hopefully will say something someday if we don't identify her before then."