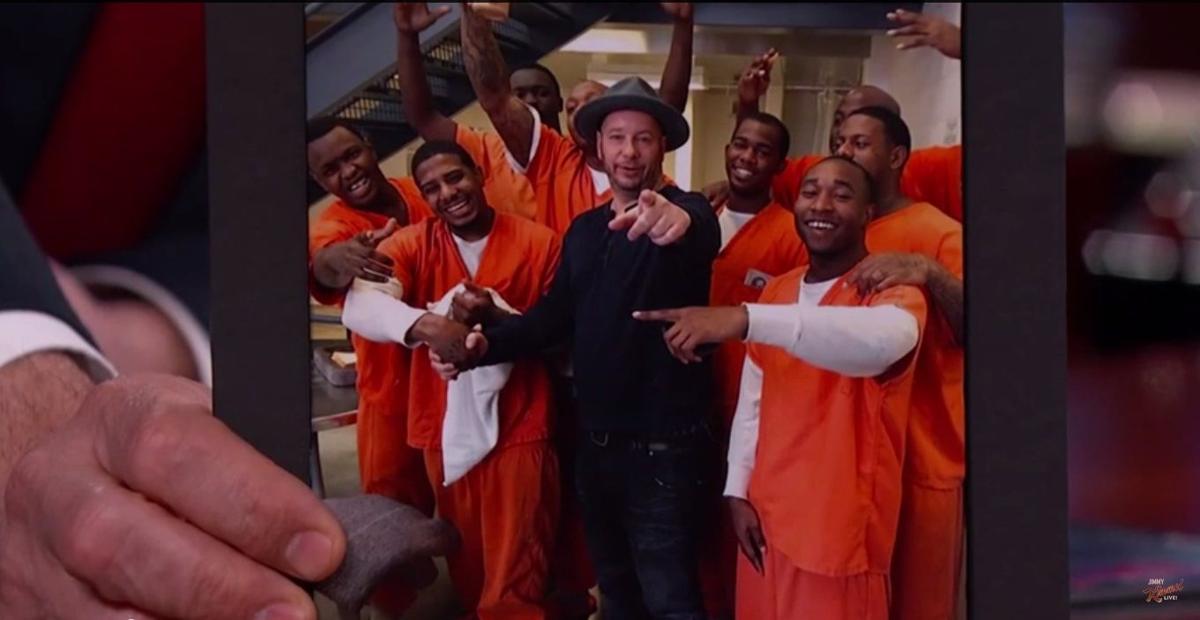 Reviews critiquing Jeff Ross's upcoming special for Comedy Central about life in the Brazos County Jail describe the program as a must-see show. 
"[It's] original, funny, informative and super entertaining," wrote Jordan Scherer with foolicity.com. "As a comedian, performing in front of a theater of people who paid to see you is nerve-wracking enough, now try it in a prison filled with convicted murderers, now try roasting them."
The 75-minute show, filmed in February during three stand-up performances at the jail in Bryan, airs at 10 p.m. June 13 on Comedy Central.
Famous for his insult comedy routine, Ross has roasted dozens of celebrities including Charlie Sheen, Joan Rivers, Pamela Anderson and, most recently, Justin Bieber. He told The Hollywood Reporter that he wanted to find a more "dangerous and provocative target" to poke fun at.
It seems he found it. In a minute-long promotion for the show, Ross asks Jail Administrator Wayne Dicky if they can sit the murderers in the back during the show.
"No," Dicky said. "They'll be up front."
In a recent interview with Jimmy Kimmel on his ABC late night show, Ross was asked about the experience in Brazos County and he joked he had a captive audience: "No walk-outs."
Ross told Kimmel that spending three days at the jail -- two shows for the male inmates, one for the women -- was heavy.
"None of us are perfect. We all do dumb stuff. I've drank and driven. I've lied on my taxes. I shot Suge Knight," he joked, referring to the former rap music executive now charged with murder.
Dicky said he first heard about the show from a newsletter sent out by the American Jail Association, on which he's one of 21 board members. At the time, Dicky said he didn't know the show would be on Comedy Central.
While Ross spoke with inmates about life behind bars, he also met with Dicky and jailers about the challenges they face. For Dicky, it was an opportunity to highlight the county's inmate behavior management program. Dicky told The Hollywood Reporter that one month of playing by the rules earned inmates a spot in the audience.
"The response was really positive prior to the show -- we had a lot of interest," Dickey said. "I don't know how many people put in requests to go, but not everyone who requested go got to go."
Although Dicky said behavior in the jail typically is good, it's not common for 350 inmates to be positively engaged for more than an hour.
Producers for the event received more than 100 applications from jails and toured three before deciding on Brazos. Dicky said he believes the jail was chosen because of their philosophy toward the inmates.
"Most of the people in jail are going to get out," he said. "Whatever we can do to help them be successful, that means we have less victims in the community and less crime."
The comedian's stay included playing basketball in the yard and spending time in solitary confinement, according to a press release from Comedy Central.
Dicky was able to have a few conversations with Ross during his stay.
"I think this was different than anything he's ever done," Dicky said. "I think he has a new perspective on jails."
While Suddenlink customers do not have Comedy Central, the show will be available for download on iTunes, Amazon Instant Video, Xbox Video, Sony Entertainment Network, Vudu and Google Play on June 13. To watch the promo for the show, go to Ross's homepage at roastmastergeneral.com/
Get local news delivered to your inbox!
Subscribe to our Daily Headlines newsletter.