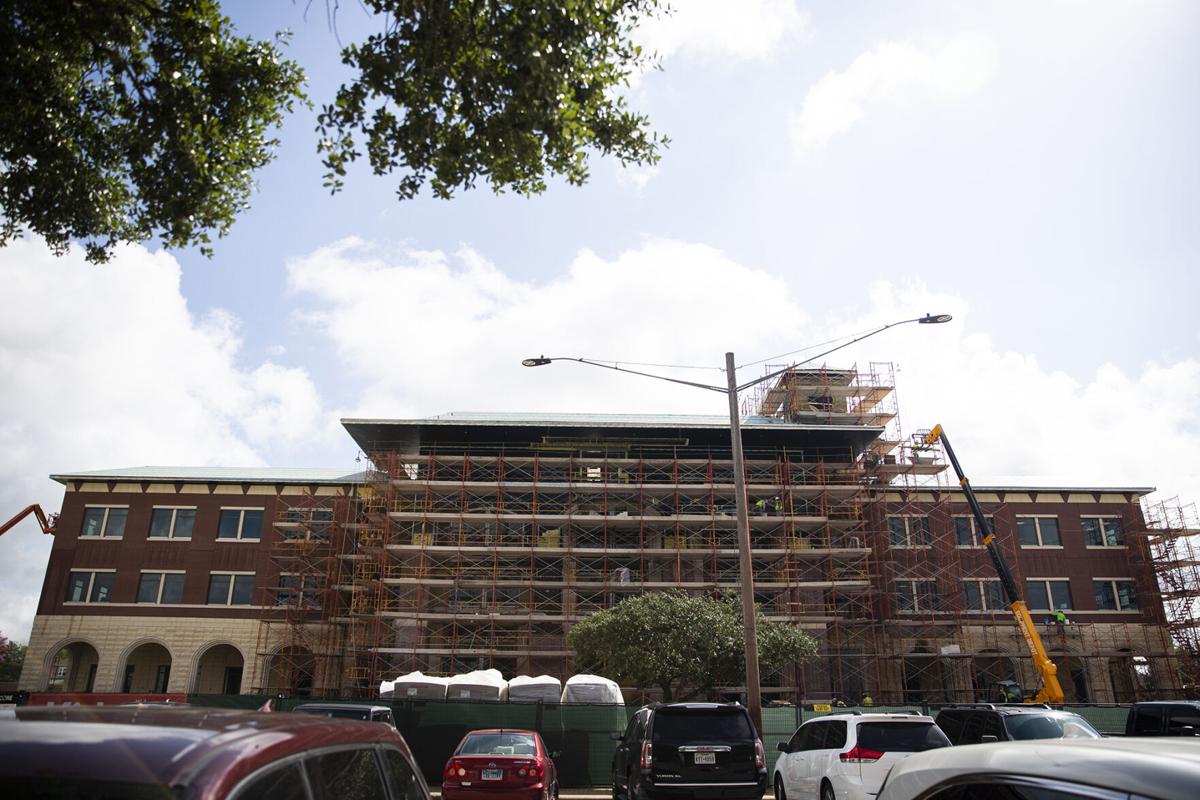 College Station's new City Hall is on track to be in use by the end of the year, and city officials have planned a dedication event with public tours early next month.
The Dec. 7 event will begin at 4 p.m. with a ribbon-cutting, followed by self-guided tours of the nearly 80,000-square-foot-building. There will also be refreshments, music and activities.
Construction of the three-story building began in February 2020 with a $39.3 million budget, said Emily Fisher, the city's assistant director for capital projects. The building will provide more office space for city employees and council chambers that can accommodate nearly 200 people.
Fisher said the building's size will allow for more people to use the space, including a 1,200-square-foot community room that can be reserved for community events.
Fisher said the building allows the city to move employees from various departments into the same building.
"We're consolidating a lot of them into one," she said. "Some departments are located in other office buildings in the city, so we're bringing them all together into the City Hall."
Both the city's IT and the community services departments will be moving from buildings on Krenek Tap Road and University Drive into the new space. Fisher said eliminating extra lease payments will save the city money.
The building has architectural features, furnishings and features that link to College Station's beginnings as a railroad depot and postal stop, city officials said in a statement.
The new City Hall building, at 1101 Texas Ave., is just behind the current City Hall. In addition to bigger work spaces, it will also hold reception areas and conference rooms for both internal staff meetings and meetings open to the public. The City Council also approved of a $1.62 million contract for furniture and moving services.
The city plans to demolish the current City Hall building. The 36,881-square-foot building was built in 1969 and renovated in both 1979 and 1983. After demolition, the site will be left as a grassy area and eventually turned into a plaza.
Fisher said that while the city plans to move employees into the new building next month, full completion of the project could take a while longer.
"There's still work that has to happen since we're demolishing the old building. Everything should be completed by March of 2022," Fisher said.
Fisher said city officials are looking forward to celebrating the new building with community members.
"We're just really excited," she said.
The current City Hall will be closed for business on Dec. 10 and 13 as employees transition to the new office space.