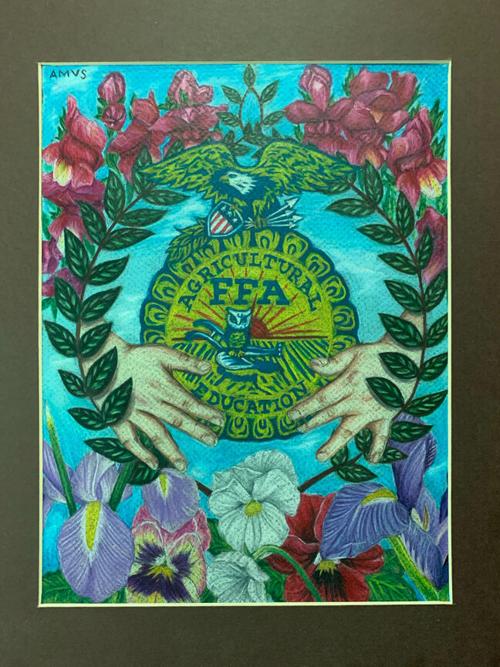 When College Station High School senior Anika Van Steinburg moved into the school as a sophomore, she was interested in taking horticulture classes but did not see herself joining FFA.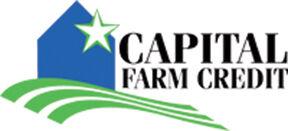 "I didn't know that it was technically an agricultural science class. I just thought it was a science class," she said. "… I always associated FFA with just, like, animal farming, taking care of animals, and I never thought that it could include taking care of plants and the green industry that way. It very much was kind of like a door opening for me to join FFA."
Her ag teacher, Sheridan Clinkscales, described Van Steinburg as a non-traditional FFA student.
"She's not the boots-and-jeans-wearing gal that is going to be raising animals, but the plant side of ag is so important, and she's so good at it," Clinkscales said.
She said the first time she met Van Steinburg was related to another of the student's passions: art. The senior was assigned a teacher to do a commissioned painting for, and her assigned teacher was Clinkscales.
"I will never get rid of this," she said about the piece that includes the FFA emblem surrounded by some of Clinkscales' favorite plants.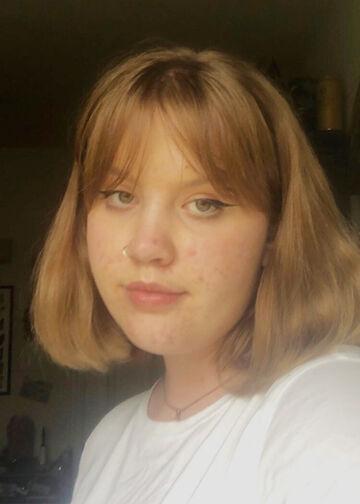 Art is something Van Steinburg plans to pursue after graduating from CSHS. After completing her core classes at Blinn College, she plans to transfer to a four-year university to study art history and minor in French. Her goal is to work in an art museum as a researcher or curator and work toward master's and doctorate degrees to ultimately become a collegiate art history professor.
Although she is not planning to pursue a career in agriculture, she said, a scholarship would help her achieve her goals and show others that ag is not limited to those who choose to pursue it as a career.
"You don't necessarily have to have it in your definite future to find it important," she said.
The horticulture classes and FFA chapter have helped her understand how vital agriculture as a whole is to society, saying humans are codependent on plants and the natural world and cannot live without that relationship.
"Just because you don't see it doesn't mean it doesn't affect your life," she said.
As an FFA member, she was able to join the chapter's nursery landscape team, where she has been able to grow closer bonds with friends, create new friendships and develop her leadership skills as one of a few seniors on the team, she said.
Van Steinburg does not consider herself a leader but said being a part of the chapter and the nursery landscape team have helped her grow as a person and become more outgoing and open to talking with people and forming relationships. Clinkscales said in the two years Van Steinburg has been in FFA, she has seen the senior take on a mentor role to younger students in the horticulture classes and on the nursery landscape team.
"She's a mentor that's going to be shoulder-to-shoulder with you," Clinkscales described. "She's going to be learning besides you; she's going to be encouraging you. She's going to grab a plant and point out all the different things to help you identify it."
Not only does Van Steinburg help the younger students with her knowledge, Clinkscales said, but she also helps show them how to become a mentor once they become upperclassmen.
Van Steinburg, who moved with her family to College Station from Maryland as a sophomore, said the most fun part about being in FFA is finding like-minded people who enjoy horticulture and plants as much as she does.
"I think it's just a wonderful experience for any person, even if they don't want to pursue it as a career," she said.