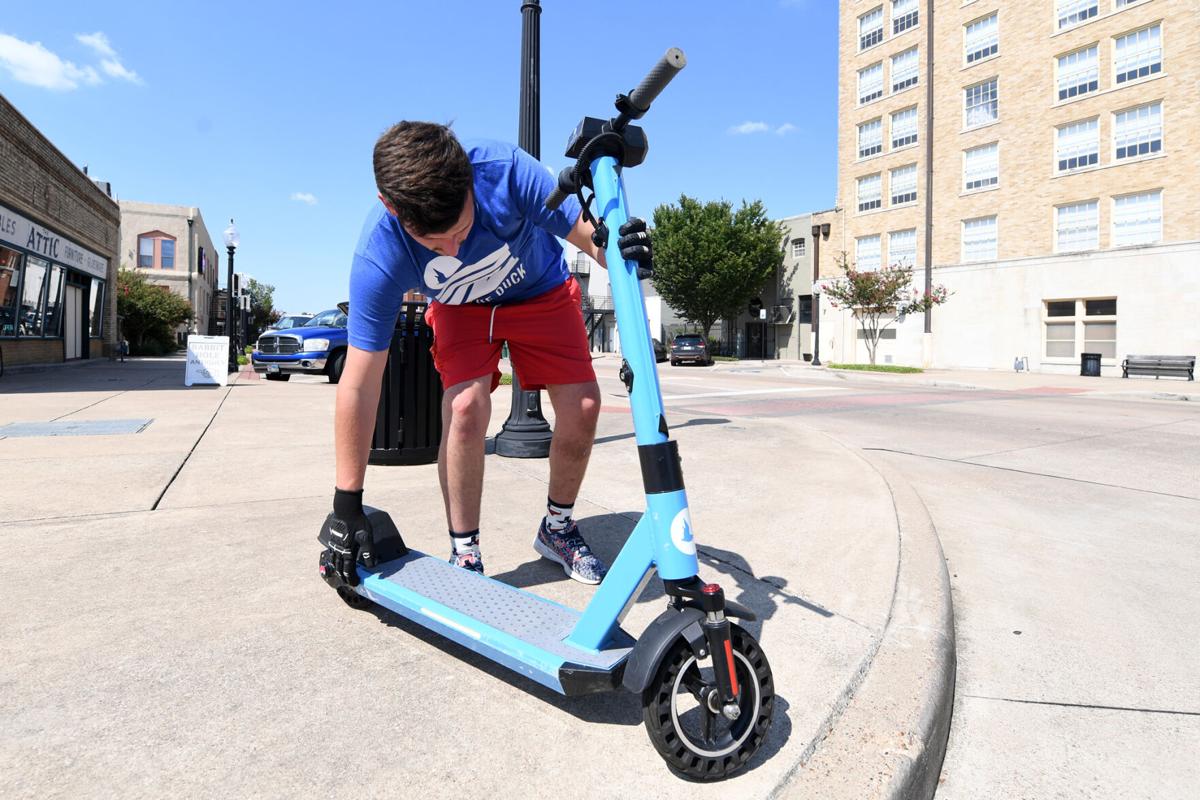 The College Station City Council discussed and came to a consensus during its Oct. 14 meeting to move forward with expanding its micromobility ordinance to include electric micro-vehicles.
Vanessa Garza, senior manager of the city's Bicycle and Pedestrian Program, noted the ordinance currently only allows bicycles. This means the VeoRide Cosmo electric sit-down scooters on the Texas A&M campus and in specified other areas of the city are not included in the ordinance.
Micro-vehicles are defined as those powered by the rider or electric charge that travel at speeds of 20 mph or slower.
College Station Mayor Karl Mooney said while there are issues still to work out, such as people riding beyond the geofence and not using the locking system properly, he does not see how the city can say no to expanding the ordinance when there are 675 VeoRide Cosmo scooters on the Texas A&M campus.
Councilman Dennis Maloney called it a moot point to not expand to include sit-down scooters.
Councilman John Nichols said discussions about sit-down scooters offered by VeoRide and stand-up scooters introduced by Blue Duck in the Midtown area are two different conversations; however, both are being done since both electric vehicles are already in use.
"The stand-up scooters, I think we really need to either tell them they're illegal and get them out of here or devise some kind of a demonstration project," Nichols said, adding later he does not want it to be near the Texas A&M campus unless the university begins allowing shared stand-up scooters on campus.
Garza said the city can look into developing a pilot program with the stand-up electric scooters in the Midtown area or another area of the city deemed appropriate with a limited geofence, similar to what Bryan did when first exploring the Blue Duck scooters in Downtown Bryan and around the Blinn College campus.
Texas A&M does not allow shared stand-up scooters on its campus due to safety concerns; however, the university does not have a prohibition on privately owned stand-up scooters.
Councilmember Bob Brick, who rides his own electric stand-up scooter, expressed a concern with the speed of the electric micro-vehicles, saying the university's concern is warranted. He requested any ordinance change include a speed limit that vendors will have to accommodate through an electronic governor on the scooters.
"Many of the electric scooters I see whizzing past me on mine are going much too fast in my own opinion," he said. "I don't have safety data to verify all this, but it just strikes me that many of them are going way too fast for a little scooter with small wheels."
Brick said he is in favor of expanding the ordinance to include the shared electric scooters with regulations implemented by VeoRide based on Ofo's dockless system.
Part of the consensus to continue discussions about expanding the ordinance include utilizing the "lock-to" system VeoRide has introduced, rather than the dockless system.
Multiple City Council members said they are in favor of alternative modes of transportation to cars.
"To me, any mode of transportation that allows the students to get free of cars and get on and off campus is a good thing, period," Maloney said.
Councilwoman Elizabeth Cunha, chair of the Bicycles, Pedestrians and Greenways Committee, said micromobility should be combined with other public transportation with bike racks near bus stops.
"When a person is thinking about transportation and where they can go on these, you're not envisioning somebody riding 15 miles across town on this," she said. "They do short trips, and you combine it with other mobility options. I'm absolutely in support. I think these do a fantastic job."
Councilman John Crompton said the core problem of congestion is within a mile of campus and identified micro-vehicles as the primary source of alleviating some of that congestion.
"I'm where the mayor is," he said. "We have to do this; it's already there, and it's to our advantage to alleviate congestion. We just have to figure out how to do it with minimum risk."
Brick said the increased number of micro-vehicles could create a different problem in the future with many people on scooters and bicycles waiting to cross busy intersections, but the city must move in the direction of micromobility.
Mooney said micro-vehicle users should have to follow applicable traffic laws, and he would like to see the city and university police departments enforce those laws before someone gets seriously hurt.
Garza said any ordinance change will have to specify that shared stand-up electric scooters are not allowed on the Texas A&M campus and that no shared electric sit-down scooters or bicycles other than the one the university has a contract with – currently VeoRide – will be allowed on campus.