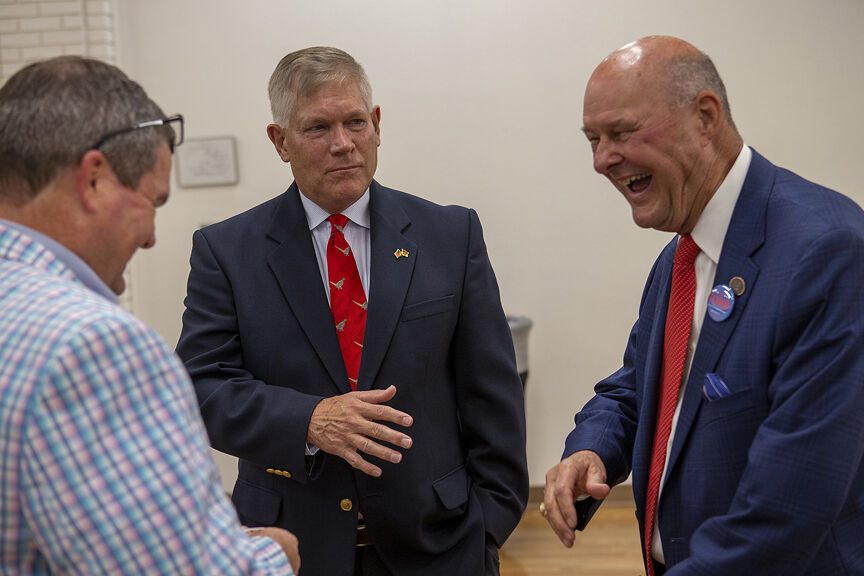 Candidates for U.S. House District 17 and Brazos County Precinct 2 Commissioner outlined their visions for governing at the Brazos Center on Thursday evening at a forum hosted by the Bryan-College Station Chamber of Commerce.
As early voting in Texas continues, Democrat Rick Kennedy, Republican Pete Sessions and Libertarian Ted Brown took the stage to share their platforms and priorities if they were elected to serve in Congress. 
Sessions, who lost his Dallas-area seat in the U.S. House in 2018, focused on establishing his central Texas roots and conservative voting record.
"I believe it's important to have a conservative Republican to go to Washington to move our country forward economically, and also to work with President Trump," Sessions said.
Kennedy, an Austin-area software engineer who unsuccessfully challenged Rep. Bill Flores in District 17 in 2018, said he is more moderate than many Democrats and said he believes party leadership in both congressional chambers has too much power in shaping governing agendas. Kennedy said that in the nine presidential elections in which he's voted, he has cast ballots for six Democrats and three Republicans. He said he's interested in finding solutions to the country's challenges regardless of which party is affiliated with those ideas.
 In his closing remarks, Kennedy accused Sessions of moving to the district to run for the seat and said Sessions "took the Republican nomination away from a dozen of our fellow central Texans."
"That should anger you," Kennedy told the physically distanced Brazos Center audience. "But he's a Republican, and in this divisive atmosphere, I know many of you can't imagine voting for anyone — but I urge you to reconsider. I'm not here to win this seat for my party. I'm here to win it for us."
In closing, Sessions, who was born and raised in Waco, said he believes in American exceptionalism and said the best is ahead for the country.
"I think we're a nation of greatness," Sessions said. "We're a land of heroes  — heroes who stand up and get things done. Lastly, we're a country of promise, where our greatest days lie in our future." 
Brown shared some of his party's history and platform and said he wants voters to know they have an alternative to the country's two biggest parties.
"As a Libertarian, I believe in personal freedom, economic freedom, limited constitutional government — and I am also the anti-war candidate in the race," Brown said.
Republican Russ Ford and Democat Jane Sherman, the two candidates to serve eastern Brazos County as Precinct 2 Commissioner, spoke for about 30 minutes in a conversation moderated by Scott DeLucia. Sherman said her top issues include expanding mental health resources in the county, navigating the COVID-19 pandemic and increasing transparency.
"Many of the people in jail struggle with mental health and addiction issues — and often times both," Sherman said. "We've lost the Rock Prairie mental health center, and right now the sheriff's department is driving people to Austin. They're doing a great job doing that, but that's not the most efficient way for us to be spending money. We need to look at alternatives of how to bring back in-patient care and provide more mental health services to our community."
Ford cited his experience working on the Central Appraisal District Board of Directors and his years as a civil engineer to make the case that he would best serve the precinct. Ford said transportation and infrastructure work would be among his highest priorities.
"My desire for our community boils down to three things: One, ensuring we are good stewards of our infrastructure and promoting growth instead of holding it back. Secondly, empowering our citizens through responsible and thoughtful policy at the county level. And third, being diligent in how we spend the quarter of a billion dollars in our county budget," Ford said. "If elected, it would be my duty to ensure that the county spends that money wisely."
Get Election 2020 & Politics updates in your inbox!
Keep up on the latest in national and local politics as Election 2020 comes into focus.