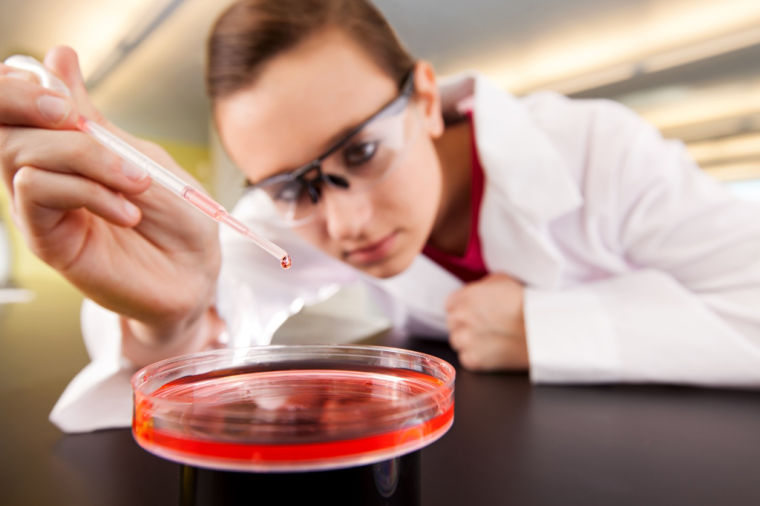 A summer camp on the Texas A&M campus is preparing students as young as 14 to fill science, technology, engineering and math jobs coming to the Bryan-College Station biocorridor.
The BioFORCE Summer Academy is a weeklong summer program in the National Center for Therapeutics Manufacturing on Texas A&M's west campus that is intended to inspire high school students during the summers following their ninth-, 10th- and 11th-grade years to pursue STEM in post-secondary education.
A camp for Austin-area students was held earlier this month and a second day camp for students in Bryan-College Station and surrounding areas will be held July 15 to July 18.
Camp organizers have extended the deadline to apply to July 2.
Jenny Ligon, assistant director for the NCTM, said about 25 students have already signed up and the organization is looking to select about five more applicants.
To qualify, students must have a GPA of 2.75 or higher, send in their transcripts and complete the general application. Ligon said students must also commit to attending the camp through the summer of their junior year.
"The vision is that each cohort continues to come back," Ligon said. "The curriculum changes and increases in complexity. In their last camp, the summer of their junior year, we want to work with them to understand the college application process and degree programs that are out there to get them into pharmaceutical or therapeutics manufacturing."
The camp began last year and is free of charge to students because of scholarships provided by the Texas Workforce Commission through its summer merit program.
Ligon said students will be performing hands-on lab activities, including the transfer of green florescent proteins from a jellyfish into bacteria to see it glow. Students will also tour facilities at Texas A&M, learn from industry experts and take a trip to a pharmaceutical company in Houston.
"Given the activity that's occurring in our community with the Center of Innovation and Advanced Development and Manufacturing, we're building the facilities here that will develop a third of our nation's vaccines," Ligon said. "Down the road they will need a large audience of biomanufacturers. We're working to build the biomanufacture workforce for the state of Texas. We're introducing concepts they don't hear about in school. We're doing our part to introduce this industry to younger audiences."
The NCTM is also offering a "Protein is Cash" workshop for high school teachers Aug. 12 through 16. Ligon said they are looking to accept 16 science teachers who are leaders in their subjects and can help disseminate the information they take away from the program.
The workshop is free on behalf of a grant from the National Science Foundation and will award participants with a $275 stipend. The deadline to apply is July 12.
"This is big money for our nation and we have to have it," Ligon said about biological manufacturing. "If we don't have countermeasures to outbreaks, we're not going to be around much longer. [These workshops] really help us share this information to the next generation of the workforce. We hope teachers will take it back to the classroom, back to their colleagues and reach out to us to do more partnering to create those pipelines."
Leah Hopcus, a junior at Rudder High School, and Carlos Martinez-Gloria, a senior at A&M Consolidated High School, attended the BioFORCE Summer Academy last year and are now summer interns for the NCTM.
"It's a once-in-a-lifetime experience," Hopcus said of the camp. "It opens doors to companies and the field of work we are looking into."
Hopcus said she and Martinez-Gloria will act as mentors for the incoming campers.
Martinez-Gloria said he's unsure of where he wants to go to college, but is certain he wants to pursue pharmaceuticals.
"Something that really intrigued me was the whole aspect of using chemicals and medicine to create this perfect pill or vaccine that can cure a disease," he said.
Get local news delivered to your inbox!
Subscribe to our Daily Headlines newsletter.