The Bryan Fire Department is looking for input from residents in its effort to update its five-year strategic plan.
According to the current plan, the process is intended to allow the department to "look at where it has been, where it is now, and where it wants to go."
Last week, department leaders discussed the department's history and their vision for the future with a group of community members. A second meeting is set for Thursday at the Neal Recreation Center gym, 600 N. Randolph Ave., starting at 6 p.m. Input is sought on topics including response times and how the department connects with the community.
The event will include a presentation from Fire Chief Richard Giusti about initiatives such as training and staffing, as well as the department's budget. Participants will be able to ask questions and vote on which strategic initiatives they want to see prioritized in the upcoming five-year plan.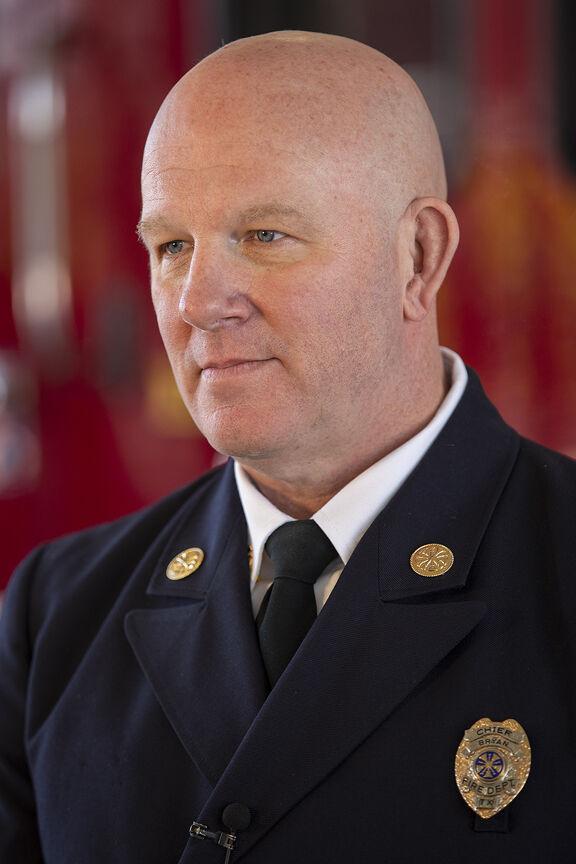 Giusti said anyone with ideas on things like where fire stations are located, how many firefighters the department should have or other issues, should weigh in at Thursday's meeting.
"This is a chance for the community to have a say in how the fire department responds," he said.
After the public input is gathered, a committee within the department will look at the needs of the organization, Giusti said. Then, public input concerns and internal discussions are used to drive how the department's strategic priorities are ranked. Giusti stressed that this process of prioritizing issues is done as a group rather than by him alone.
The strategic planning process happens to fall early in Giusti's time with the city, as he was sworn in to serve in April. Giusti was previously assistant fire chief at the San Antonio Fire Department. When he took on the new role in the community, Giusti said he was going to talk to every firefighter about what they like and dislike about the department, what they would do differently if they were in his shoes, and what their short- and long-term goals are.
It's a process that, even as he surpasses 100-days in the role, is ongoing, he said. And even after he talks to everyone, Giusti said he plans to keep the lines of communication open so the dialogue never truly ends.
Some of the one-on-one conversations, Giusti said, have allowed for people to move into different roles or work on different projects due to what they told him they wanted to be able to accomplish. Work is also being done, he said, to improve communication in the department.
Increasing diversity has been something that Giusti said he knew he wanted to focus on even before starting the role as fire chief. He noted that when he first looked into the demographics of the department, there were essentially a couple of Hispanic people and the rest were white men. Since then, Giusti said one Black person has been hired, there are now five Hispanic employees, and there are three women working through the hiring process.
Training was also discussed as a priority; Giusti pointed out that the fiscal year 2022 city budget has funds designated for an assistant chief of training to help with that area.
"One of the things I really want to be is a data-driven fire department," Giusti said, "not one that just guesses about things, but actually takes a look at the data, aggregates it, and takes a look at the needs of the community."
To view the current strategic plan or learn more about the fire department, go to bryantx.gov/fire.