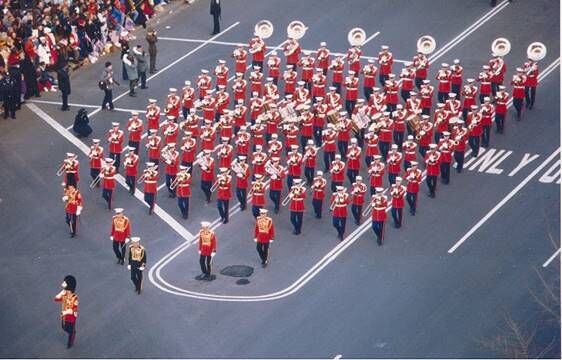 For 20 years, Pat Corbett had a front-row seat to history — including five presidential inaugurations — as a member of "The President's Own" United States Marine Band.
Corbett, now the director of fine arts for the Bryan school district, took his seat in the ensemble for the Jan. 20 inaugurations of President George H. W. Bush in 1989, President Bill Clinton in 1993 and 1997 and President George W. Bush in 2001 and 2005. In addition to presidential inaugurations, the band performs for many other presidential events.
The United States Marine Band is the oldest professional musical organization in the country, he said. It was founded by President John Adams by an Act of Congress in 1798. It has been affiliated with the presidency since Thomas Jefferson and has played at every inauguration since Jefferson's in 1801.
"It's a great honor to be a part of it because it's so interwoven with the history of our country," Corbett said of his time with the Marine Band. "Not only just being able to perform at The White House, but being able to perform at [the] inauguration. Our presidential inaugurations are unique to the world and how we have our transfer of power. To be involved in that is such an honor and privilege."
It is humbling, he said, to think about how few people in the history of the country have been able to have the experience he did as one of two bass trombone players in the band. With many making decades-long careers out of the duty, he figures about six people have played the bass trombone in the band over the past 50 years.
Corbett served in the ensemble from June 1988 to June 2008, retiring as a mastery gunnery sergeant. He was finishing his master's degree at Rice University, hoping to become a professional musician, when he traveled to Washington, D.C., to audition for an open bass trombone position. Beating out nearly 70 other people for the spot, he enlisted directly into the Marine Band for the special duty assignment.
He has seen the band perform live multiple times since retiring, he said, and seeing them perform during inaugurations always brings back great memories for him.
At President George H. W. Bush's inauguration, he remembers it was "extremely cold," and the band does not wear jackets because of the importance that the red coats of their uniforms be visible. He said that no matter how hot or cold it is, it must sound like it is 72 degrees Fahrenheit when they play.
"That early on made an impression on me that being a Marine is a very special honor, and being a member of The President's Own, it's an even more significant, special honor," Corbett said.
While Corbett never interacted with the presidents directly, he said they would speak to the band as a unit on occasion. He said Clinton, an amateur saxophonist, was always interested in the U.S. Marine Band.
"They would just stop and listen from time to time when they had an opportunity," he said. "Of course, it's not expected because, I mean, it's the president, but it's very clear how much they appreciate our role in the history of the country."