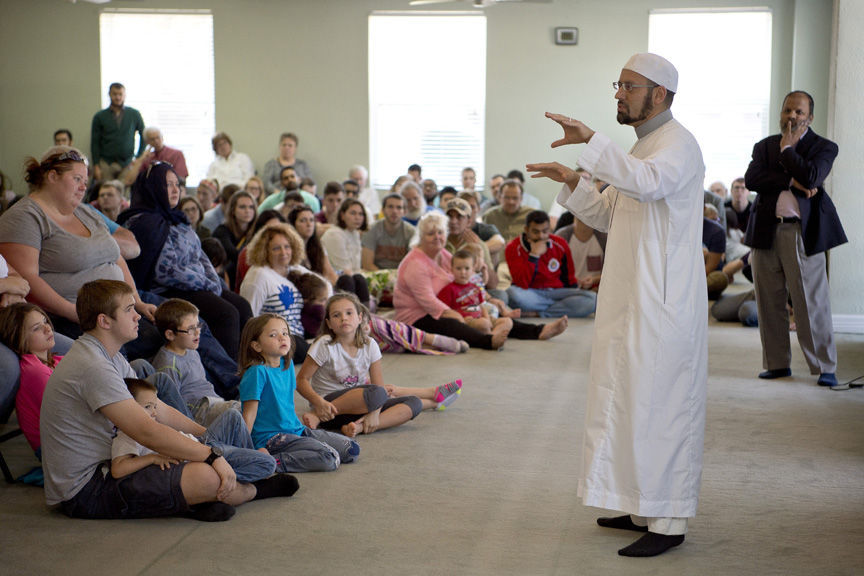 Muslim, Christian and Jewish spiritual leaders from across Bryan-College Station are putting aside doctrinal differences and focusing on scriptural similarities to determine how they can best join forces to support immigrant and refugee communities during a period of anxiety and uncertainty.
Interfaith coalition-building "is just one of the things we can be doing as people of faith, to advocate for these people who are living in difficult situations," said the Rev. Dan De Leon, senior pastor of the Friends Congregational Church in College Station.
"I feel mandated to support immigrants," said Matt Rosenberg, rabbi at the Texas A&M Hillel. "As the Torah teaches us, we're strangers in the land of Egypt."
Islam Mossaad, who in January became the imam for the Islamic Community of Bryan-College Station, or ICBS, said the three Abrahamic faiths -- Islam, Christianity and Judaism -- have foundational texts that focus on a "person who went from land to land to worship God freely. Abraham was the first immigrant, if you will."
Since taking office, President Donald Trump has issued orders instructing the Department of Homeland Security to hire 15,000 Immigrations and Customs Enforcement and Border Patrol agents and broadening the parameters of prioritization of forced removal to include more immigrants. Trump's policies have left many immigrants across the country -- including some in Bryan-College Station -- afraid to leave their homes.
Spiritual leaders throughout Bryan-College Station have stepped in to assuage some of their concerns; De Leon estimated that between 15-20 clergy members have been meeting with the Brazos Interfaith Immigration Network, or BIIN, for the past several months to determine how to work together to advocate for immigrant and refugee communities. 
"There's been a recognition that people in communities of faith will need to step up and provide more social services and also advocate for those who can't speak," Rosenberg said. 
Ted Foote, pastor of the First Presbyterian Church in Bryan, estimates that about 10 percent of his congregation is directly involved in supporting immigrant communities by contacting legislators to express their views or dedicating time for assistance. Though they may not be active in helping immigrants, Foote said the majority of the people who attend his church are concerned about the anecdotal stories they've heard about anxiety and fear in local immigrant communities.
"While they want us to have a system that has law-abiding citizens, they think fear is not the emotion you want a healthy community to be based on," he said. "Policy is important, but people are always at least 1 percent more important than policy."
Foote is one of the members of the clergy support group working with BIIN, though he said his church is not a "dues-paying member."
Rosenberg said he has participated in marches dedicated to social justice and contacted and signed letters to local representatives as a Jewish leader focused on social justice. He also has produced four episodes of a podcast -- called "The Rev. Dan and Rabbi Matt Podcast"-- alongside De Leon, where the two "talk text and faith traditions," as well as social justice issues. 
Mossaad said the local Islamic community is still in the "preliminary phase" of figuring out how to support immigrants, but his board of trustees has "given me the green light to form these interfaith connections to benefit all immigrants, no matter their ethnicity or religion."
Though the religious houses of worship and their respective congregations vary in terms of their participation, De Leon said the interfaith coalitions are vital to providing the most support possible to immigrants and refugees across B-CS.
"This is not something that any one church can do by themselves," he said.
De Leon laid out a number of explicit actions he said his church could do to support immigrant and refugee communities across Bryan-College Station.
"When we think of being a sanctuary church, our minds go to an open-door church where immigrants are housed," said De Leon. But being supportive of the sanctuary movement, he added, could involve "meeting people where they are versus harboring undocumented immigrants."
Among the options are visiting immigrants being held in detention centers, helping to find legal counsel for the detained, holding fundraisers to pay lawyers to help those about to be deported in getting their affairs in order and getting trained to participate in Sanctuary in the Streets, a four-hour class taught by the Austin-based Grassroots Leadership. Sanctuary in the Streets teaches supporters to be witnesses to ICE raids by live-streaming arrests using cell phones and engaging in direct-action protests in response to immigration raids.
Alejandro Caceres, a representative from Grassroots Leadership, said that 250 people had been certified through the training in the Austin/Central Texas area. About six are certified in B-CS.
Nationwide, the number of congregations identifying as part of the sanctuary movement -- meaning they have deemed themselves safe space for immigrants and refugees -- has grown to 800, doubling since Trump took office in January. A 2011 memo from then-ICE Director John Morton stated that the agency's enforcement actions would not occur at churches or houses of worship without prior approval, "exigent circumstances" or "other law enforcement actions have led officers to a sensitive location."
Despite the increase in sanctuary congregations, De Leon said he rejects the idea that his congregation is active in response to the new president's policies.
"This isn't about the Trump administration," he said. "We want to be able to be prepared against any injustice against immigrant communities, no matter who is in charge."
None of the houses of worship in this article have formally become part of the sanctuary movement, though Friends Congregational Church will have a congregational discussion and vote today on whether and how to pledge support to the sanctuary movement.
Though he hasn't discussed sanctuary policies at length with his church's leadership, the Rev. Dean Lawrence, pastor at St. Francis Episcopal Church in College Station, said joining the movement could be a "risky action."
"It draws attention, and you may not want to draw attention," he said.
Deacon Mary Lenn Dixon, who serves three Episcopal churches in College Station, said she disagrees with the term "sanctuary movement."
"I personally think that term is more confusing than it is helpful, because it means so many different things," she said.
Whether and how his congregation votes to support the sanctuary movement, De Leon said he felt compelled to take action to support immigrant communities across Bryan-College Station.
"It's a matter of urgency," he said. "We've built relationships with immigrants and immigrant families. This is really happening to people in our backyard."
Rosenberg said the coalition-building across faiths amplifies the spiritual leaders' voices and strengthens their support for immigrant and refugee communities across the twin cities.
"Many minority groups are feeling pressure and victimized, and I think by coming together and supporting one another, our voice is stronger," he said
The many differences between their faiths aside, De Leon said supporting immigrants and refugees across B-CS represents a common value for all religions.
"This is something that can unite us," said De Leon. "Standing up for the most vulnerable in our midst -- it's the core of our faith."