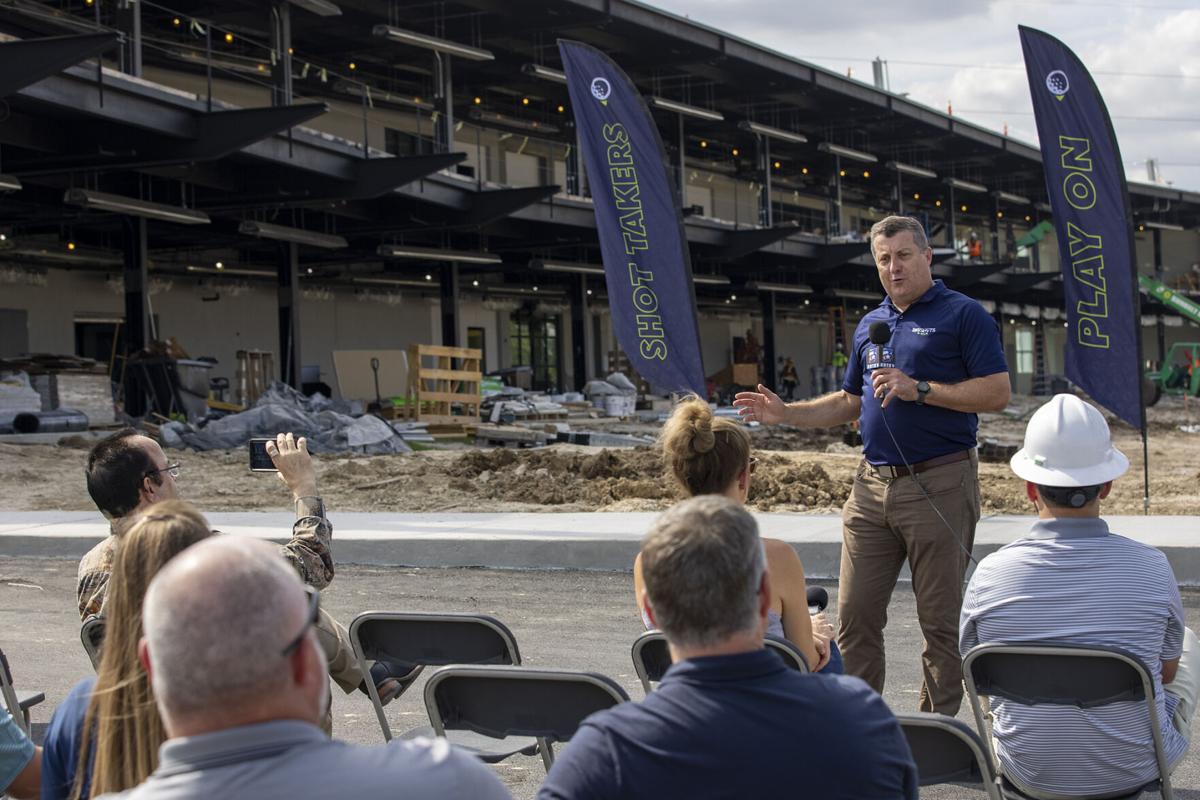 A new form of entertainment is nearing completion in Bryan.
BigShots Golf Aggieland, a tech-based golf driving range, is about 85% complete and held a "nets up" event Thursday afternoon to signify the latest major step of construction of the entertainment venue that is part of Bryan's new Travis Bryan Midtown Park.
"Instead of a groundbreaking, the 'nets up' is a symbol that we're two months away from the launch," said T.J. Schier, COO of BigShots Golf. "We'll come in and put the turf in, finish the inside of the building, train our staff and then we'll be ready to go."
BigShots Golf is expected to open in about 60 days, Schier said. The 12-acre venue will include 60 tee boxes that can accommodate six people at a time inside a two-story building, an 18-hole mini-golf course, a private event space, an outdoor patio with yard games, fire pits and a live entertainment center, and two bars.
Schier said the driving range is approximately 225 yards long and 100 yards wide with turf slated to begin being laid in the next week or two. The nets range from 100-160 feet tall and are held up by poles that go 20 feet into the ground and took a month to install.
"Of course, being in Bryan-College Station, we'll have some maroon targets for people to aim at, which will be great," Schier said. "We try and brand everything locally and put a lot of local flair on what is a national brand – BigShots Golf."
The project was announced in February 2020 and was supposed to open in spring 2021, but was delayed due to the COVID-19 pandemic. Construction on BigShots Golf began this January and cost over $16 million to build. This is the fourth BigShots Golf location nationwide. BigShots Golf is owned by Dallas-based ClubCorp, but local residents Jim and Allyson Butler are partners in the Aggieland location.
Schier said BigShots Golf intentionally stays away from "NFL cities" and instead opts for smaller markets that are underserved with entertainment options. He added BigShots Golf has seen success at locations in Springfield, Missouri, and Vero Beach, Florida. Schier stressed how BigShots Golf hopes to be a place for hosting fundraising events and promoting community involvement.
"I think our competitor out there, they focus on the big cities, which I fully understand, they're kind of the A-plus markets," Schier said. "We realized that we can bring a brand like BigShots Golf to a smaller market and instead of somebody just coming here for a special occasion or when friends are in town, if we build the right venue with the right food, people can come here all the time."
BigShots Golf is designed to be a tech-based driving range for people of all ages and skill levels to enjoy, according to a press release. Players can play interactive games, such as Knockout and Pinball, or play full rounds on virtual courses from across the globe, such as Pebble Beach or St. Andrews.
"It provides a great option for everybody," said Ryan Quinney, BigShots Golf Aggieland Director of Operations. "Not only the local college community, but also the local Bryan-College Station area to come out and enjoy a great time. This is 100% a family-friendly facility, so everybody of all ages is welcome and I think it's a welcomed addition to the community."
About 180 employees, including 10-15 full-time staff members, will be hired at this BigShots Golf location with hiring beginning in November. Private event sales for the venue opened Thursday.
BigShots Golf is part of the 148-acre Midtown Park that is currently under construction. Bryan City Engineer Paul Kaspar told The Eagle in June that the city of Bryan is planning to open a quarter of Midtown Park, which includes the first phase of a 2.2-mile-long trail, when BigShots Golf opens.
"We're just the first cornerstone of this whole development," Schier said. "As the baseball community comes in, the hotel, the event center, this is just going to be the gathering spot for all the events and help the cities of Bryan and College Station draw people in to just stay here because they've got everything in one place."