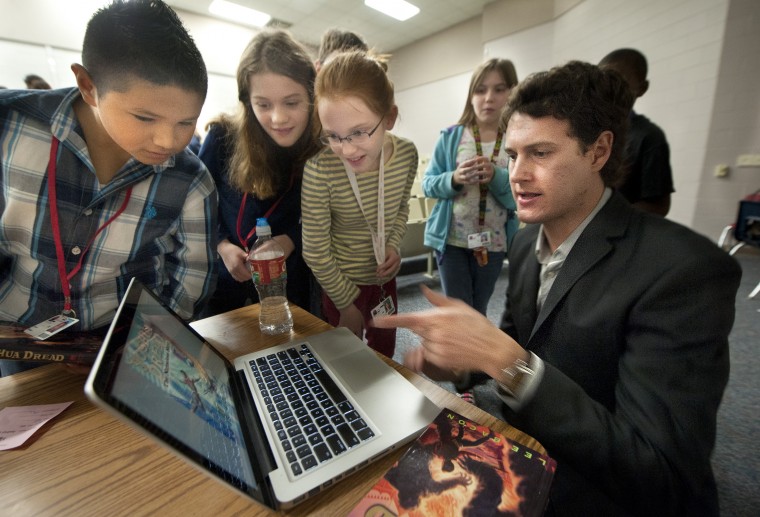 Aggie and author Lee Bacon told Bryan middle school students Wednesday that at times when growing up he felt weird and different. So, naturally, he capitalized on those experiences in creating the main character of his first published book.
"I think that's something a lot of us can relate too," Bacon said to Jane Long Middle School students. "Feeling a bit different, feeling we have something weird about us, people don't relate to us in some way. That was something I grabbed onto when I was writing the book."
Bacon, 33, recently saw publication of his first novel, Joshua Dread, the first of a superhero series for middle-school students about growing up and surviving super-villain parents.
Speaking locally meant something special to Bacon. Now living with his wife in Brooklyn, Bacon is originally from College Station. He attended Oakwood Intermediate and A&M Consolidated High School and graduated from Texas A&M University in 2002 with a degree in industrial distribution, "which I've never once used," he said.
"I always loved reading and I always loved writing, but I always thought of it as a hobby or something you do for fun. I was in college when I realized this was something I could do as a career," he said.
Bacon said he then went to Pace University in New York, where he got a master's degree in publishing. After a few internships, he said, his life "went off in a surprising direction." He moved to Germany. For a girl, he said, a woman who is now his wife.
In Germany, he practiced his German by reading children's books.
"They were the first kids book I'd read since I was a kid myself," he said.
That practice led him to begin thinking about writing for children, which eventually led to Joshua Dread.
Bacon is speaking to students at Cypress Grove Intermediate on Thursday and Oakwood Intermediate on Friday. He will hold a public event at 7 p.m. Friday at Barnes & Noble, 711 Texas Ave. in College Station.
Bacon told the students Wednesday that the most important thing to writing a book is practice.
"I think a lot of times we think about writing being this thing about inspiration. You set down at a cafe and this idea strikes you like a bolt of lightening," he said. "The truth is, it's a lot more like sitting down to practice, and doing the work. Sometimes it's dull and tedious."
Bacon said the book is about excitement, adventures, robotic monsters, super villains and Joshua, who wants to be an ordinary 12-year-old boy.
"It's kind of tough to have a normal average life when your parents are trying to destroy the world," he said.
He told the students a key to writing is to "write what you know," because it adds an element of authenticity and realism to what's being written.
Bacon said his dad is a horticulturist and so in the book he made Joshua's mom a horticulturist who can control plants with her mind.
After receiving numerous rejection letters, Bacon said, he put his head on his desk in disbelief when learning that it would finally be published.
"I was thrilled. That's been my dream for so many years. I've always loved writing. I always wanted to be a published writer but I always felt it was something that was unattainable for a lot of my life," he said.