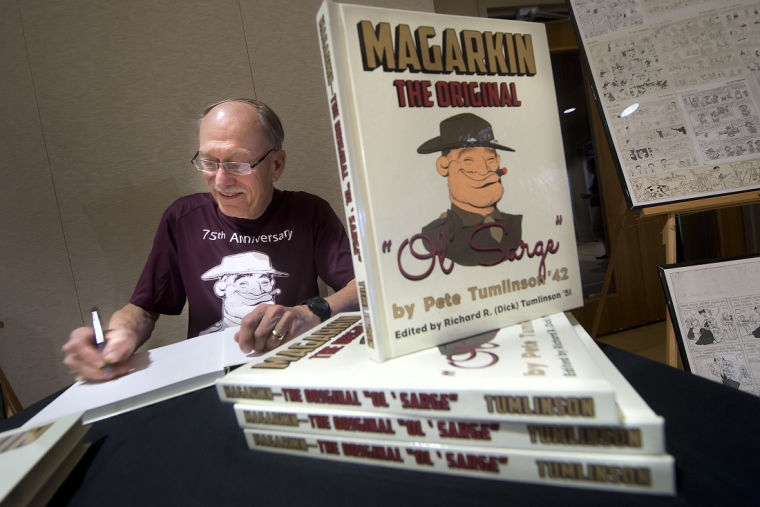 Looking through his older brother's belongings after his death, Dick Tumlinson, an Aggie from the class of '51, discovered a box full of old issues of the Battalion Humor Magazine featuring Texas A&M's unofficial mascot, Ol' Sarge.
The old-school, tough-guy drill sergeant turned 75 years old this year, five years after the death of his creator, Howard "Pete" Tumlinson, class of '42.
As part of the Rally to the Guidons reunion for former cadets, the Texas Aggie Corps of Cadets Association hosted a night of celebration in honor of Pete Tumlinson and Ol' Sarge.
Ol' Sarge made his first appearance in a monthly Battalion Humor Magazine comic strip ,as a character named Magarkin, in 1938. He would later get promoted to sergeant, taking on the demeanor of the rough-and-tough drill sergeant, before the magazine was discontinued during World War II. That wasn't the end of Ol' Sarge, however, as other artists reworked and embellished the strong-jawed sergeant, who became the face of the Corps of Cadets Association.
Although Pete Tumlinson went on to become a successful comics artist, working at Timely Comics, which turned into Marvel Comics, in New York City and worked for Spider-Man creator Stan Lee, Dick Tumlinson places Ol' Sarge among his best works.
"The work [Pete] generated as a student here at A&M was some of the best stuff he did in his lifetime," Dick Tumlinson said of his brother. "It was too good to leave in the box as a keepsake."
So Tumlinson pulled all the pages featuring his brother's work and compiled them into a book, Magarkin -- The Original Ol' Sarge.
Texas Aggie Corps of Cadets Association Executive Director Don E. Crawford, class of '64, said Ol' Sarge was a character a lot of cadets gravitated to in the '40s, '50s and early '60s, when Texas A&M was still an all-male military school.
"What mother wouldn't love that face?" he said with a chuckle.
Although he's no longer in a monthly comic strip, Ol' Sarge remains as an enduring symbol of the Corps' history.
"He represents old Army -- the old history of the Corps," said senior Max Goulas with A-Company. "And old Ags have fond memories of the old Army."
While serving as a reminder of the past, Ol' Sarge also continues to represent what the Corps is today.
"It shows that the Corps is hard-core," said junior Kristina Goldstein with C-Company.
As the story goes, "Alcatraz wasn't enough for Ol' Sarge, so he came to the Corps," she added.
Among Old Ags, almost 20 Aggie Tumlinsons and current cadets connecting with their predecessors, Tumlinson expressed his pride in his brother's accomplishments.
"[Pete] certainly left a meaningful legacy, and I think it grew beyond his imagination," Tumlinson said.