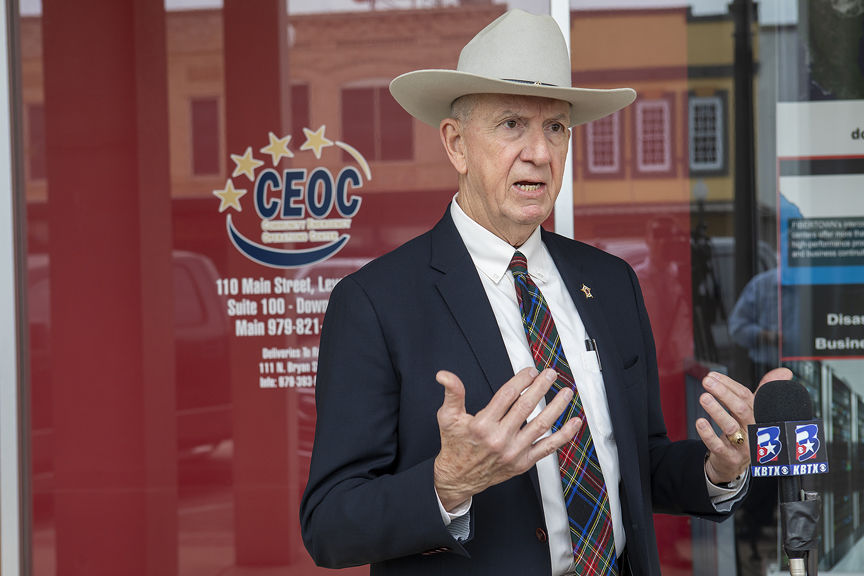 Brazos County officials said Friday that the Brazos Center will open for vaccination appointments for those who qualify on Jan. 25, one week later than previously announced, due to a lack of vaccine doses being supplied.
At a Wednesday news conference, officials announced the Brazos Center as the county's large-scale vaccination site and said they hoped to begin inoculations early next week. In a Friday afternoon Zoom interview, Brazos County Vaccine Task Force Chief Jim Stewart said that vaccination supply issues pushed back the start date. 
"A big chunk of what we're doing is putting the structure in place to administer the vaccinations — but without the supply of vaccinations, it's all for naught," Stewart said. "I'm a bit pessimistic about how quickly we're going to get additional vaccinations."
Asked about the one-week Brazos Center delay, Stewart responded, "What shifted for us was the supply. If we'd gotten the additional vaccinations, we would have been able to administer some there at the Brazos Center next week."
"We're hoping that we'll have 1,000 vaccines available," Stewart said of the Jan. 25 date. He and other officials stressed that Brazos Center staff members are not involved with the administration of COVID-19 vaccines — and that area residents eligible in Phase 1B should not "just show up" to get vaccinated, but will instead be contacted with their specific appointment date and time. Multiple local health providers, including Vaccine Hub operator St. Joseph Health, are operating vaccine signups on their websites.
On Wednesday, health officials from St. Joseph Health and Baylor Scott & White pushed back against the notion that vaccine doses were going unused in the county.
Additionally, Stewart said a county call center for vaccination-related questions was being established. He said that optimistically, the call center — which will also have an online registration component — could be operational in 2-3 weeks.
Friday marked the 15th consecutive day with more than 100 cases of COVID-19 reported out by the Brazos County Health District. At a Wednesday news conference, county alternate health authority Dr. Seth Sullivan primarily attributed the record-high case numbers to holiday gatherings.
Locally, Sullivan said 2,575 doses had been administered as of Wednesday, though the numbers reported by the state are likely lagging by a few days, officials added. Stewart said Friday that he did not have an updated number.
Gov. Greg Abbott announced Thursday that Texas was the first state to administer 1 million COVID-19 vaccine doses. The Centers for Disease Control and Prevention reported that Texas has administered the most doses of any state, at nearly half of the more than 2 million doses received so far.
Nationally, as of Friday, the U.S. government has so far distributed over 31 million doses to states and some major cities. About 12.2 million doses had been administered, according to the CDC's online tracking.
Stewart explained that the Brazos Center, for the time being, will be the county's "vaccination pod" and that the Brazos Transit District recently agreed to partner with the Vaccination Task Force to provide free public transportation for residents to get to and from vaccination sites. 
"There's a pent-up demand out there if we can just get the vaccines in," he said. "This is a months-long project."
Asked how the county plans to reach those who are skeptical about vaccinations for myriad reasons, Stewart said a wide array of messaging will be employed, including communicating with faith leaders, elected officials and other influential community members to build trust in the vaccines. He said to reach the high percentage of inoculated residents needed to end the pandemic, a variety of measures would be necessary, including use of diverse forms of media outreach.
"I'm quite confident that we're going to be successful. People will just have to bear with us," Stewart said.