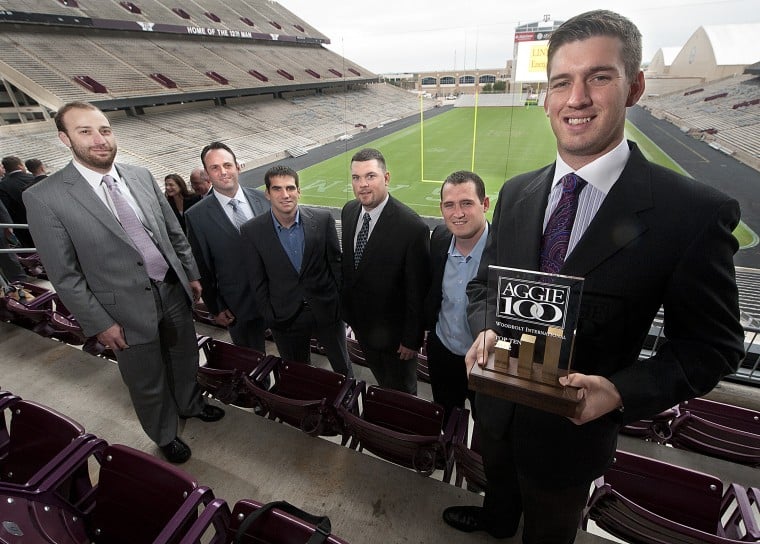 Five area companies were recognized Friday among the top 100 fastest-growing Aggie-owned or -operated companies during the 8th Annual Aggie 100 luncheon at The Zone Club at Kyle Field.
The Aggie 100 award program was created in 2004 by Mays Business School's Center for New Ventures and Entrepreneurship, and officials said the nominations and applications received increases yearly.
This year, about 800 companies were nominated and 250 turned in applications.
Companies were ranked based on a three-year cumulative average growth rate.
To qualify, the businesses had to be at least five years old and have generated at least $250,000 in revenue during 2009, a change from last year, when the revenue minimum was $100,000.
In addition, an Aggie had to own at least 50 percent of the company, serve as chief executive or be a founder and active member from January 2009 to December 2011.
This year, the highest-ranking area business was Woodbolt International in Bryan, which ranked fourth with a growth rate of 144 percent.
Woodbolt was founded in 2002 and is a nutraceutical company that produces fitness and health products for retailers such as GNC and Costco.
Doss Cunningham, the company's 30-year-old CEO, said it was the third time Woodbolt made the list.
Last year, Woodbolt was ranked 30th with a 41.7 percent growth rate, and in 2010 the company ranked 26th with a 36 percent growth rate.
Since then, Cunningham said, it's been a business goal to make the list each year.
Earlier this week, Woodbolt officials announced plans to build a $1.4 million facility along the biocorridor in Bryan that will include a warehouse, gym, office and cafe for employees.
Cunningham attributed the company's success to hiring the right people and creating an atmosphere conducive to ideas and productivity without being overly structured.
"I think it's very much the philosophy of not fitting into the box," he said of the 90-employee operation. "We've embraced the culture of entrepreneurship and encourage the sharing of ideas from anyone."
Along with Cunningham, other Woodbolt executives recognized included Nathan Kleiman, vice president of supply chain; Jeffrey Weisser, director of quality programs; Malcom Marshall, controller; Eric Bryant, vice president of sales; and Michael Jereb, director of accounting.
Aggie 100 organizers said the oldest company on the 2012 list was founded in 1967 and the newest in 2007.
Eight of the companies had been recognized at least five times before and another eight were family-run operations.
No. 1 on the Aggie 100 list was Tyler-based company Navidad Resources Oil & Gas Exploration and Production, which had a growth rate of 206 percent and is led by Harold McGowen III, president and CEO.
Other local companies and their leaders who made the Aggie 100 included:
• JB Knowledge Technologies in College Station, ranked 60th with 41.9 percent growth rate; James Benham, president, owner and founder.
• B&B Laboratories in College Station, ranked 65th with 38.6 percent growth rate; Bernie B. Bernard, president, James Brooks, vice president and owner.
• The Pool Guy in College Station, ranked 66th with 37.9 percent growth rate; Sean Hawthorne, president and owner.
• Brazos Technology in College Station, ranked 84th with a 33.9 percent growth rate; Michael McAleer, president.