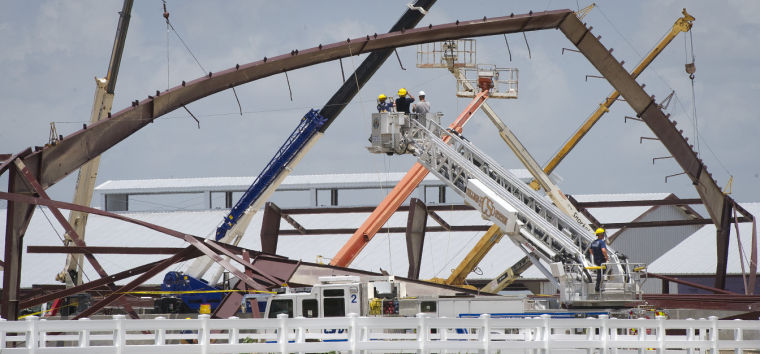 Two construction companies deemed responsible for the June collapse at the Texas A&M Equine Complex, which left four workers injured, have been cited for serious violations by the U.S. Occupational Safety and Health Administration.
All four of the injured men work for Ramco Erectors, a Houston-based company that was fined $40,500 for seven violations cited by OSHA inspectors. 
Ramco Erectors was hired as a subcontractor on the project by Gamma Construction Co., the company brought on by Texas A&M as general contractor. 
Gamma Construction, which continues to handle the project, was cited for one OSHA violation and ordered to pay a $6,300 penalty. 
The injured -- all of whom recovered from their injuries -- were working on a 300-foot barn that was under construction as part of the $80 million Equine Complex when it collapsed due to a failure in structural stability, according to the OSHA citations. 
Specifically, the steel frame structure fell when a worker released a rafter from a crane before proper bracing was completed, according to a citation issued to Ramco Erectors for failing to instruct employees on unsafe conditions. 
Once the rafter was let go, "the building racked and fell to the ground," according to OSHA documents. 
Additionally, Ramco Erectors was cited for not providing a safe work environment "free from recognized hazards that were causing or likely to cause death or serious physical harm." 
The subcontractor also was fined for not inspecting rigging equipment material according to standards, which led to a defective safety latch for a sling used to lift rafters going unnoticed, according to citation documents. 
Other citations issued to Ramco Erectors were for failing to provide a site-specific erection plan; failing to ensure fall protection components and wire rope clips used for rigging were of the drop-forged steel type; and failing to remove defective hooks. 
Gamma Construction received a citation for failure to maintain structural stability by not replacing critical rigging materials.
Construction on phase one of the Equine Complex began in October 2012 with plans to include facilities for the Texas A&M equestrian team and Parsons Mounted Cavalry, a cross-country course and an education and outreach center.
Attempts to reach officials with both of the construction companies were unsuccessful. 
OSHA officials said the two companies have 15 days to pay the penalties or appeal the citations. 
Prior to OSHA issuing the Equine Complex citations, Ramco Erectors had been cited for 15 violations, seven of which were serious, according to online OSHA records. 
Gamma Construction had been cited for seven violations prior to the local building collapse, including three serious violations, according to OSHA records.  
Be the first to know
Get local news delivered to your inbox!