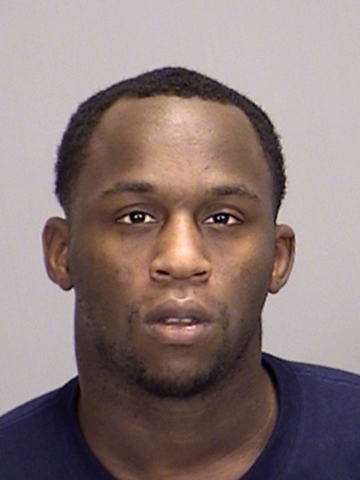 A former Bryan High athlete already was behind bars when police served him Monday with a court document accusing him of being responsible for a bomb threat that triggered the evacuation of Texas A&M's campus earlier this month.
Dereon Jayronne Kelly, 22, has been jailed since the day the incident was called in Oct. 19 after authorities tagged him as a possible suspect in the case, however, he wasn't charged with making a terrorist threat until Monday.
Authorities are expected to continue this week to sort out the motivation behind that scare and another made a day earlier two hours away at Texas State University in San Marcos.
Kelly's current or possibly ex-girlfriend -- Brittany Nicole Henderson, a 19-year-old former Texas State student -- was charged Thursday with three counts of making a terrorist threat in connection with the Oct. 18 false alarm made to her former campus.
That alert prompted three buildings on the campus to be evacuated.
Emails sent from a Yahoo! account with Henderson's full name were used in both cases, according to court documents.
University police at both colleges have released few details about the incidents, including whether the encryption was used in an attempt to make the email account untraceable.
Texas A&M University Police Lt. Allen Baron said investigators linked Kelly to the A&M incident through his cellphone. He said Henderson remained a "person of interest" in the A&M case.
He remained jailed late Monday on $150,000 bail. Bond was set at $300,000 for Henderson.
Kelly, a 2009 Bryan High grad who played defensive back for the Vikings, had warrants out for his arrest from Dallas County for several crimes, including fraud. Calls to authorities in Dallas were not returned Monday evening.
A&M police officers, working with the FBI and other law enforcement agencies, served the warrant to Kelly in jail. The crime he was charged with Monday is punishable by up to a decade in prison and a fine of $10,000.
Attempts to reach relatives and friends of Henderson and Kelly were not successful. A family member told a reporter with The Eagle on Friday that Henderson and her boyfriend may have been broken up.
Be the first to know
Get local news delivered to your inbox!