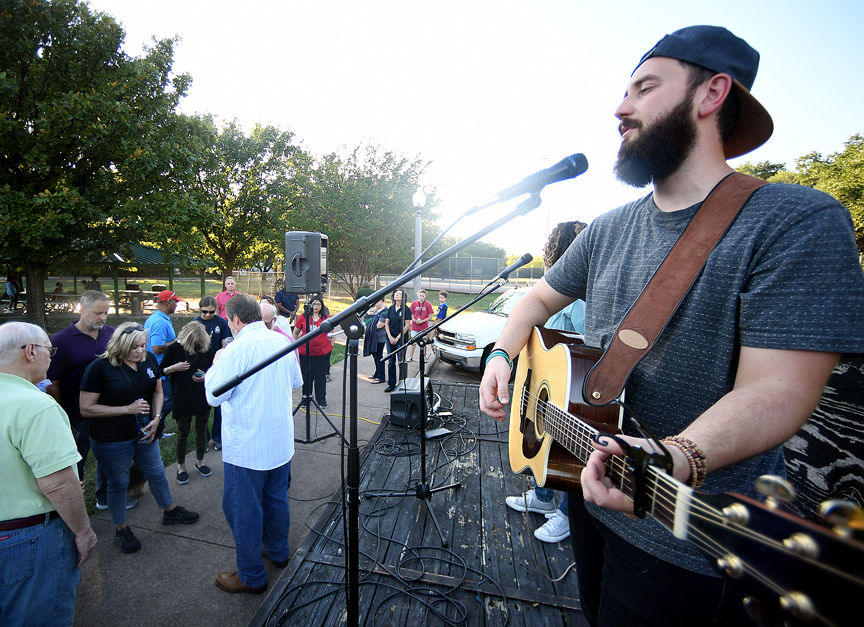 About 55 people gathered at Thomas Park in College Station on Tuesday evening as local anti-abortion advocates kicked off their 40 Days For Life campaign of prayer and vigil with an opening rally. 
Beginning this morning, participants will pray and hold signs with messages such as "Pray To End Abortion" and "Choose Life" on the Texas Avenue sidewalk near Torchy's Tacos and Layne's. Organizers said the vigil will run from 7 a.m. to 7 p.m. daily through Nov. 3, with advocates taking rotating shifts throughout the day. 
Following an opening prayer just after 6 p.m. Tuesday, musicians Jeffrey and Alicia Shaw led the crowd in about 15 minutes of Christian praise music, including a rendition of Chris Tomlin's How Great Is Our God. Children played and ran around as some adults and teenagers held up their arms and sang along, many with eyes closed. 
Following the music, multiple speakers articulated their aims, described as an elimination of abortion practices in the U.S. and worldwide. 
Patricia Hefti, who is organizing the College Station vigil effort, served as emcee for the one-hour event. Hefti said that participants in College Station will join about 505 cities around the world in conducting simultaneous 40 Days for Life campaigns from Sept. 25 through Nov. 3. 
"We're praying for an end to abortion," Hefti said just before the start of the event. "We're praying for our community's leaders, we're praying for women and men who have been through abortions and need healing — we're just praying." Hefti stressed that the effort is not meant to be hateful, with all prayer vigil participants being asked to sign a statement of peace, pledging to conduct themselves "in a Christ-like manner at all times," she said. 
"The main thing is it is a peaceful prayer vigil," Hefti said. "There is nothing mean or judgmental — anything like that. It is the love of Christ for people that we want to see children, save lives, and we want women to be empowered to be the moms that they can be or to give the child for adoption, but to give that child life." 
The Rev. Tommy Thompson, who serves as pastor of College Heights Assembly of God, delivered the event's opening prayer. His prayer, with the Shaws playing music and singing softly in the background, included an ask for the health, strength and protection of those who will be holding the vigil over the coming days and weeks. 
"Father, thank you for your presence tonight, for we gather not in the name of any particular church or denomination, but we gather in your name and we come to represent you and your love for our community and for people in crisis — and for people who are confused and don't understand the gift of life," Thompson said. 
Jennifer Saucier shared with the crowd about her decision to "choose life," in her terms, as she carried her pregnancy to term after being sexually assaulted in 2016 despite being told of the option to end the pregnancy. With her toddler-aged daughter in hand, she told the audience, "I am why you guys do what you do."
"I just want to encourage you — your prayers matter," she said, teary-eyed, as attendees clapped. "Your prayers change lives, your prayers save lives and I stand firm in the belief that God will give every woman beauty from the ashes. This little girl has restored so much in my life from what was taken from me. ... A child is a child no matter how they were conceived." 
Keynote speaker Dr. Haywood Robinson, director of medical affairs and education for 40 Days For Life, said he experienced a religious conversion and went from being a physician who performed abortions to being an anti-abortion advocate. Robinson shared some of the local history around abortion advocacy. According to previous reporting from The Eagle, 40 Days for Life started in 2004 when anti-abortion advocates stood vigil outside the Bryan Planned Parenthood clinic for 24 hours a day for 40 days. In 2007, it became a nationally coordinated effort.  
"Abortion is a planet problem," Robinson said. "I believe that the Lord wants to use the United States of America to be the first developed country to make abortion illegal," he said to applause from attendees.