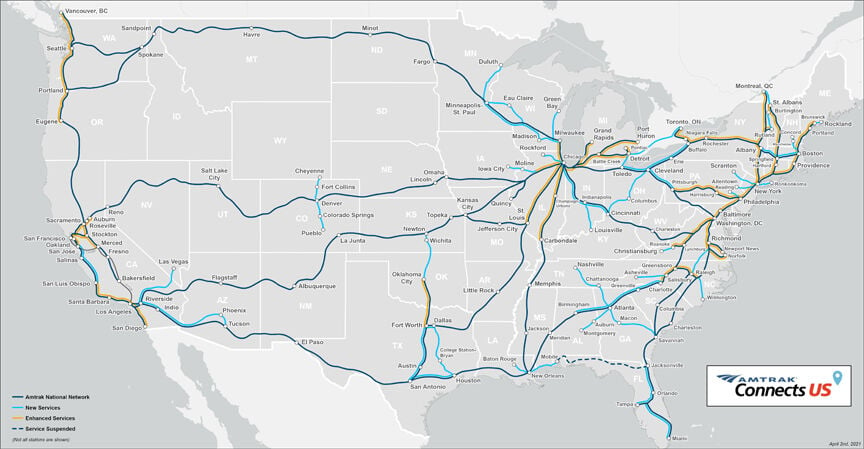 Traveling to and from Bryan-College Station could soon become faster and easier.
Amtrak is considering a stop in B-CS, but the project hinges on approval of President Joe Biden's proposed $2.3 trillion infrastructure plan.
Biden on Wednesday, outlined the multi-trillion dollar American Jobs Plan, which includes $80 billion for rail projects. Other parts of the plan designate funds for infrastructure investment, economic recovery, climate change and social equity. 
If the funding passes through Congress, Amtrak said in a Wednesday statement and fact sheet that it would like to add around 30 more routes and expand across 160 more communities by 2035. Bryan-College Station is listed on a map as a site for a potential new stop in a route that would connect Dallas, Fort Worth, Austin, San Antonio and Houston.
Amtrak spokesman Marc Magliari said that improving travel in the Texas Triangle has been on the organization's radar for some time now. He added that there is demand for service throughout the state. 
"Texas itself is a huge project and a huge opportunity for us," he said. 
Dallas-based Texas Central has been working on a high-speed rail project that also would run between Houston and Dallas. The 240-mile trip would take less than 90 minutes, with a stop in Roans Prairie.
Other parts of Amtrak's plan for improvements include enhanced services on many routes and increasing the number of trips on about 20 routes. Amtrak CEO Bill Flynn said in a statement that the $80 billion could also help rebuild and improve the nation's Northeast Corridor, which has dozens of bridges, stations and tunnels that need to be addressed, as many are more than a century old. Biden's plan is "what this nation has been waiting for," Flynn's statement reads.
In total, the vision Amtrak outlined would mean there could be about 20 million more passengers than the 32 million who were served in fiscal year 2019.
The map that was released Wednesday is the minimum of what Amtrak would like to do, Magliari explained, but factors such as funding approval and how far the money could be stretched for various projects across the country will determine the outcome. 
"What you have from us in the map is aspirational but not meant in any way to be limiting," Magliari said. "So if there were ideas, better ideas, and people want to get involved in this, we recommend they work with those entities like TxDOT, your Metropolitan Planning Organization, us and your elected officials."
It's too early to know where exactly a stop in the Bryan-College Station area might be located, Magliari said. He added that the process of determining a location is a collaborative effort between the community, Amtrak and other entities.  
Amtrak used to have a stop in College Station that last ran in September 1995, President of Texas Rail Advocates Peter LeCody said. 
The Amtrak fact sheet says that major cities including Houston have service "that is simply inadequate," with trains that stop infrequently and often in the middle of the night.
The fact sheet about Biden's American Jobs Plan highlights the fact that unlike highways and transit, rail systems lack a multi-year funding stream to address deferred maintenance, enhance corridors and build new lines. "There are currently projects just waiting to be funded that will give millions more Americans reliable and fast inter-city train service," the White House fact sheet states.
Whether or not the plan will be approved by Congress is unclear, according to The Washington Post, which said Democrats and transportation advocates generally are excited about the proposal, while many Republican congressional leaders are questioning aspects of the plan and the tax increases that would be needed to pay for it.
House Speaker Nancy Pelosi, D-California, said she hopes to pass the American Jobs Plan by July, according to Albany's Times Union newspaper.