Big Mama made it to the other side.
The Rhode Island Red chicken, who once lived indoors, died over the weekend, prompting her owners to post a paid obituary in The Eagle on Tuesday.
Not every chicken deserves an obituary, but Big Mama was special, owner Stephanie Sword said.
The Swords — Stephanie, her husband, Gregory, and their two sons — adopted the chicken in September 2013 after a family that had raised her in a Houston apartment decided to have her euthanized.
A veterinarian convinced the family to give her up for adoption, and the Swords heard about her through an email distributed to the Texas A&M School of Veterinary Medicine.
"We were hooked instantly" after seeing a grainy photo of a skinny chicken looking at herself in the mirror, Sword wrote in the obituary for her bird.
Sword said Big Mama flourished as part of the family's existing flock.
But because she started her life living in a Houston apartment, it took her a while to get used to the outdoor life and being around other chickens, Sword said, adding that she had a few peculiar habits.
"She refused to go in the chicken coop at times, and she would try to come into the house," said Sword, a graduate student. In bad weather, she'd stay at the back door and sleep on the patio furniture.
But over time, "she came into her own and flourished as a chicken should: living in a flock, outdoors, free-ranging."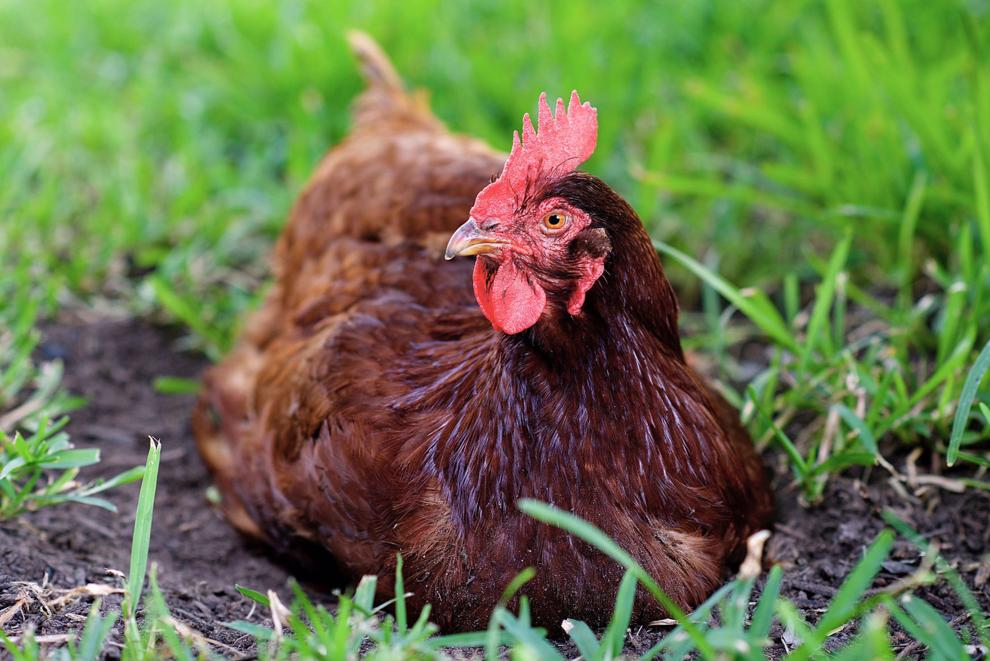 "She was a happy chicken from that point on, and we were happy to have her for as long as we did," Sword said.
Big Mama, who had been spayed before the family adopted her because of a life-threatening reproductive disease, became a member of the family, Sword said.
She even earned a place in last year's family Christmas photo.
Sword said they noticed Big Mama had been slowing down recently, and on Sunday, when she was the only chicken that didn't come out of the coop, they knew.
"She was in her favorite spot in her coop," Sword said. "She just went to sleep, and that was it."
It was comforting to know that Big Mama died naturally in her favorite spot, she said -- "a dignified ending for a dignified chicken."
Sword said the family decided a paid obituary would be a way to spread the message that every life is worth saving.
"Big Mama was very close to being euthanized, but through the kindness of friends and vet techs and veterinarians that saved her, she made her way to us and had this beautiful life as part of our family," she said. "We really felt if any chicken deserves an obituary, it was Big Mama."
The story made the rounds on social media Tuesday, with commenters across the internet offering condolences mixed with humor.
Katy Jackson, who owns the Dixie Chicken with her sister, posted on Facebook that she planned to frame Big Mama's obituary and hang it on the wall of the iconic College Station bar.
"It's only right," she wrote.
Yes. This is real obituary about a real chicken in College Station. https://t.co/OKWIclYZ8D

— Casey Richardson (@RealCaseyRich) January 24, 2018
👀 "Big Mama, whose name was changed from Angie because Sword's husband once dated a woman named Angie" 😂🤣💀

— The Rachelest Rachel (@newsmonkeygirl) January 24, 2018
An obituary for a family chicken. God bless Texas. https://t.co/N5nXk0cc4M

— Zach Berg (@ZacharyBerg) January 24, 2018
You know, it takes a really special family to take a rescue chicken in. (We're not being sarcastic. It really does.)

We're sure Big Mama appreciated it, too.

— City of Hutto (@HuttoTX) January 23, 2018
Cracking up! Esp the Survived by part at the end. pic.twitter.com/wUX103SqWr

— Shannon Cardaronella (@CurlyCajunLass) January 24, 2018
I have the feeling my own obituary will pale in comparison!

— Michelle Lyons (@mclyons4) January 24, 2018
We should all be so...clucky.

— Chace Murphy (@chacemurphy) January 24, 2018
So proud to be living in College Station, home of #BigMama, May she rest in beaks 🐓 https://t.co/qturIGyhgJ

— Jill G (@jill_gillis) January 24, 2018
RIP "Big Mama," and go Astros! That's always something to crow about! 🐔

— Scott Maier (@samaier) January 23, 2018
The chicken preferred MLA style.

— Matthew Watkins (@MWatkinsTrib) January 23, 2018