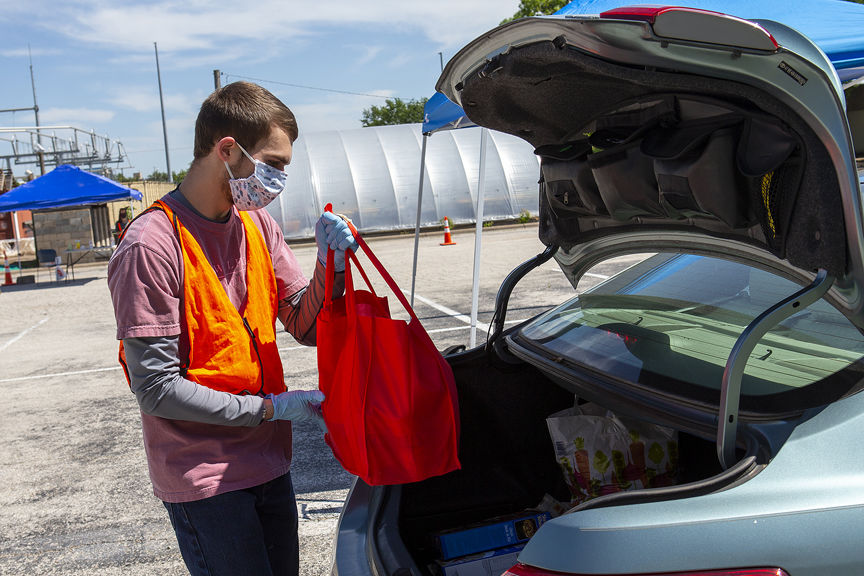 Volunteers at the 12th Can Food Pantry are ready to serve Texas A&M University faculty, staff and students in need with a drive-thru food pickup today. 
The student-run pantry —  a program partner with the Brazos Valley Food Bank — has seen a 30% increase in visitors since March, A&M student and Assistant Director of the 12th Can Kelly Villarreal said. She said a significant number of people going to The 12th Can recently have cited COVID-19 related circumstances as a reason.
The 12th Can is open every other week on Wednesdays and Thursdays. Today, they are open from 10 a.m. to 4:30 p.m. at parking lot 76 by the Mail Services Building on A&M's campus. While leaders are encouraging the use of the drive-thru system to help with social distancing, people also can visit a walk-up table near the building entrance. All food will be provided in prepackaged bags. 
"COVID-19 isn't something we all anticipated," Villarreal said. "We know that people are out of jobs, so we want to make sure no Aggie ever feels like they have to skip meals or anything like that, because we are here for them."
Typically, volunteers serve about 112 people during each two-day span the food pantry is open, Villarreal said. At the beginning of April, 161 people had received food, 84 of whom had visited before. This week, volunteers have enough food for 200 people, but Villareal said it has become increasingly difficult to provide some common staple food items.
On Wednesday, the Texas A&M Foundation launched a food drive that will run through the end of the month. Community members can donate food for The 12th Can at a drop-off location outside of the Jon L. Hagler Center on George Bush Drive in College Station. Donation boxes will be under the front awning in the circle driveway from 8 a.m. to 5 p.m. Mondays through Fridays, according to a Foundation-produced article. 
The Foundation is asking for pasta, dried or canned beans and canned protein items. People also can donate money online. Funds will go toward food purchases and bags that contain all prepacked items for pantry visitors, the Foundation article states. 
"The Texas A&M Foundation exists to serve this great university, and our entire team takes great pride in doing as much as we possibly can for the student body," Foundation President Tyson Voelkel said in the article. "Students are the lifeblood of what makes this place unique, and we hope our efforts help those in need."
The pantry will be open again April 29 and 30 from 10 a.m. to 4:30 p.m. 
Villarreal said she is grateful to the Foundation for helping the pantry with a food drive. 
"Seeing the response of Aggies stepping in for other Aggies shows that the Aggie Spirit really lives and breathes here," Villarreal said. "Everyone's willingness to step in for our Aggie community is really sweet."