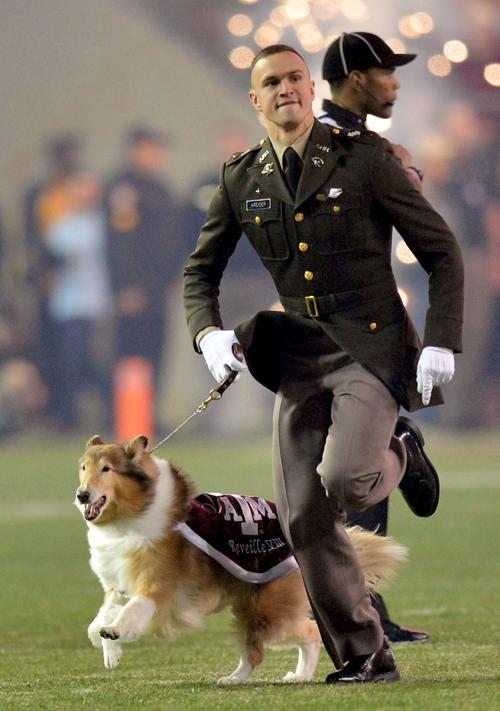 As her May retirement date draws closer, Texas A&M University mascot Reveille VIII is taking advantage of winter break to relax while a 12-person committee searches for her replacement.
Shortly after the university announced the First Lady of Aggieland's retirement date in September, a life-saving block by her handler Ryan Kreider on the sidelines against SMU thrust her into a media spotlight that followed her all the way to her final home football game against LSU on Thanksgiving. According to Kreider, the 8-year-old collie seems ready to pass the leash on to Reveille IX after seven years of service to the school.
"It's been really nice for Reveille and I because it's been a really busy last semester from all the unexpected attention that came from the SMU game," he said. "She's been relaxing and just enjoying being a dog."
As soon as class is back in session, the committee, which includes students, administrators and veterinarians, will intensify its search that has already been narrowed down to 10 applicants selected from rescue shelters and breeders from Texas, Minnesota and Ohio, according to Tom Reber, search committee chair and vice president of Student Life.
"What the committee has said from day one is we're looking for the very best animal," Reber said. "It's a tough job for this mascot and it's important we get the best one for this position."
Other members of the committee include Sherylon Carroll, Texas A&M associate vice president of communications; Stacy Eckman, Texas A&M college of Veterinary Medicine assistant professor; Scott Evetts, commanding officer of Corps of Cadets Company E-2; Paul Gardner, retirement caretaker for Reveille VII; Alexandra Gonzalez, Texas A&M Traditions Council chair; Chapman Guillory, Texas A&M veterinary student; Marty Holmes, Association of Former Students marketing director; Samantha Huge, Texas A&M associate athletic director; Kyle Kelly, student body president; Dr. Kenita Rogers, Texas A&M School of Veterinary Medicine associate dean; and Col. Bryan Stebbins, Corps of Cadets deputy commandant.
Evetts said he appreciates the university's effort to make students a major part of the search.
"It's going to be saddening and exciting at the same time," Evetts said. "It's a very exciting and rewarding experience being able to work with such great committee members. It means we're really valued in this whole process."
The committee will select from its 10 candidates and send veterinarians to visit and assess the young collies. Reber said the committee will reach out to A&M veterinary school alumni near the out-of-state candidates to visit the dogs and provide feedback. The committee will narrow the list down once more and possibly invite two to three dogs to spend time on campus in spring to see how they interact with students.
Evetts said Reveille VIII will be the prototype for her successors.
"The thing that was so great is she was already trained to be a show dog," Evetts said. "She has a really calm demeanor and she worked out so well for us so we're looking at those traits in Reveille IX."
The up-and-coming Reveille will be on campus in the middle of the semester receiving training for her new role until her first appearance as the official mascot at the Corps of Cadets Final Review in May. Reveille VIII will lead the cadets during the first pass through Kyle Field, but an exchange will take place and Reveille IX will lead the second pass.
Upon her effective retirement, she will spend the rest of her days at the Stevenson Companion Animal Life-Care Center on campus where she can interact with the public much like she has during her time as official mascot.
"It'll be tough to see her go," Evetts said. "But we're excited about all the possibilities [Reveille IX] brings."
Get local news delivered to your inbox!
Subscribe to our Daily Headlines newsletter.