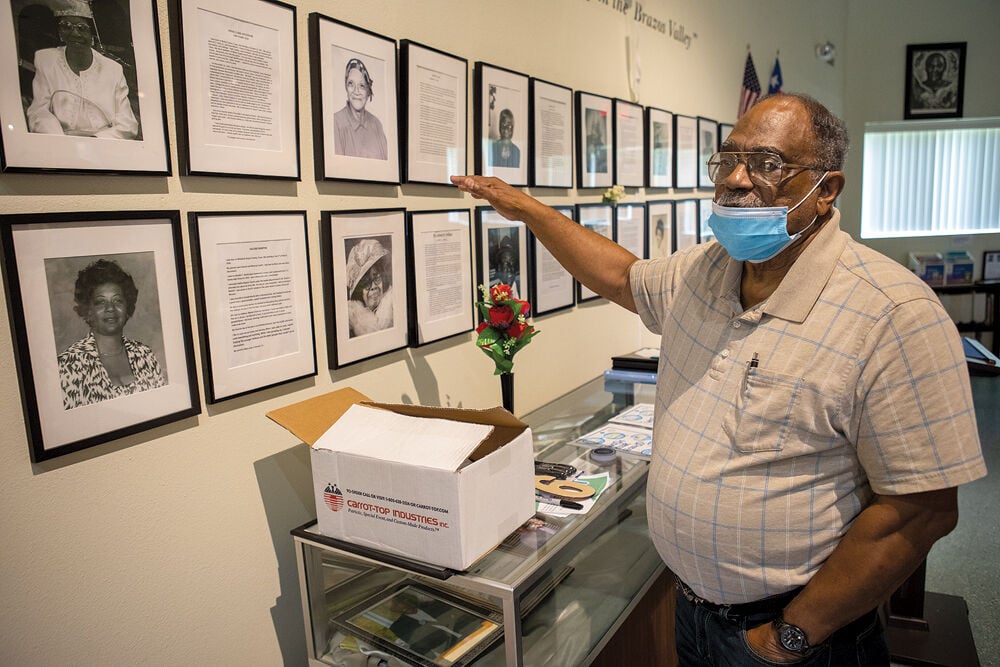 Oliver Wayne Sadberry Jr. died Tuesday night at age 78, but the memory and impact the former curator of the Brazos Valley African American Museum left on the Bryan-College Station community continues to live on.
When the BVAAM first opened in 2006, Sadberry was selected as curator because of his extensive knowledge on the history of the community in the Brazos Valley, especially the Black community, Dr. La Verne Hawkins said. Hawkins is a former BVAAM board member and secretary and current coordinator for grant writing and director of the Institute of Museum and Library Services' federal grant.
During his time as curator, Sadberry worked closely with members of the Brazos County Historical Commission and the Brazos Valley Museum of Natural History to put on mini collaborations, Hawkins said.
"He has also gone out and brought in other exhibits like the Smithsonian exhibit which the Smithsonian Institute has selected us to host three times here in Texas," Hawkins said. "He was an integral part of many projects and grants we have received."
Crystal Carter, former BVAAM director and communication specialist at the office of diversity at Texas A&M, said she first met Sadberry when she volunteered at the museum after moving to the Brazos Valley. Two aspects that stood out about Sadberry were his humble personality and eloquent storytelling, Carter said.
"He loved sharing about different information that he knew firsthand by growing up in Bryan, his family, and about different aspects of the Brazos Valley that he would research to curate exhibits," Carter said.
One of Carter's fondest memories of Sadberry was when he came to her son's school for its Veterans Day program.
"He enjoyed it and was able to share about his time in the military, so he believed in not only sharing history but being a part of history as well," she said.
Sadberry wasn't just a colleague, but a dear friend who loved his family, the museum and his community, Carter said.
"Wayne was one that embodied history. He was a fierce protector of black history as well as American history," Carter said. "He will definitely be missed."
Sadberry was born in Bryan on March 15, 1943. He served in the U.S. Air Force as a member of the Strategic Air Command, graduated from Texas A&M University in 1971 with a degree in mathematics, was the Assistant Executive Director for Human Services at Brazos Valley Development Council and Area Agency on Aging and was even a talented jazz saxophonist and contributor to the 2012 "Bryan Blues Festival Book," Sadberry's former wife, Sunny Nash said.
Sadberry also worked at the Carnegie History Center in Downtown Bryan, and even ran for Congress in the early 1980s before he withdrew after a devastating accident that left him handicapped, Brazos County Precinct 4 Commissioner Irma Cauley said.
People often referred to Sadberry as a "walking encyclopedia" because of his wealth of knowledge about the community and the history of blacks in the community, Cauley said.
"It's a loss we won't recover from. He tried to get that out there and I kept saying he needed to write a book and he would just laugh," Cauley said. "We would have profited from the knowledge that he could share. Wayne will be missed."
Dr. Dan De Leon, senior pastor at Friends Congregational Church, United Church of Christ, said he worked with Sadberry on a group called the Brazos Valley Common Good that consisted of clergy and laypeople of different Christian denominations that addressed issues such as affordable housing, racial profiling in policing and education.
"He was somebody that just wanted to provide perspective and he did it in such a way that you couldn't help but listen to him and appreciate the community for having listened to him. He wanted the community to be better because of knowing," De Leon said.
Alongside his community endeavors, Sadberry was committed to confronting racism and dealing with it honestly, according to De Leon.
"He wanted to do that through conversation and dialogue," the pastor said. "Bringing people together and not dividing people."
In hopes of increasing reading literacy in the community, Sadberry worked with Fabi Payton, a teacher at Sam Rayburn Intermediate School and co-founder and CEO of I Heart Bryan, to put together a program where Payton focused on reading to a younger audience while Sadberry focused on reading the work of Frederick Douglass to high schoolers. Before they could start, Payton said, Sadberry fell ill with COVID-19.
"I went forward with the story time with the museum event. It was a great hit," Payton said. "It accomplished the goal that Mr. Sadberry had hoped for which was to increase the visibility of the museum and bring in diverse groups and people to revive a love for reading in the community."
Payton said Sadberry encouraged her to accomplish her goals and helped grow the seed that was planted deeply within her to keep moving forward in times she doubted herself.
"I'm sure he would tell you that he didn't do that much for me, and that might be true, but what he did was pivotal," Payton said. "Even if it was minor, we need more people doing those does minor things because God only knows how much good we could propel if there had been more interaction like the one he had with me."
Another person Sadberry helped was Tre Watson, co-founder of the Black Lives Matter group in Bryan-College Station. Watson said he was at BVAAM looking into the Millican Race Massacre of 1868 when he met Sadberry. Sadberry encouraged Watson to join the museum board, where he was accepted as a member, Watson said.
"He would tell me to keep my head and he made me feel important as a person," Watson said. "He encouraged me to keep on getting out there by talking to people and making connections and just trying to leave a good mark on where I'm at."
Funeral arrangements are planned for Monday at Callaway-Jones Funeral Home in Bryan. The family has asked that any donation go to the BVAAM museum in lieu of flowers, BVAAM board member Barry Davis said.