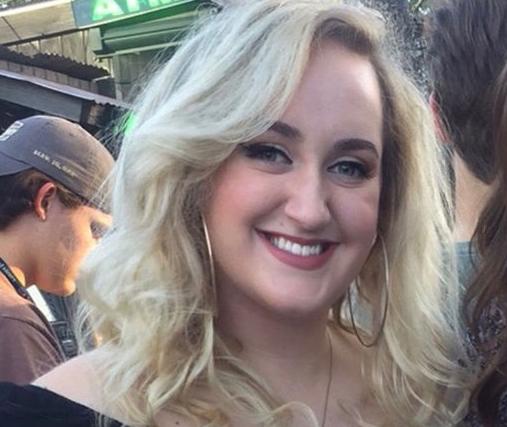 Millions of people have seen Brittany Tomlinson's face and watched her reaction to kombucha, but the woman who has become known as "Kombucha Girl" shares something with many in the Brazos Valley: She's an Aggie.
Though considered a member of the Texas A&M Class of 2019, Tomlinson, 22, graduated a year early and is now residing in the Dallas area, where she works as a banker. She gained internet fame in the past month thanks to the video she uploaded to TikTok that was shared on Twitter.
The video, which has amassed millions of views in a little more than a month, shows Tomlinson's real reaction to trying kombucha for the first time. Kombucha is a tea with a mushroom-like film on the surface created by bacteria and yeast. It is promoted as a health drink.
"That is my genuine reaction: It's nasty, but it's also kind of not," Tomlinson said, with what has become a familiar laugh.
Originally, she said, the video was about a three-minute Snapchat video, inspired by YouTube creators whom Tomlinson follows named Cody Ko and Noel Miller, who did a video about the CEO of one of the largest kombucha companies in the world.
"I had never heard of kombucha, so I was like, 'What is this? It looks disgusting,' " she said. Then, next time she was in Walmart, she bought some. "I went and grabbed it, and then I literally just got home, put my groceries away and sat down and filmed myself trying it, and literally the rest is history."
A friend of hers who saw the original video on the social media platform Snapchat encouraged Tomlinson to post it elsewhere where more people could see the video. That space was an app called TikTok.
As of Saturday night, the original TikTok video had 5.4 million views, and the video another user downloaded and posted to Twitter had collected more than 58 million views. 
"It's just insane. I never could have predicted that this would have happened, but it has and we're riding the wave," Tomlinson said.
Those millions of views on TikTok and Twitter do not include the copied videos that have been shared on other social media sites, she said, noting the frustration other creators also have with content being stolen and shared without credit.
Since gaining viral fame, she said, people stop her or recognize her for her video. When visiting friends in College Station recently, she guessed she was stopped about 25 times while at Northgate.
She said she is continuing to create content and wants to branch away from just being "Kombucha Girl."
"Hopefully if I put out enough content, people will start to recognize me just as being my face and not just one specific thing," she said.
For those wondering if Tomlinson's online personality is different than the one people would see at the bank, she said, both are her, just one is more reserved to maintain a degree of professionalism. 
"It's just me. It's not an act. It's not anything like that," she said. "I'm just filming myself being stupid, and people love it."
Creating content is nothing new for Tomlinson, who said she has been creating Snapchat videos since her sophomore year of high school. During her time at A&M she gained 500 to 600 Snapchat followers, despite only talking to a handful of them.
Tomlinson's reach has gone beyond College Station or Dallas and even beyond the United States, she said, noting messages she has received from Saudi Arabia, Argentina, England and Brazil. Some comments on her TikTok videos are written in Japanese.
"You don't understand the reach that the internet has until you are the subject that's being dispersed," she said. "It's just crazy."
Although overwhelming, she said, her head remains above water.
"The end goal, I don't know, that's still in the works, because I still very much have a full-time job," she said. "Eventually, I think the plan will be to pursue comedy full time, because people seem to love it and I like doing it."
Tomlinson's Twitter, TikTok and YouTube accounts can be found by searching @brittany_broski.
Be the first to know
Get local news delivered to your inbox!