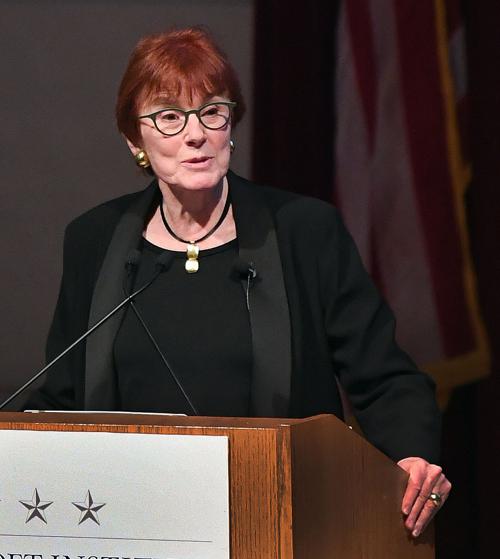 Celia Sandys, the granddaughter of former British Prime Minister Winston Churchill, delivered an address Monday evening at the Bush Center that explored her grandfather's leadership style and influence.
An often-laughing audience of more than 200 filled an auditorium inside the Annenberg Presidential Conference Center as Sandys played audio clips of several of Churchhill's most-known speeches and discussed some of the pivotal moments in his storied career. Churchill served as Prime Minister of the United Kingdom from 1940 to 1945, leading the UK in the West's unified victory over fascism in World War II.
"Winston Churchill was the master of words — spoken and written," Sandys said.
Most of the Churchill clips Sandys played in the auditorium during her lecture came from speeches he gave during, or just after, World War II.
"These were the speeches that people remembered — the speeches that brought families together during the war on both sides of the Atlantic, sitting 'round the fire or at the kitchen table, taking inspiration and comfort from his rising words," she said.
Asked what she thought her grandfather's greatest achievement was, she replied: "To have kept Britain in the war until the Americans joined us." Britain declared war on the Axis powers in September 1939, with the U.S. declaring war in the days immediately following the Dec. 7, 1941, Japanese attack at Pearl Harbor.
Sandys said that her grandfather's rhetoric outlived the man himself; Churchill, who was born in Oxfordshire on Nov. 30, 1874, died in 1965. Sandys noted that in the aftermath of the Sept. 11, 2001, terrorist attacks on the United States, President George W. Bush and British Prime Minister Tony Blair employed Churchill quotes and thoughts in their remarks.
"He stepped out of the history books and back onto the international stage, where he had been for so long," Sandys said. "Leaders everywhere called on Winston Churchill for inspiration ... confirming that his words and inspiring example of leadership were as relevant in 2001 as they were in 1940."
Additionally, she said, people on both sides of the current Brexit controversy quote Churchill to support their stances.
Sandys, an author, journalist and frequent speaker, has published five books on various aspects of Churchill's life. The address, hosted by the Scowcroft Institute of International Affairs at the Bush School, was one of three appearances on the Texas A&M campus by Sandys in recent days.
The four pillars of Churchill's leadership, Sandys said, were courage, integrity, vision and communication.
"He recognized that all four were essential characteristics of the effective leader," Sandys said. "The most well-known examples of leadership in his life come from his political and military activities, but they translate seamlessly into any other sort of leadership."
Sandys also related numerous anecdotes and jokes that Churchill told in various settings, from state dinners to impromptu interactions. She said that witty remarks, for Churchill, were examples of his effective communicative abilities. Sandys, who was born in 1943, also said that Churchill was a warm presence in her life as a child and teenager.
In response to a question from Scowcroft Institute Director Andrew Natsios about mistakes Churchill made, Sandys mentioned India, which, while still under British rule, experienced a widespread famine in 1943. Critics of Churchill have said that his inaction and focus on World War II contributed to the severity of the famine, which claimed the lives of millions.
On March 5, 1946, in Fulton, Missouri, Winston Churchill delivered an address that became known as the Iron Curtain speech. Sandys, pointing to the speech as an example of Churchill's courage and vision, said her grandfather's address argued that, while the Soviet Union had been the West's ally in World War II, that was no longer the case. He said communism constituted "a growing challenge and peril" to Western civilization.
Sandys played a clip from the speech: "From what I have seen of our Russian friends and allies during the war, I am convinced that there is nothing they admire so much as strength, and there is nothing for which they have less respect than weakness, especially military weakness," Churchill said.
"As he had anticipated, these words attracted universal criticism, but, within a year, his analysis had been widely acknowledged as visionary and entirely correct," she said.
Following Sandys' address, Natsios said her words served as a reminder of the importance of knowing and remembering history. 
"People forget World War II and how close we came to the destruction of our civilization," he said. "That's what troubles me, and it's why it's so important that she's here."