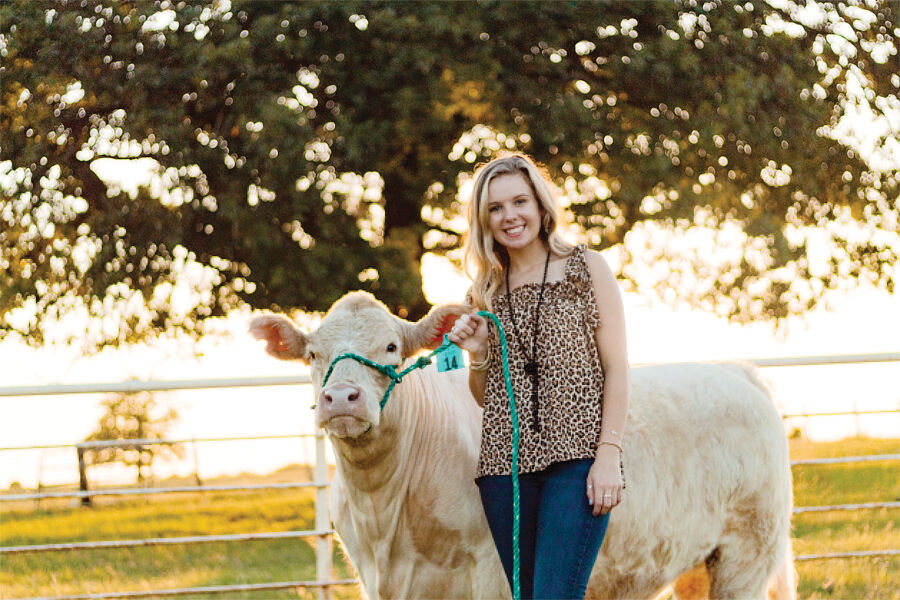 Rachel Novosad grew around cattle and the beef industry, so it made sense that when she turned 8 years old, she joined the Cooks Point 4-H chapter in Caldwell.
Novosad, a senior at Caldwell High School and a member of the school's FFA program, said she grew up on her family's multi-generation ranch in Burleson County, riding around the pastures and learning the different aspects of the ag industry.
She began showing commercial heifers and steers as soon as she began 4-H, saying most of the heifers she, her younger brother and her three cousins show are raised on their ranch.
When she got to high school, she said, she joined FFA as soon as she could.
"It's just grown me into a person who has a very strong love for agriculture," she said. She has always had a love for cattle, she said, but her involvement in both programs has expanded her knowledge for agriculture in general and the industry itself.
She has learned how to advocate for the industry as well, saying it is the foundation to everything in life and goes far beyond animals, food and clothing.
Since joining FFA, she has competed in leadership and career development competitions and serves as sentinel of the Caldwell High School FFA chapter. She also serves as vice president of her 4-H chapter.
"She started out where she was active within our FFA program, but then she has really kind of used her maturity and used what she's learned throughout high school and really put it towards a leadership role," her ag teacher, Halley Reynolds, said.
She said Novosad stepped up to help fill Caldwell FFA's senior chapter conducting team and has done well in that role.
Outside of FFA and 4-H, Novosad was selected to participate in the Texas Youth Cattle Conference, organized by the Texas Beef Checkoff Program, and Feedlot Camp put on by Texas Cattle Feeders Association, as well as Farm Bureau leadership programs.
As the oldest child on her family's ranch, Novosad said, she has always been a bit of a leader and taken on the responsibility of teaching and helping her younger cousins and her younger brother.
That leadership shows in her work with special education students in the school, both in the FFA program and other elective classes, Reynolds said.
"Rachel is so accepting and so caring, and really leads by her example," she said.
The story Reynolds thinks of when describing Novosad shows the senior's heart for special education students, she said. When Novosad helped give a group of students a tour of the Burleson County Fair, she introduced them to her steers and let them have a hands-on experience with the animals they might not otherwise get.
"It takes a lot of courage for somebody her age to step out and reach out to those kids the way that she has," Reynolds said. "She really was just a factor that made those kids feel accepted throughout the student body. … [Novosad and several other FFA students] just made them feel like they were like any other kid, because they are. I really think that that's her leadership style is how inclusive she is with everybody, no matter who they are. She wants them to be involved, and she wants them to be learning and having a good time."
If Reynolds could, she said, she would want to have a student like Novosad in all of her classes to serve as a leader.
Novosad said she always thought she would be a special education teacher, but in the past year she has changed her focus and now wants to pursue an ag communications degree from Texas A&M, though she is still unsure about her specific career path.
"I plan to just figure it out as I go throughout college and find out what I like to do and what I would most enjoy," she said. She said it would be an honor to be selected to receive the scholarship after her work and be able to then share her experiences and knowledge with others in the community and encourage younger students.
Overall, she said, her favorite thing about being involved in ag organizations is the time she has been able to spend with her family, especially her dad, uncle and grandpa, retiring Capital Farm Credit President and CEO Ben Novosad.
"I wouldn't be anywhere where I am without them," she said. "They have instilled so much knowledge and skills into me that I hope to extend into my future family. … You can't do anything without ag, but you can't do anything without other people helping you. They have definitely been three of the main supporters in my whole life that I can never be more grateful for."