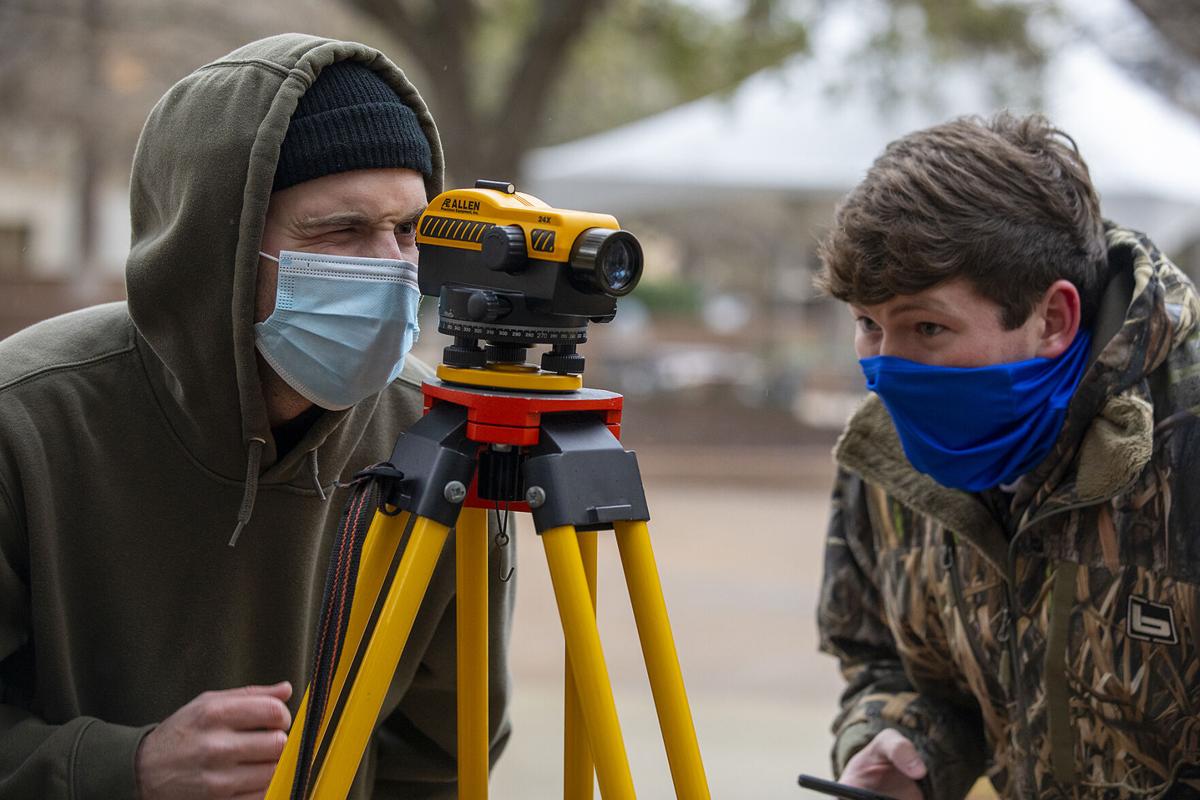 The Brazos Valley is bracing for multiple days of sub-freezing temperatures as a blast of Arctic air could see temperatures drop into the single digits early next week.
Sunday's high temperature is 41 degrees Fahrenheit, and that could be the last time temperatures reach above freezing before late Tuesday afternoon, Kent Prochazka, meteorologist for the Houston-Galveston National Weather Service office, said. Tuesday afternoon's high temperature is forecast to be barely above freezing at 33 degrees Fahrenheit, and it will drop below 32 degrees again Tuesday night, according to the NWS forecast.
Along with the cold temperatures comes a chance of winter weather, including freezing rain, sleet and snow, beginning Sunday night.
Prochazka said he expected snow accumulations to be about 1-2 inches with isolated areas of 3-4 inches possible. With temperatures remaining below freezing until Tuesday late afternoon, he said, any ice that forms will not melt for multiple days.
Slow down if you can't stay home
Texas Department of Transportation began pretreating elevated roadways, bridges, overpasses and shaded areas Wednesday and Thursday with the saltwater solution called brine and would be treating major roadways Saturday morning, Bobby Colwell, public information officer for the Bryan TxDOT office, said.
Throughout the winter storm, he said, TxDOT crews will be monitoring the roadways and treating it as needed with brine and a rock aggregate once the temperatures require the switch.
Colwell recommended people stay home for as much of the time as possible. Prochazka echoed those sentiments, saying, the weather service is advising people to stay wherever they are Sunday night until, at least, Tuesday afternoon.
If people have to be on the roads, Colwell said, they need to drive slowly, use extra caution driving on elevated surfaces and in shaded areas. People should avoid applying their brakes suddenly or using cruise control in potentially icy areas.
'Plan for the worst and hope for the best'
Along with the winter weather and extended period of freezing temperatures comes the possibility of power outages throughout the area.
Representatives from Bryan Texas Utilities, College Station Utilities and Navasota Valley Electric Cooperative all said they are preparing for the outages the winter storm could bring.
Navasota Valley Electric crews were working Thursday to trim tree limbs and make sure lines are clean and clear after the cooperative was "overwhelmed" by the January snowstorm, leaving some members in Robertson County facing extended power outages, Steve Jones, general manager of the Franklin-based cooperative, said.
All department heads at the cooperative met for a post-storm review and pre-storm planning meeting to prepare. In addition to working to clear lines and having contractors on standby, he said, the group will be improving its communication through its website and social media, calling it a priority.
Any Navasota Valley Electric customers who lose power should call 979-828-3232 to report the outage. People can also check online and over the phone if their outage is expected to last for an extended time, requiring people to find alternative locations to stay with the extreme cold temperatures.
Meagan Brown, BTU public information officer, said cold weather like what is forecasted can leave ice on lines which may cause them to break, and it increases the odds of other problems like broken poles and car crashes that ruin poles.
Brown said residents should keep their homes as cold as they find comfortable because it helps the electric grid as a whole. Additionally, she said, if people experience a power outage, they should turn off everything in the house except for a light bulb that can indicate when power is restored. Then, they can slowly begin turning on other items.
Customers do not need to inform BTU of the power outage but can see an outage map and track outage restoration at outages.btutilities.com.
Pat McIntyre, key accounts and energy coordinator at CSU, said all crews have halted construction, as they do in any weather event, to be able to respond to outages. With 60% of its lines underground, CSU lines are not as susceptible to weather-related outages, but those who do lose power can call 855-528-4278.
"We always plan for the worst and hope for the best," he said.
Preparation: power outages
Jason Ware, deputy emergency management coordinator for Brazos County, said anyone who loses power should never run a generator inside the house or garage, saying the gas emissions can lead to severe illness or death.
He advised people who are in an area susceptible to power outages, especially during winter storms, to plan accordingly by staying with someone who has a generator or is less likely to lose power.
If the power goes out for an extended time and the family does not have a generator, he said, one way the people in the household can stay warm is to stay in one room together with blankets. He advised people to have blankets, water and food that does not require electricity.
"Just plan ahead; be prepared," he said. "It's going to be cold, but you've got a couple of days before the real cold comes into the area, so definitely plan ahead, start your planning efforts now and just be safe."
Shelter
As of Thursday, there were no official warming shelters established in the county, Ware said; however Ron Crozier with Twin City Mission said the organization has been in communication with law enforcement agencies that the shelter will be available to those who need it.
Crozier, director of community relations and development for Twin City Mission, said the 2-1-1 Texas hotline is also available to assist those who need to connect with resources.
As of Thursday morning, 32 of the 128 beds at Twin City's Doug Weedon Shelter for Hope were occupied, Crozier said, and ample space remains for those who need a warm place to be for this weekend.
"We are always preparing for 'a series of tomorrows' ahead of time, so when something like this comes, we don't have to scramble," Crozier said. He noted masks are required at the shelter, no pets are allowed, and drugs, alcohol and weapons are not permitted.
He urged community members to carry blankets and other supplies they can provide to individuals they come across who look like they could use some assistance. "You don't want to throw anything at them and you certainly want to approach them with compassion," Crozier said. "You don't know their story and you don't know their path, but you do know it's cold outside and you can offer a coat or a blanket to keep them warm."
The Salvation Army is also stepping in to help provide services to Brazos County residents. A limited supply of heaters, blankets and winter coats are available at the 2506 Cavitt Ave. location in Bryan for people in need, Lt. Andrea Israel, commanding officer for the local chapter, said.
The location is open from 9 a.m. to 2 p.m. Friday, and anyone hoping to receive one of the emergency items must bring a form of ID. Households will be limited to one heater, and blankets and jackets will be distributed based on the number of people in the home and supply, she said.
"With this weather front coming in where temperatures are dropping and wind chill and precipitation is expected, we want to encourage individuals that are in need to not be fearful of reaching out to get the help that they need and they're welcome to come to The Salvation Army to get that help," Israel said.
Israel said The Salvation Army will make a call Sunday night or, at the latest, Monday morning about if it will have a delayed start or be closed Monday.
Preparation: pets, pipes, plants
Pets should be brought inside if at all possible. Even if they are outside pets, Darby McKenzie with Aggieland Humane Society said people should look to see if they have a laundry room, small bathroom or garage where the animal can stay warm and dry.
If that is not possible, she said, people should make sure the pet has a dry, enclosed area that blocks the wind. She advised pet owners to use straw or hay in any outdoor home because blankets and towels will absorb the moisture and not keep the animal warm and dry.
Straw and hay can be found at farm supply stores, Leiha White, head of operations for Aggieland Humane, said. If not, people can ask or search on social media.
When dogs go outside, McKenzie advised owners to use dog-sized coats and sweaters if possible and to dry off their animals as quickly as possible. She also recommended owners look at their pets' paws to make sure they are not icy.
For dogs that enjoy the cold temperatures and do not want to come inside, she suggested using treats or food to bribe them.
"Your dog may enjoy five or 10 minutes, but they may not realize how cold they are getting, and especially if you aren't able to get a sweater on them," she said.
McKenzie, communications coordinator for Aggieland Humane, also reminded people to knock on the hood of their vehicle, look near the tires and even underneath the car for any stray animals using the car for warmth. People should report any stray animals to their designated animal control office immediately.
If anyone does not have a warm, dry place for their animal, McKenzie advised people contact their veterinarian's office or other boarding locations in the area, saying Aggieland Humane is not able to offer boarding services.
White said livestock are less susceptible to the cold temperatures, but people should provide a wind block and make sure the animals have a water source they can access and is not frozen.
People should not use heating lamps in chicken coops, she said, because it presents a fire hazard.
If anything seems off, especially with young and old stock, White said, owners should contact their veterinarian immediately.
Prochazka recommended people wrap outside pipes with insulation and outdoor spigots should be disconnected and drained.
Inside, people should leave the cabinets under their sinks open to allow the warm air from the house into where the plumbing is and also let faucets drip at a pace of three drops per second or at a steady pencil-lead size stream.
Outdoor potted plants should be moved inside the house or into a garage, Skip Richter, Texas A&M AgriLIfe Extension Service Brazos County extension agent in horticulture, said.
To protect plants in the ground, people can put extra mulch around the roots and cover the entire plant anchoring the bottom of the cover to the soil, allowing heat from the soil to be trapped in the cover.
Even though the single-digit temperatures will be the coldest most in the College Station area have seen in more than a decade, Prochazka said, it probably will not break the record set on Feb. 15, 1899, when the low temperature was 1 degree Fahrenheit and the high temperature for the same day that year was 11 degrees.