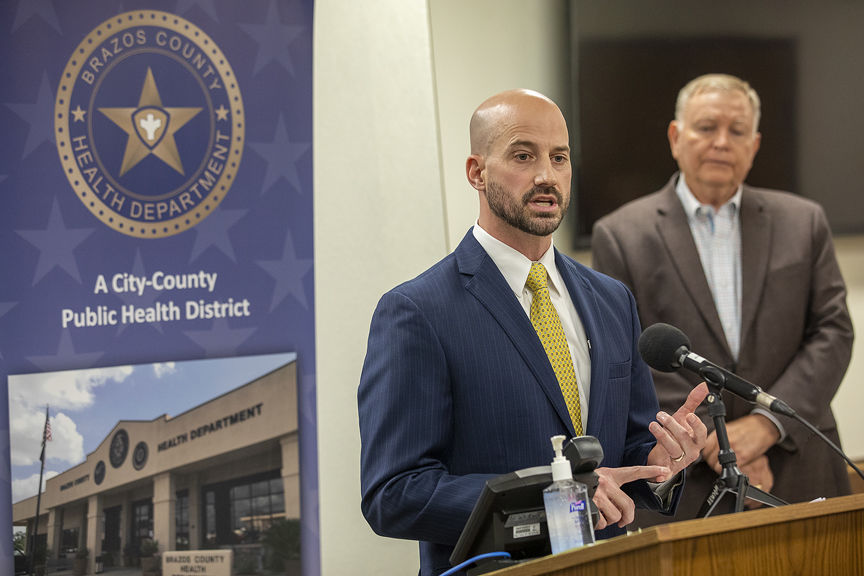 For the first time in 14 days, Brazos County health officials reported no additional cases of COVID-19 on Monday, as the county's total number of cases remains 94.
Health officials also confirmed a seventh death, a man in his 80s who was hospitalized.
Officials also reported two more patients have recovered from COVID-19, bringing Brazos County's total number of patients recovered to 12. Recovered patients are defined as someone who have been fever-free for 72 hours without fever-reducing medication and has been seven days removed from the onset of symptoms
Brazos County medical officials have performed 1,613 tests for coronavirus, according to the Brazos County Health District.
There are 14 patients still hospitalized Monday, three more than Sunday's total. There were no new discharges from hospitals. Community spread accounts for 71 cases. Travel accounts for 23 cases.
On Sunday, Brazos County health officials announced 19 new cases of coronavirus, marking the county's largest single-day jump in cases since the pandemic began.
Brazos County Alternate Health Authority Dr. Seth Sullivan said in a press conference Monday despite the fluctuation of cases the past two days, Brazos County's overall trend of coronavirus cases continues to rise. Sullivan said four to five recent models created by Texas A&M health officials show Brazos County could have a surge in the next 2 to 6 weeks.
At last Thursday's press conference, Sullivan said Brazos County's COVID-19 infection rate, which is the number of cases per 10,000 people, is 3.1. This infection rate is higher than Texas' average (1.6), and higher than Travis, Dallas and Harris counties.
Sullivan said it's unknown why Brazos County has a higher infection rate, but he said Texas counties with universities are seeing high numbers of cases. In college-based towns, such as College Station, large populations come from other areas, and Brazos County saw an influx of travel-related cases after spring break. Currently, 20 percent of Brazos County's cases are people in their 20s.
The majority of cases in Brazos County are cluster-based, according to Sullivan. Clusters are cases that are grouped together and associated by time and place. Sullivan added clusters are investigated by epidemiologists and finding them fast is important to slowing the spread of the virus.
Sullivan clarified that an individual who tests positive for COVID-19 is counted in their county of residence, even if they come to a different county to get tested. Sullivan said multiple patients at Baylor Scott & White in College Station are from Washington County, but do not get counted toward Brazos County's total.
Bryan Mayor Andrew Nelson said staffs from Bryan and College Station, as well as the Brazos County Health District, are meeting with local business communities with the goal of reopening businesses without increasing the spread of the virus. Nelson said business won't get back to usual, but there's ways to eliminate exposure to the virus during business processes.
Chris Meyer, associate vice president for safety and security at Texas A&M, said the student population living on A&M's campus is currently less than 2,000; nearly 12,000 students lived on campus prior to the pandemic. Meyer said about 4,000 students haven't moved out of their on-campus housing and still have their possessions in their rooms as well as their keys.
A spiritual hotline has been formed for local residents to connect with faith-based leaders for prayer and support. The hotline is offered in both English and Spanish and is available Monday through Friday from 8 a.m. to 5 p.m. and can be reached at 979-361-5790.
The Brazos County Health District will have its next press conference to provide updates on COVID-19 on Thursday at 4:30 p.m.
Be the first to know
Get local news delivered to your inbox!