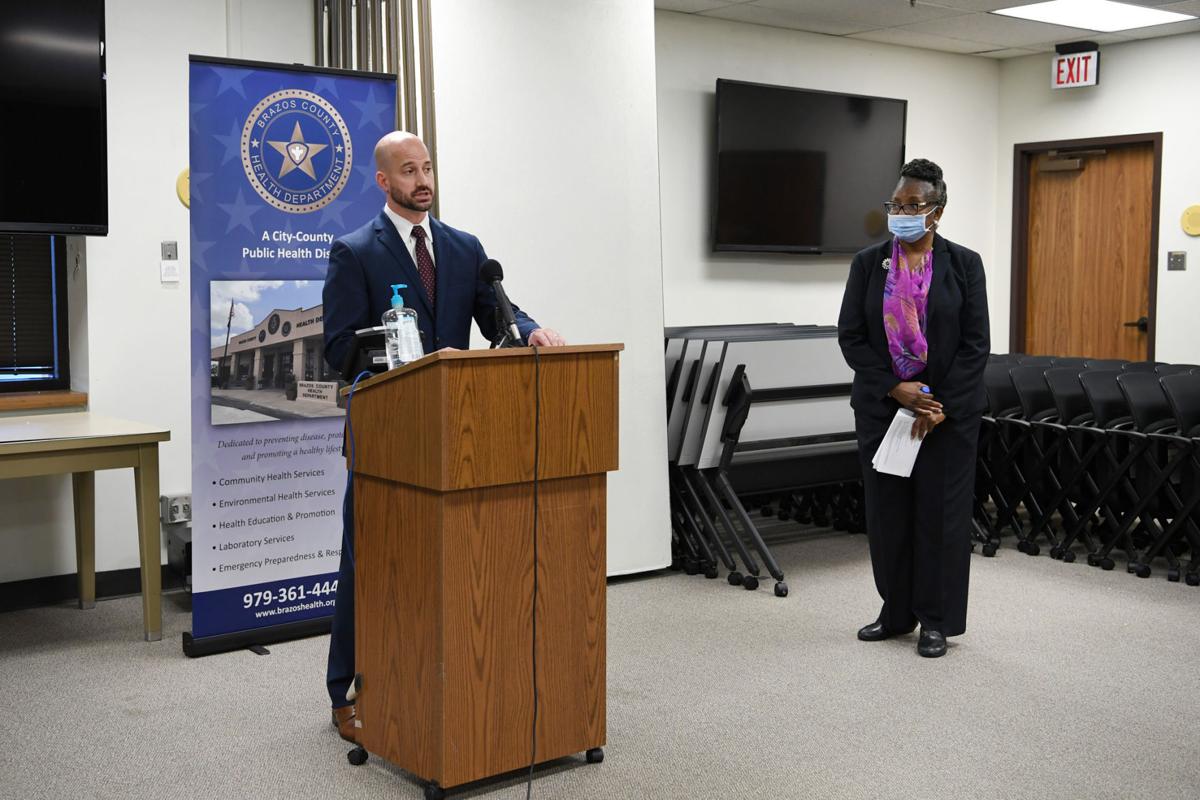 Brazos County health officials reported 21 new cases of COVID-19 on Wednesday, bringing the total number of cases in the county to 362.
It was the largest one-day total of new cases announced in Brazos County since the start of the pandemic.
Brazos County Alternate Health Authority Dr. Seth Sullivan said he is concerned with the number of cases, and he thinks people should continue to take the virus seriously.
"I'm not shocked that we're seeing more numbers, because we have relaxed social distancing," Sullivan said in a phone interview Wednesday. "We know that it works. We know that when we keep people away from one another that the virus doesn't transmit, and that is what drops numbers. When [people] are relaxing, we can anticipate that there will be more numbers. The hope here, and the strategy, is we're relaxed in a safe way."
Officials said 179 cases are active, an increase of three since Tuesday. Of the total cases, 165 have recovered, which is 18 more than Tuesday. Health officials define a recovery from COVID-19 as being free from fever for 72 hours without fever-reducing medicine and 10 days removed from the onset of symptoms.
Six people remain hospitalized, which is one more than Tuesday's total. Eighteen people have died of COVID-19 in Brazos County since the start of the pandemic. The last death to occur was on May 8. Officials reported 5,226 tests have been performed, which is 58 more than Tuesday's total.
Sullivan said more than half of the people making up Brazos County's new cases are Hispanic. Currently, 50% of the county's total cases are Hispanic patients. Additionally, Sullivan said a couple of Wednesday's cases are from employees at the Sanderson Farms chicken processing facility in Bryan, and about half the total cases are from familial clusters.
"The concern is we will see increasing cases, and part of that is we're going to be testing more, and that's the message now," Sullivan said. "We need to be testing more, but that's not the whole part. There's no doubt this virus is transmitting. It's active, and it's out there. It's viable, and it's transmitting."
Sullivan said local officials are following the state's directives on reopening from Gov. Greg Abbott but added local mayors Karl Mooney and Andrew Nelson, as well as Brazos County Judge Duane Peters and local hospital administrators, are keeping tabs on case numbers.
"We're keeping a very close eye on all of these indicators. Think about it as all these gauges in a cockpit that we have to keep an eye on," Sullivan said. "Right now, the plan is to reopen by the governor's directives and to do it according to the directives. We have to make sure that we're doing it appropriately and that's where the focus is today."
The health district will have its next news conference to provide updates on COVID-19 on Tuesday at 4:30 p.m. The news conference can be seen at theeagle.com or on our Facebook page.
Brazos Valley
Grimes County reported 24 new COVID-19 cases on Wednesday, bringing the county's total to 89. All 24 of the new cases are Texas Department of Criminal Justice inmates. None are hospitalized. There have now been 61 cases of COVID-19 among TDCJ inmates in Grimes County.
Grimes County officials reported Wednesday the county has 76 active cases with 12 recoveries and one death, an inmate at the Wallace Pack Unit, related to the virus.
Washington County officials are now reporting 191 cases. Eleven people are hospitalized, and 25 have died, according to officials. There have been 806 tests performed and 51 people have recovered, the Texas Department of State Health Services reports.
An employee at Blue Bell Creameries' Brenham facility also has tested positive. That person has been quarantined and is under medical supervision, according to a company statement.
"We have taken all necessary steps to identify and notify employees of our company who worked closely with the employee. These employees have been asked to self-quarantine and monitor for any symptoms for 14 days," the company stated.
Operations at the facility in Brenham have not been impacted, the company said.
Milam County reported an additional case, bringing the total there to 27. One person has died, and one is hospitalized, county officials said. Nineteen people have recovered, and 376 tests have been performed, according to the DSHS.
According to Milam County Judge Steve Young, of the 27 confirmed cases, at least two were employees of the Rockdale Walmart. In a Facebook video on Wednesday, Young noted that the most recent case was identified as a Walmart employee.
"That case turned out to be a Walmart employee in Rockdale, and that's the second case we have had from Walmart in the second week or so."
Of the two employees confirmed infected, Young said neither had clocked in to a shift while showing symptoms. The store has enacted procedures of screening all employees daily for symptoms upon clocking in, as well as measuring those employees' body temperatures. Additionally, employees are mandated to wear masks at all times, and both the store's public spaces and shopping carts are routinely sanitized.
Both employees are in quarantine at home and will not return to the store until they are cleared as being recovered, Young said.
During the video Young also mentioned an employee of a Dairy Queen restaurant in Cameron showing coronavirus symptoms, indicating that this occurred earlier in the pandemic timeline. He did not clarify whether this person ever tested positive for COVID-19.
In Burleson County, there are 20 cases, officials said. The Texas Department of State Health Services reports three recoveries and 174 tests administered there. In Robertson County, officials report seven cases. There are two recoveries and 124 tests given, the DSHS reports.
Leon County has nine cases with four recoveries, officials said. The DSHS reports 122 tests given there. Madison County has eight positive COVID-19 cases, with 124 tests performed, according to county officials. Two people have recovered.
Statewide
Texas reported 1,411 more cases of the new coronavirus Wednesday, an increase of about 3% over the previous day, bringing the total number of known cases to 51,323. Hall County reported its first case Wednesday; over 85% of the state's 254 counties have reported at least one case.
The state has reported 50 additional deaths, bringing the statewide total to 1,419 — an increase of about 4% from Tuesday. Harris County reported two additional deaths, bringing its total to 207 deaths, more than any other county.
---
The Associated Press and The Texas Tribune contributed to this report
Concerned about COVID-19?
Sign up now to get the most recent coronavirus headlines and other important local and national news sent to your email inbox daily.