Not too long ago, I got an Apple Watch. I guess I decided that being on my phone or computer or some other device for the majority of the day wasn't enough, and that I needed to physically tether a form of technology to my body.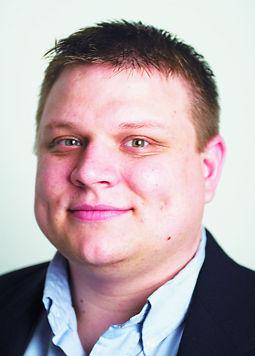 I have found it useful at times and annoying at times. I like how I can read messages on my wrist, but I do not like how bossy my watch is. It is constantly telling me to breathe, or stand up, or go for a walk.
I thought the ability to talk on my watch like a phone would be cool, that I'd be like Dick Tracy. But then I realized that Dick Tracy also thought canary yellow hats and trench coats were the height of fashion, and that most people around him probably thought he was a jerk when he was gabbing away on his phone watch. So I keep my wrist calls to a minimum.
I was playing golf the other day, and I almost called 911 about a dozen times because there is a feature on the watch that allows you to push a button to alert authorities in case of emergency. This button is located in the perfect spot where a golf glove can easily set it off. I also hit a really bad drive because I got a vibrating alert — right in the middle of my backswing — that someone in my fantasy baseball league dropped Andrew McCutchen. Maybe the bad drive wasn't the watch's fault, but I'm still going to bestow the blame upon it.
Later that day, I discovered another feature that delighted me. We were walking down to the 18th green, and it was a little muddy. My friend slipped, tried to catch himself, slid some more and then took a terrific tumble down the muddy hill — all while repeatedly saying "No!" Now, we are all getting a little older, but not to the point where a friend falling in the mud isn't funny. We were all doubled over laughing, and my friend was still in the mud when his phone lit up with a message stating: "It looks like you've taken a hard fall," and the option to call an ambulance. This made his muddy demise much sweeter, because not only did we witness it, but there is also now a record on some server somewhere that it happened as well.
All in all, I actually do like the Apple Watch. It is definitely the smartest watch I've ever owned. Speaking of smart, in our cover story, we look at a new study that tracks 4-H alumni and their success in postsecondary education. In this issue we also have news and information from around the ag industry as well as the latest on upcoming sales and events. Hope you enjoy it, and as always, thanks for reading.
---