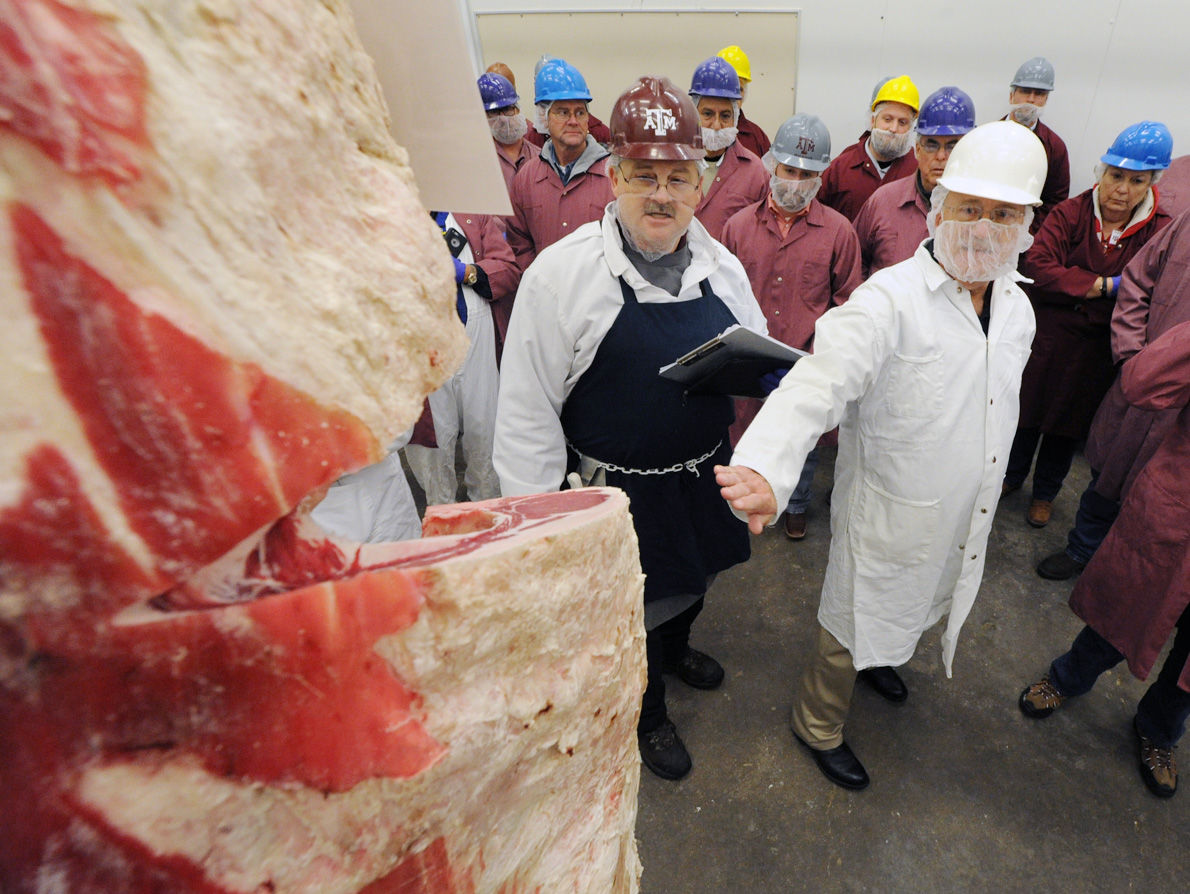 Barbecue pitmasters and restaurant owners from Houston to El Paso shared many things in common Monday when they came to Texas A&M, but one stood out among the rest — they were there to learn.
A&M barbecue and meat production experts, including an agricultural economist and a food scientist, spent the day sharing information with those who make a living cooking Texas-style barbecue. The third annual Texas Barbecue Town Hall gave more than 40 pitmasters and owners an opportunity to learn not only economic ins and outs that influence the price of the meat they buy every day, but about other cuts of meat to experiment with.
They also listened to Texas A&M Extension Economist David Anderson as he shared a meat market outlook for the next couple of years, and his prediction is a promising one for the restaurants. The United States is on track to produce more meat across the board — beef, pork, chicken and turkey — in the next couple of years than it ever has, which means prices should stay low for restaurants and consumers.
"We've recovered from drought, we've got these changes going on and here we are producing record amounts," Anderson said.
Anderson said the major Texas-Oklahoma drought in 2011 to 2012 forced cattle numbers to the lowest they had been in decades. Then in 2014 and 2015, brisket prices — the standard cut for classic Texas barbecue — were so high that one restaurant owner said some people complained it almost matched the price of a nice steak. When the rains finally came, ranchers were able to expand their herds and start producing more, and now those numbers have surpassed what they were before.
Rick, Toni and Matt Moon run the family establishment Blue Moon BBQ near Edge, right on the border of Brazos, Robertson, Leon and Madison counties. The whole family made it to the Town Hall this year after Matt Moon went by himself last year and reported back.
"We all suffered when the prices were up," Toni Moon said. "To know that the market's going to stay low ... we can continue to work with what we have and experiment with [other menu items]."
Anderson said the trend is likely to stay on the low end, giving restaurants more freedom and some of them a chance to catch up from the last couple of years.
"It gives them a chance to try some new stuff, which I think everybody benefits from," Anderson said. "Also, it gives them a chance to make up for a little lost ground."
After a barbecue lunch in the Kleberg building, the crowd ventured across the street to the Rosenthal Meat Science Center for some hands-on learning about beef carcasses and the grading process.
Rick Moon said it was good to expand on the knowledge he had of various beef cuts and find out exactly where they came from and how producers get to the cuts. He said it was also interesting to learn how inspectors graded the meat — prime, choice, select — to help make him a more informed consumer.
As someone who tries to make himself open to new things, he was glad to learn of different cuts of beef he hasn't tried yet. He also said the networking aspect of the meetings helps, whether it's talking to an A&M meat scientist to share production insights or another pitmaster to exchange methods.