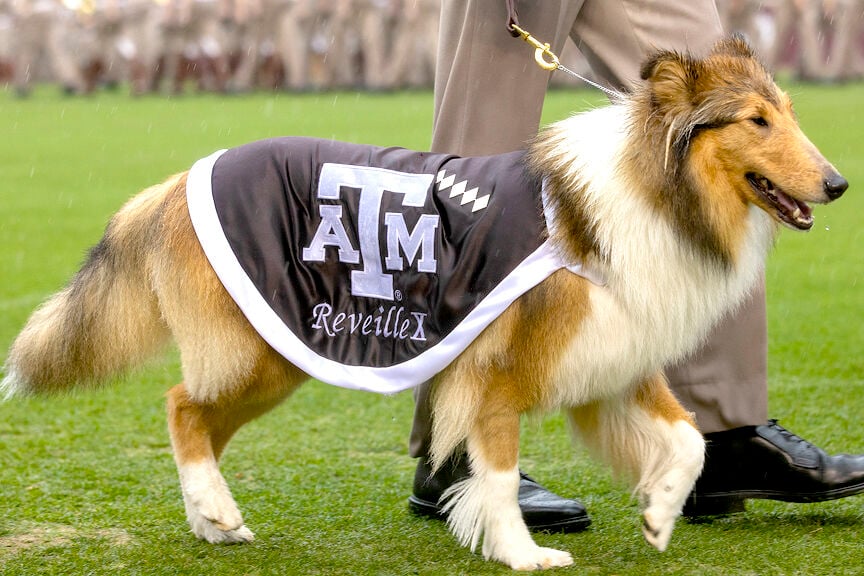 Reveille X was officially introduced as Texas A&M University's mascot on Friday. The collie takes over for Reveille IX, who has been A&M's mascot since May 2015.
HOWDY, my name is Reveille X! I'm the loudest and proudest Fightin' Texas Aggie Reveille, and I am so EXCITED to be your First Lady of Aggieland! 👍 pic.twitter.com/srjBLOMzoc

— Reveille X (@reveille) April 30, 2021
For the past three months, Reveille X has been shadowing Reveille IX in training to be mascot. The mascot transition was completed at Friday's Corps of Cadets Final Review at Kyle Field.
Jacob Scroggins will serve as Reveille X's first handler. A sophomore from the Corps of Cadets' Company E-2 is selected as Reveille's handler each year.
"Being selected as the first handler of Reveille X means that she and I have a big year ahead of us," Scroggins said in a release. "It's going to be a new experience for both of us, and we couldn't be more excited to get to know each other along the way.
"Rev and I are equally excited for this upcoming year and our new positions. We can't wait to see everyone at her events and across campus. We love seeing everyone's smiles and saying 'Howdy.' "
Reveille IX will be moved to the Stevenson Companion Animal Life-Care Center, which is operated by A&M's College of Veterinary Medicine & Biomedical Sciences. Reveille IX will turn 8 on Nov. 22.
According to a previous article in The Eagle, the breeders of Reveille X gave over the 18-month-old collie from Topeka, Kansas, to A&M officials during a private ceremony at the Sanders Corps of Cadets Center on Feb. 5.
Colton Ray, who served as Reveille IX's handler last year, and Mia Miller, a former Reveille handler, flew with search committee members to Kansas to meet with the dog who would become Reveille X.
"Her personality was just so lively," said Miller, who became the Corps of Cadets' first woman to serve as Reveille's handler in 2018, in a release. "She was excited to see us, but not overly excited. She clearly had really good manners and was able to follow all of the commands and tasks we asked of her. She has a great personality, and was friendly to anybody she met."
The two also flew to Ohio to meet a finalist, according to a February article.