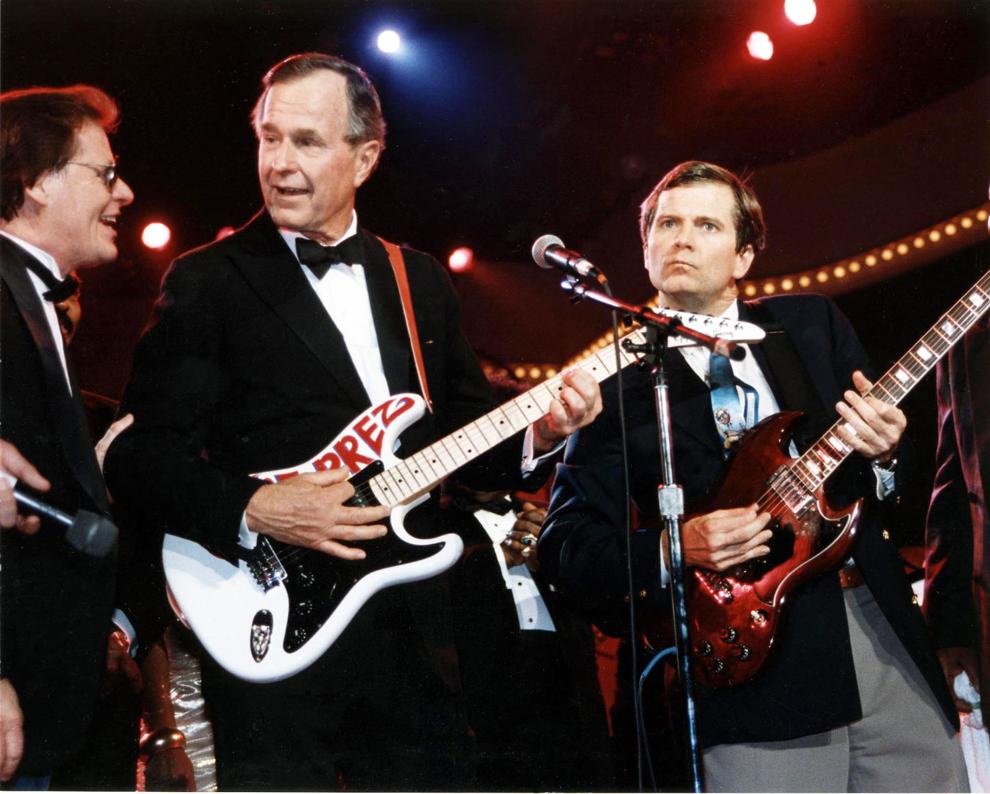 Of all the priorities a president has to make, music falls pretty far down the list. Still, interesting connections exist between the White House and popular music, going back several decades. Some presidents have shown off their musical ability, or even had the bravery to sing in public. But most have brought in a parade of stars to perform for inauguration balls, state dinners and tribute concerts. Here's a look at some of those highlights.
Harry S. Truman (1945-1953)
The 33rd president was a pianist in his youth, and the White House Historical Association called him "a passionate music lover, who played Chopin, Mozart, and Bach with modest proficiency."
Truman spoke of his appreciation during a 1951 speech for National Music Week. "I had a smattering of piano education from the time I was about 7 until I was 14 or 15 or 16, and decided that I would have to go to work and earn a living," Truman said, according to the American Presidency Project. "There are some people in the country who think maybe the country would have been better off if I had gone ahead and become a professional musician. I can't say that I agree with them. I am prejudiced, however."
Truman's 1949 inauguration included jazz great Lionel Hampton, legendary vocalist Lena Horne and opera singer Dorothy Maynor, according to the Truman Presidential Library and Museum.
Dwight D. Eisenhower (1953-1961)
The 34th president is credited for being the first to bring Broadway performers to the White House in 1958, as reported by the White House Historical Association. Other performers during his administration included pianist Arthur Rubinstein and big-band artists Guy Lombardo and Fred Waring and the Pennsylvanians.
In what could be considered a precursor to the playlist, an Eisenhower compilation album was released in 1956, according to Billboard. The President's Favorite Music: Dwight D. Eisenhower featured classical music from Bach and Beethoven, along with Porgy and Bess tunes and Marian Anderson singing He's Got the Whole World in His Hands.
The Eisenhower Foundation's website lists some favorites of his and his wife, Mamie, including a list from January 1954, which consisted mostly of patriotic tunes (America the Beautiful, Over There). The site also includes a "favorite popular melodies" list, including Stardust, Greensleeves and In the Still of the Night.
John F. Kennedy (1961-1963)
And People magazine reported earlier this year on a memoir by Judy Garland's third husband, Sid Luft. The book notes that Kennedy was friends with Garland and would call her from the White House or Camp David to request an over-the-phone rendition of Over the Rainbow.
Lyndon B. Johnson (1963-1969)
The 37th president's 1965 inauguration featured performances by Bobby Darin, Harry Belafonte, Carol Channing, Ann-Margret, Barbra Streisand and a duet by Carol Burnett and Julie Andrews, according to the LBJ Presidential Library website.
Johnson's favorite songs, the site reports, included patriotic standards (Battle Hymn of the Republic, America the Beautiful), Broadway tunes (The Sound of Music, Hello Dolly and Oklahoma!) and more contemporary songs (Raindrops Keep Falling on My Head).
Beatlemania hit during Johnson's presidency, and his daughter Luci was a fan. She made a futile attempt to bring the band to the White House, as she recalled in a 2009 CNN interview.
In 2008, The New York Times detailed a state dinner during Johnson's administration in which jazz singer Sarah Vaughan performed. Bess Abell, Johnson's social secretary, said in the story that she found an upset Vaughan afterward.
"I found her in this office, which had been turned over to her as a dressing room, and she was sobbing," Abell said, according to the Times. "And I said, 'Mrs. Vaughan, what's wrong? What can I do?' And she said, 'There's nothing wrong. This is the most wonderful day of my life. When I first came to Washington, I couldn't get a hotel room, and tonight, I danced with the president.' "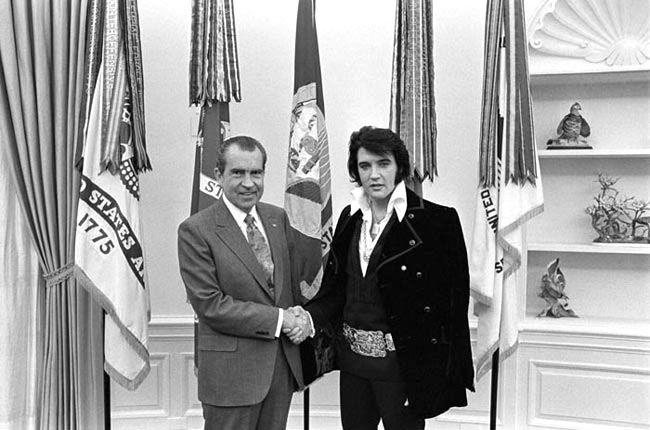 Richard Nixon (1969-1974)
A pre-inauguration ball for Nixon in 1969 included performances by Tony Bennett, Connie Francis and Dinah Shore, though Nixon couldn't attend "because of security concerns," Billboard reported. James Brown performed Say It Loud — I'm Black and I'm Proud.
Nixon honored jazz pioneer Duke Ellington with the Presidential Medal of Freedom in 1969. He played piano while the crowd serenaded Ellington with Happy Birthday, according to the White House Historical Association.
Johnny Cash and June Carter played the White House in 1970, with renditions of A Boy Named Sue, Five Feet High and Rising, Jesus Was a Carpenter and He Turned the Water into Wine.
Nixon's most memorable musical encounter may be his impromptu meeting with Elvis Presley, who delivered a letter to the White House in December 1970, seeking to "get the credentials of a federal agent," according to the National Archives. The photo of their handshake later that day became an iconic image, and a fictional movie was created about the meeting in 2016.
Perhaps one of the more odd musical moments in White House history came under Ford's term, when pop duo The Captain and Tennille performed for an audience including Queen Elizabeth. The performance included their hit Muskrat Love, originally written by Willis Alan Ramsey. Toni Tennille told People magazine in 2016 that she ran into Ford and wife, Betty, years later: "And the President said, 'Yes, you did the song about the mice.' We said, 'Mr. President, it was muskrats!'"
Other performers during Ford's years were Tennessee Ernie Ford, Ann-Margret and pianist Van Cliburn, according to Vanity Fair. Ford also declared October 1974 as Country Music Month.
The 39th president showed deep affection for jazz during a 1978 White House concert. A standout moment: Dizzy Gillespie (on trumpet) and Max Roach (cymbals) performed Salt Peanuts, and enticed former peanut farmer Carter to handle the vocals, which consisted of repeating "salt peanuts" multiple times (the audio is on YouTube). After Carter obliged, Gillespie had one question: "Would you like to go on the road with us?" Carter quipped, "I might have to after tonight."
Carter also loved Willie Nelson, and Linda Ronstadt sang Nelson's Crazy at his inauguration gala. Nelson was a Carter supporter and performed at the White House in 1980. The post-performance incident is a legendary one: Nelson claims he climbed onto the roof that night and enjoyed his drug of choice.
Nelson wrote in his 1988 autobiography: "Sitting on the roof of the White House in Washington, D.C., late at night with a beer in one hand and a fat Austin Torpedo in the other, I drifted into a reflective mood." He goes on to clarify that "President Carter knew nothing about this and would not have condoned it ..."
Ronald Reagan (1981-1989)

The former Hollywood star had several fascinating connections to music. For starters, Merle Haggard performed for him in California in 1982. Before achieving country music fame, a young Haggard had been incarcerated in San Quentin for attempted burglary. The New York Times reported that in 1972, with Haggard a mainstay in country music, California Gov. Reagan pardoned him. Before the 1982 concert, Haggard said, "I hope the president will be as pleased with my performance today as I was with his pardon 10 years ago," according to the Times.
The Beach Boys earned an odd boost from the Reagan administration. The band had performed at a Fourth of July celebration on the National Mall in 1980 and 1981. But Secretary of the Interior James Watt declined to bring in the group in 1983 to keep "the wrong element" away from the concert. Instead, he opted for "patriotic, family-based entertainment," meaning Wayne Newton and the U.S. Army Blues Band, according to The Washington Post.
A furor followed. Vice President George H.W. Bush said, "They're my friends, and I like their music," the Post reported, and President Reagan and first lady Nancy Reagan voiced their support. Beach Boys singer Mike Love reflected on the controversy in a recent Eagle interview.
"That was pretty funny, Reagan made a joke out of it," he said. "Nancy Reagan called me backstage — we were in Canada — and she apologized for what James Watt had said. He said that we were fans of the Reagans. She said, 'I told him Ronnie and I were fans of the Beach Boys.' She was a very savvy lady, and very sweet to all of us."
The Beach Boys were invited back the following year. Watt was given a special distinction, as the Post noted: "President Reagan awarded Watt a plaster foot with a hole in it for what Watt called 'shootin' yourself in the foot.' "
In 1984, pop star Michael Jackson — at the height of his post-Thriller powers — was given the Presidential Public Safety Communication Award at the White House. Reagan gave a speech thick with Jackson-related references, as CNN recalled in 2009: "I hope you'll forgive me, but we have quite a few young folks in the White House who all wanted me to give you the same message. They said to tell Michael, 'Please give some TLC to the PYTs.' Now I know that sounds a little 'off the wall,' but you know what I mean. And, Michael, I have another message from our fans in the Washington, D.C., area. They said, 'we want you back.' So when you begin your greatly awaited cross-country tour, will you please be sure to stop off here in the nation's capital?"
Reagan's 1985 inauguration gala included performances by the Beach Boys, Ray Charles, Frank Sinatra, Dean Martin, Donna Summer, the Gatlin Brothers and Crystal Gayle, according to the Los Angeles Times.
George H.W. Bush (1989-1993)
One of Bush's 1989 inauguration events was a blues-and-soul event that featured Bo Diddley, Sam Moore, Stevie Ray Vaughan, Percy Sledge, Carla Thomas and others. Bush even appeared onstage with a guitar labeled "The Prez."
Mary Finch, audiovisual archivist for the Bush Presidential Library and Museum, provided a list of artists who performed at the White House during Bush's term, including Crystal Gayle, Amy Grant, Loretta Lynn, Barbara Mandrell, Harry Connick Jr., Reba McEntire, Gloria Estefan and Johnny Mathis. Michael Jackson dropped in for a visit, Finch says, but did not perform.
Texas A&M graduate Lyle Lovett performed a concert at Rudder Auditorium that celebrated the opening of the Bush School of Government and Public Service in 1997.
Bush is a longtime fan of country-gospel group the Oak Ridge Boys. The band performed as part of the opening festivities for Bush's presidential library in 1997. In 2012, Bush was at Methodist Hospital in Houston with bronchitis, and the band gave him a brief concert over the phone, singing Elvira and Amazing Grace. And in 2014, the band celebrated its 41st anniversary with the 41st president at a concert in Galveston, according to theboot.com.
In a 2004 interview with CMT, country star George Strait said his hit Love Without End, Amen was one of Bush's favorites. Strait performed it at Camp David at the end of Bush's term as president. "And the end of my show, I dedicated the song The Cowboy Rides Away to him, and that was pretty cool," Strait said.
Clinton's famed musical moment happened before he was elected, when he appeared on The Arsenio Hall Show in 1992. The sunglasses-wearing presidential candidate belted out Elvis Presley's Heartbreak Hotel on saxophone. According to TV Insider, Hall's musical director Michael Wolff said: "You could tell he'd been a good high school saxophonist. He wasn't great, but he was good."
George W. Bush (2001-2009)
The night before Bush's inauguration in 2001, a gala was highlighted by Ricky Martin singing his rousing song The Cup of Life. At its end, Martin even coaxed an ever-so-brief dance moment from Bush.
Bush declared June 2001 as Black Music Month in a ceremony that brought James Brown, Lionel Hampton, Shirley Caesar and the Blind Boys of Alabama to the White House, according to the White House Historical Association.
In 2005, The New York Times featured Bush's iPod playlist, including songs by George Jones, Alan Jackson, Van Morrison and John Fogerty.
Bush also befriended one of rock's biggest stars, U2's Bono, after connecting over AIDS relief in Africa. Bush will award Bono with the first George W. Bush Medal of Distinguished Leadership in the spring at his presidential library in Dallas.
Among the musical events at the White House during Obama's term were a Black History Month concert with Smokey Robinson, Natalie Cole, Bob Dylan, John Legend and Seal, according to PBS. A salute to Ray Charles featured Yolanda Adams, Leon Bridges, Anthony Hamilton, The Band Perry and Usher.
Obama's final concert in office brought performers Usher, Jill Scott, Bell Biv Devoe, Common, The Roots and De La Soul.