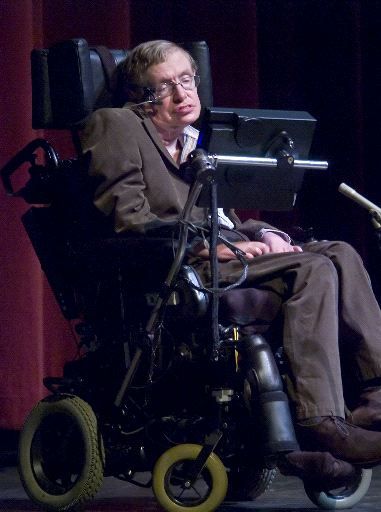 He's had cameos on popular television shows, including The Simpsons and Star Trek. And he's coined and contributed to theories on black holes and the expanding universe.
Those two seemingly mutually exclusive feats have landed physicist Stephen Hawking into a unique place in the public's consciousness, making him a cultural icon of sorts.
Each of those reasons could explain why more than 3,000 people turned out to hear him speak at Rudder Auditorium on the Texas A&M campus Sunday afternoon. His talk seemed to cater to both those who went to see the man for his fame and those who went to hear the man for his academics.
Many in the audience, which consisted of a diverse mix of students, parents and members of the community, had differing perceptions of the presentation. A few even acknowledged that they understood little of what Hawking discussed.
"Yeah, I can't say that I could explain to you the origins of the universe now," said Bryan resident Crystal Harris, who went to the presentation with her 12-year-old son. "But it was just inspiring to see the man. I just found myself in awe of all he has accomplished despite his illness. And he has such a charming, humble attitude."
Hawking, who is a quadriplegic suffering from Lou Gehrig's Disease, lectured for about 30 minutes using a speech synthesizer hooked up to his computer.
Hawking, one of the world's most influential scientists, was brought to Aggieland as part of a program sponsored by the George P. and Cynthia W. Mitchell Institute for Fundamental Physics at A&M.
For many in attendance, especially the physics students and professors, it merely was a refresher course on lessons already learned, while the event turned into more of an opportunity to see in person the man who has held so much influence over scientists and their studies.
The speech, which Hawking uses routinely at lectures across the world, discussed the evolution of scientists' beliefs about the origin of the universe and his contributions to that evolution.
A PowerPoint presentation aided his speech and sometimes diagrammed what he was saying. The visual assistance allowed Hawking to add color and sometimes humor to his lecture.
Hawking described a meeting hosted by Pope John Paul II to discuss the study of the universe. At the meeting, the pope told scientists it was safe to study the universe, but they should not study how the universe was created because it was the work of God.
"I was glad that he was not aware that I gave a paper at the conference about how it began. I didn't fancy being handed over to the inquisition," Hawking joked as an altered photo popped up showing him in a jail cell.
Along with using humor, Hawking made the difficult themes he covered more accessible by making comparison of complex mathematical and scientific theories by likening them to inflation and directions on earth.
Still, he noted that there are many questions that people even as smart as he is don't know the answers to.
"We are getting closer to answering the age-old questions: Why are we here? Where did we come from?" he said before thanking everyone for listening.
• Matthew Watkins' e-mail address is matthew.watkins@ theeagle.com.