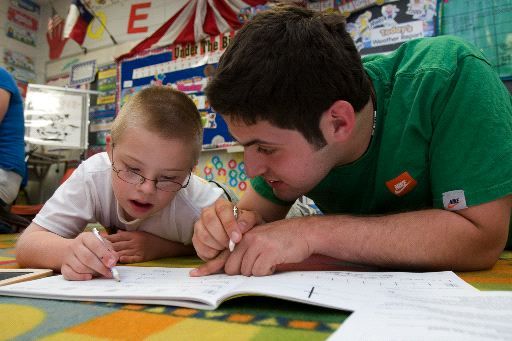 Texas A&M freshman Alyssa Probst said she knew she had made a difference when 5-year-old Michelle Doucet was able to speak her own name.
Michelle, who has Down syndrome, has delayed speech development, making it difficult for her to even pronounce her own name. But then she attended a class for special needs children and that's where she met Probst, a volunteer.
"I wanted to tell everybody, 'Hey, be quiet. She just said her name!'" Probst said. "I wanted to show her off to everybody. I gave her a little bit, and she was learning. Not everybody has that opportunity."
Probst worked one-on-one with Michelle twice a week for three weeks - writing the child's name on a chalkboard and then demonstrating how to pronounce each letter. It was all apart of a class called Handwriting Without Tears.
Thirteen students ranging in age from four to 12 attended the class from March 19 through Wednesday at Henderson Elementary School in Bryan. Two of the students are autistic; the others have Down syndrome.
Down syndrome is the most common chromosomal abnormality. Those diagnosed with it are born with an extra chromosome, which can cause physical characteristics such as low muscle tone. The majority of those with the syndrome have mild to moderate developmental delays.
Probst and five other Mays Business School students raised $1,500 to pay for a class project that started the program for the Down Syndrome Support Group of Bryan-College Station.
They purchased materials to develop a personal curriculum for each student and to pay to certify Phyllis Hodges, a local kindergarten teacher, in the Handwriting Without Tears method. The Mays students also volunteered to work with the special needs students during class. Other volunteers came from A&M's College of Education.
"We wanted to do something we could benefit from, as well as help other people," Probst said of the business cornerstone class project. "This was another way to show that [Texas A&M] students aren't just here to go to school. We want to help the community."
During the classes, students worked with their volunteer to learn how to grip a pencil and pronounce letters and words, as well as trace letters and words on a chalkboard or coloring book. Students came together for group lessons, where they sang, danced and even wiggled to songs to improve their motor skills.
Brenda Silva said her 7-year-old daughter, Julianna, has become more outgoing since the class began, and she's definitely improved her handwriting.
"It's wonderful to have this program for the students," Silva said. "They give them the opportunity to learn at their own pace. It gives them the opportunity to know they can do anything they want to."
Jennifer Siegert said her daughter Sara, who is 11, has started leaving handwritten notes for family members to find since first coming to the class.
"It's good modeling for her to see [the handwriting] in action," Siegert said. "She tries to get the cursive letters in at home now."
Michael Kurt, a sophomore Mays student, said that volunteering in the handwriting class taught him lessons he never could have learned in a classroom.
"I learned that I'm definitely blessed, and I definitely take for granted a lot of the basic things I'm able to do in life," Kurt said.
The Down Syndrome Support Group plans to offer four six-week Handwriting Without Tears classes each year, with two each in the fall and spring, said Christy Knight, president of the group.