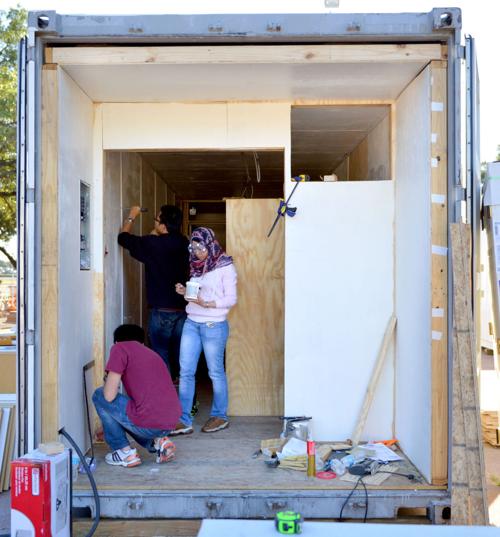 A student-led Texas A&M organization is looking to build on its past success while finishing up a three-year project of turning shipping containers into medical clinics.
As they prepare for the final phase of the project, BUILD members hope to create a more fluid design and construction process and draw more interest to the cause.
"Now we have two years of experience with what works and what didn't work," said Marshall Grey, a senior who serves as the organization's chief operating officer. "Now we can apply that and make the fall semester as seamless as possible."
Grey said the BUILD staff is planning to create a full-scale prototype of their portable medical clinics to allow them to perfect the construction process and validate design changes.
The prototype will also have the potential to be used as a promotional tool to attract donors and volunteers to the project.
"We would like to use it to sort of market the idea of these containers," Grey said. "In the fall semester, we hope to be able to show students and potential donors the finished container."
The prototype clinic may also be used to inspire other organizations to follow BUILD's lead. Grey said the group would share its construction documents so that others could transform shipping containers into medical clinics of their own.
While BUILD has a $125,000 fundraising goal, Grey said donations have so far been slow. But as fall approaches, he said, the group is hoping to share its mission with enough people who are willing to lend financial support.
While there are many aspects to the project, he said, the one that should not get lost is the impact each of the clinics has once it finds its home.
"There is a need for these containers, and we are just waiting for that one person who will help us with the donations," Grey said. "The first week that a container was in Honduras, it served 700 people. Each week, the clinics are serving between 500 to 700 people, each container."
Grey said the prototype clinic will not delay construction of the four regular clinics this fall.
Since 2014, BUILD has transformed eight shipping containers into portable medical clinics, each dedicated to one of the 12 Aggies who died in the 1999 Bonfire collapse. The painted clinics include insulation, plumbing and electricity. They have been sent to Guatemala, Haiti, Honduras, Jamaica and Kenya.
To donate or learn more about the organization and its project, visit buildtamu.com.